E-bike and walk to discover all Penticton and Naramata have to offer.
by Steve MacNaull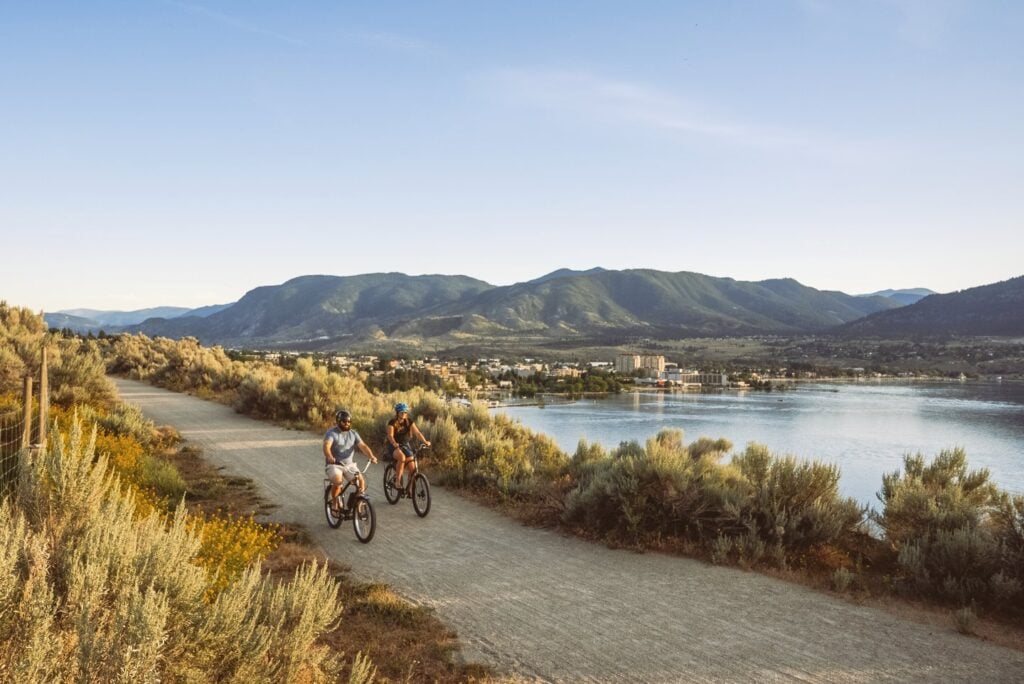 And we're off.
With a little jolt of acceleration from the electric bikes we rented at Freedom The Bike Shop in downtown Penticton we connect to the Kettle Valley Rail Trail for a blissful day of easy peddling; vineyard, orchard, lake and mountain views; thirst-quenching stops at wineries, breweries, distilleries and a cidery; and lunch perched atop the Naramata Bench.
"Our proximity to the Kettle Valley Rail Trail is HUGE," says Josh Brooks, the taproom general manager at Abandoned Rail Brewing on the Naramata Bench. "All you have to do is pull off the trail, park your bike and, all of a sudden, you're enjoying a flight of beer and one of our famous pretzels."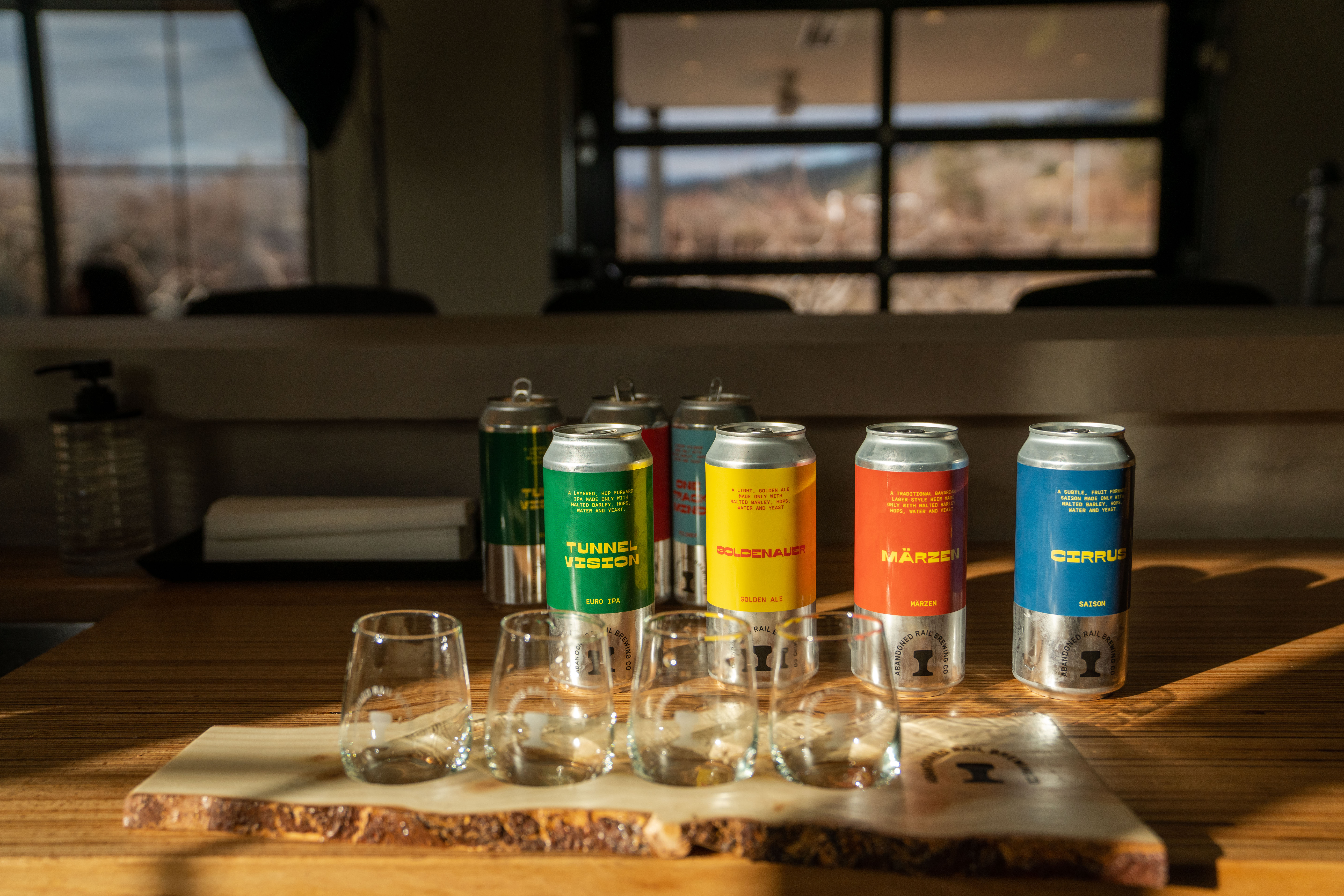 My wife, Kerry, and I did just that to sip a flight of Goldenauer, Marzen, Tunnel Vision and Bellhop on the sunny patio of Abandoned Rail, which loves its railway tie-ins.
The Kettle Valley Rail Trail is literally an abandoned railroad that's been repurposed as a hiking and biking corridor through stunning landscapes.
And that Tunnel Vision beer is a nod to the numerous tunnels along the former railway that are still there for cyclists to zoom through.
Back on our bikes, it's not far to Hillside Winery, which also enjoys a prime spot adjacent to the rail trail. Of course, we can't pass by without stopping for a seated tasting of Pinot Gris, Gewurztraminer and Syrah at a table set under a shade tree.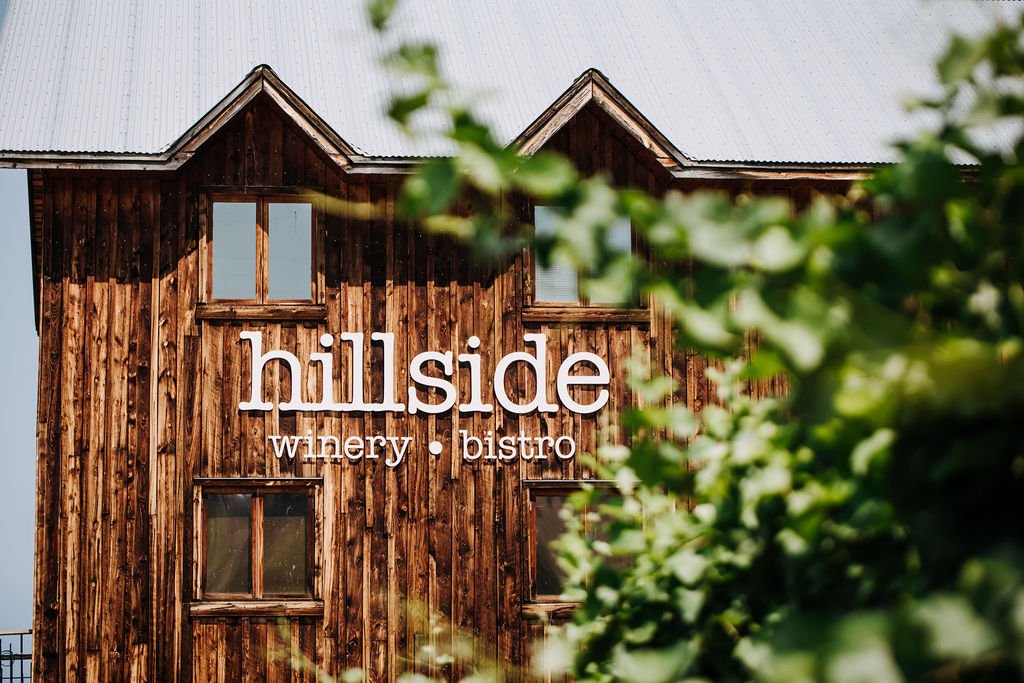 We're in no rush, but the Naramata Bench is chock full of wineries and other delights that we can't wait to experience.
So, it's on to Maple Leaf Spirits, the South Okanagan's first distillery, circa 2005, for sips of the award-winning Lady of the Cask Brandy and Maple Liqueur with German immigrant Anette Engel, who owns and operates the distillery with her husband, Jorge.
Hungry, we point ourselves to Legend Distilling for a baron of beef lunch on the patio with innovative cocktails made from its signature Doctor's Orders Gin — lavender lemonade and gin and tonic slushie.
You can't help but notice that the gin, and all the spirits, for that matter, are in old-fashioned medicine bottles. That's because Legend is housed in the prohibition-era former office of the Naramata doctor who liked to prescribe a jigger of gin to ailing patients.
While the Naramata Bench is famous for its rat-a-tat lineup of dozens of wineries, its diversifying with a brewery and distilleries and cideries.
That leads us to our next stop, La Petite Abeille Cider, a French-inspired oasis set in an orchard with magnifique tasting room and patio with bistro sets that would be at home on a Paris sidewalk.
"Cider is trending, so rather than open another winery on the Naramata Bench, we've opened a cidery with a French-Okanagan twist," said co-owner Kimberley Wish. "We think we're a beautiful addition to the Naramata Bench and a nice way to break up a wine tour."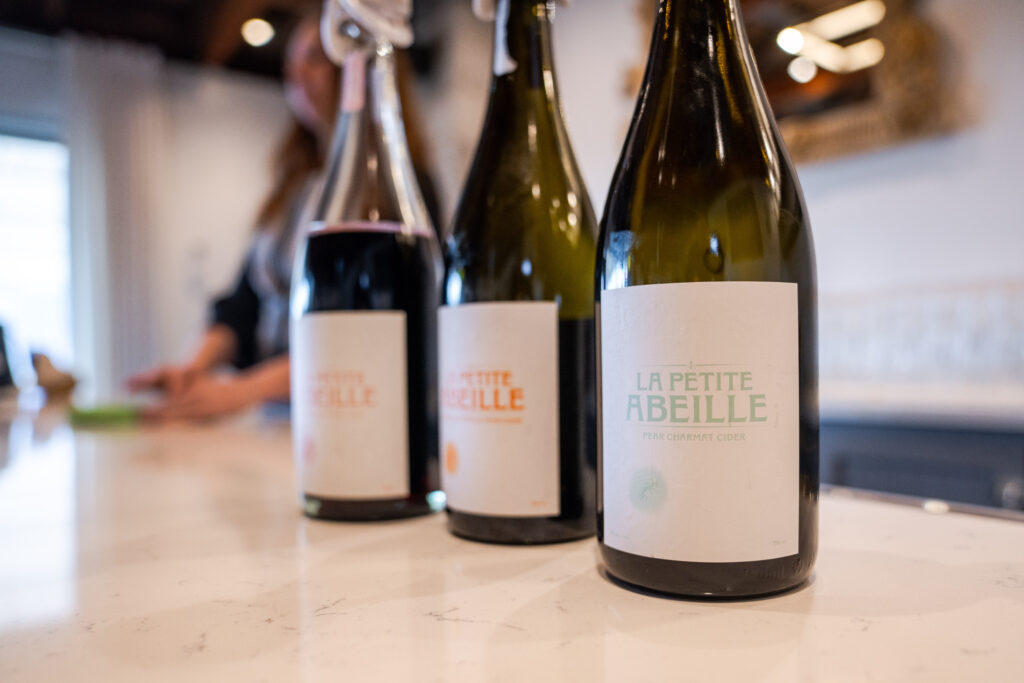 My wife and I agree as we sip La Petite Abeille's elevated sparkling ciders — Charmat, rose and apple-pear.

Back in Penticton, we marvel at how our weekend is turning out to be carefree and car-free.
Of course, we arrived by car.
But, it's safely tucked away in the parkade of the Penticton Lakeside Resort, the landmark, downtown, 272-room hotel right on Okanagan Lake. It's an ideal homebase for our 'Fuel-free Penticton' foray.
For example, Castaway Watersports at the resort rents canoes, kayaks, paddle board and pedal boats so you can also get out on the water, fuel-free. Of course, Castaway also has motorized fun, from waterski and wakeboard lessons, party barges and jetski and ski boat rentals.

On Saturday morning, we walk to Wayne & Freda, the downtown coffee shop that's creating line-up-worthy buzz for its signature Guatemalan drip coffee, espresso bar, breakfast sandwiches and pastries to grab java.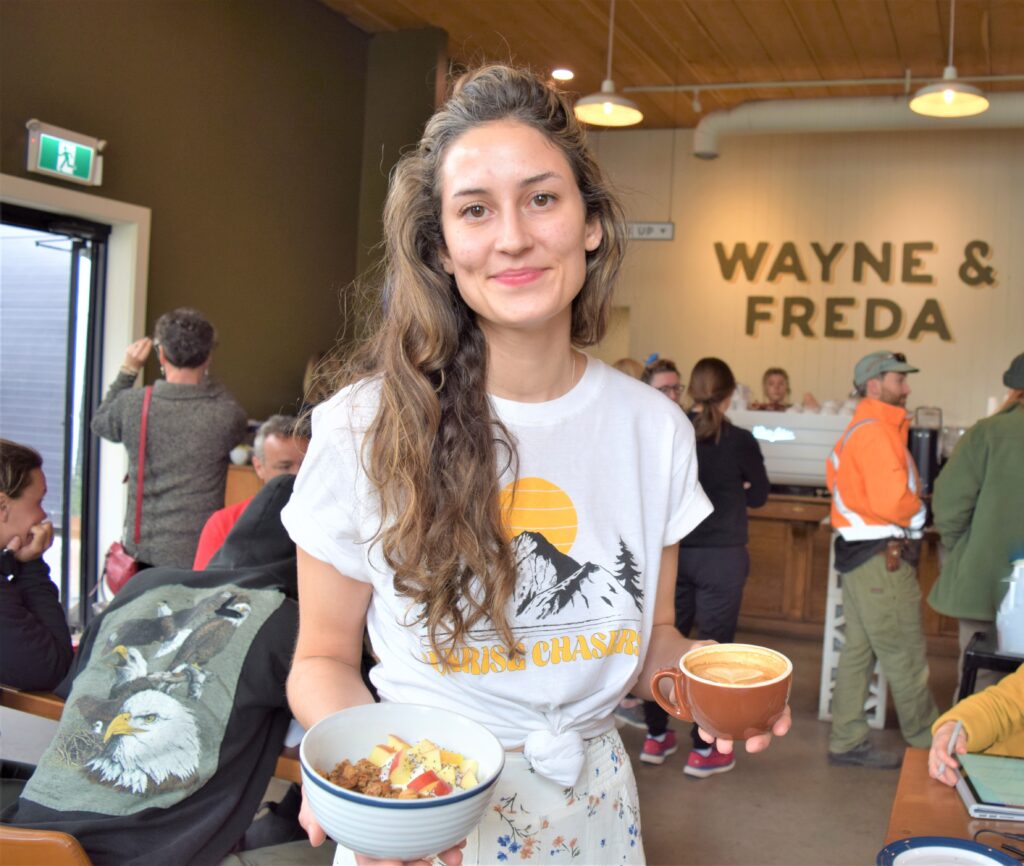 Coffee in hand we wander the Penticton Farmers' Market, which covers several blocks of Main Street and sees up to 8,000 people shop every Saturday morning.
It's where we have to stop and chat with Monica Sullivan of Horse Eye Designs, who is selling eye-catching, floral-art pillows, and Yuna Winters of Ambercott Acres, who's arranging 'fairy bouquets' of spring flowers.
It's our own two feet that also take us shopping along Main Street, for lunch at Loki's Garage off Front Street, to Cannery Brewing (one of six breweries downtown) and to dinners at Elma (Turkish in Penticton!) and Pizzeria Tratto (Neapolitan-style pies in Penticton!).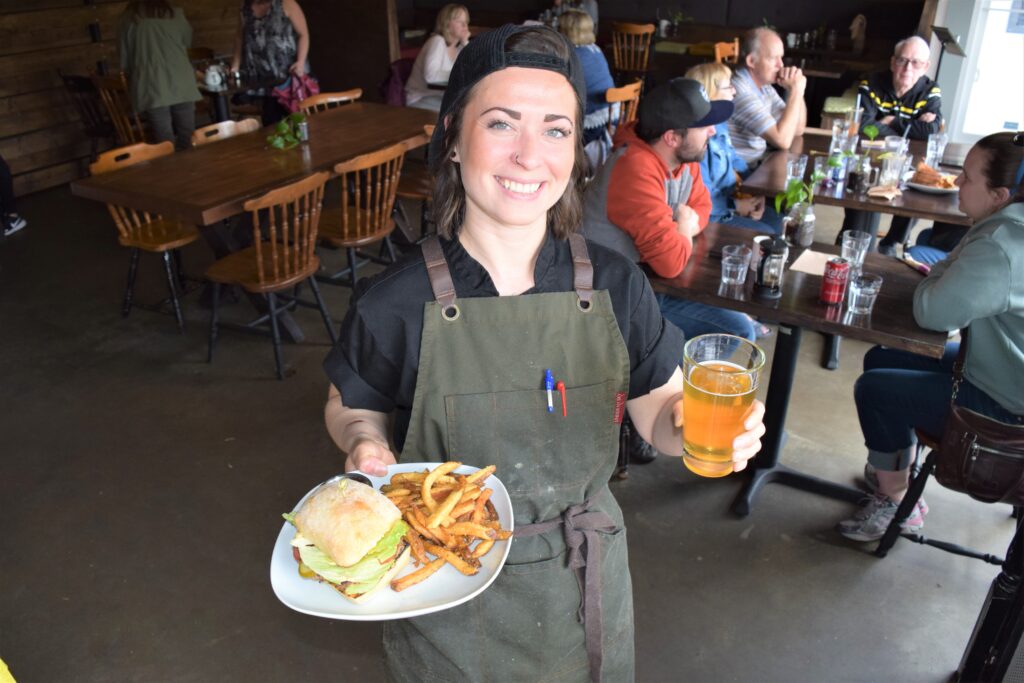 In fact, it's Penticton's concentration of fun that makes it so alluring with fuel-free possibilities. 
So, lounge on the beach, stroll the Okanagan Lake promenade, get out on the water, shop, eat and drink all over downtown and have a Kettle Valley Rail Trail cycling adventure.