Visit Penticton Sustainably & Responsibly
Sustainable travel focuses on making a positive impact on the environment, the local economy, and the local culture of the places you travel to. Whether it's for a family vacation, business meeting or conference, romantic getaway, or planning a trip with friends, be sure to take time to consider your options and impact when travelling. In Penticton, learn about the Indigenous and local culture, sample wines from the nearby wine regions in the South Okanagan, spend your time and money at local businesses and markets, and taste your way through the local cuisine.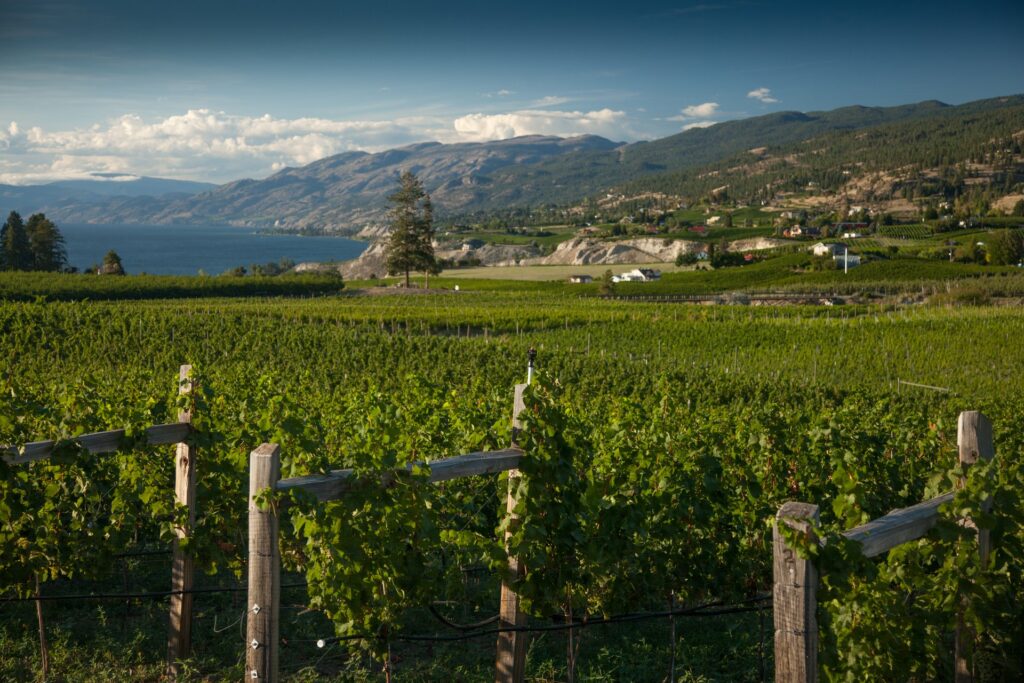 Visit snpintktn
From the Interior Salish nsyilxcən word snpintktn, the name Penticton means "a place where people have always been all year long." According to Anona Kampe of the Penticton Indian Band, "It's because this particular place within our Nation is plentiful of traditional foods. Plenty of good hunting, fishing, gathering of roots, berries and medicines from the land. Many folks from throughout the Nation would often travel here to snpintktn to harvest for sustenance."
The syilx Okanagan People have been around since time immemorial, long before the arrival of the Europeans. The original people of the Okanagan are known as the syilx speaking people – the "Okanagans" and according to their history they have been here since the beginning of people on this land.
Their history was passed on from one person to another and from generation to generation. It is a history of the meaning of being syilx, rather than a history of dates. The history and knowledge needed for survival and continuation of all life is passed along through their stories, songs, traditions and customs. Today, the En'owkin Centre and ECOmmunity Place are helping to preserve and perpetuate these rich traditions by providing a strong commitment to protect the Indigenous plants, wildlife, culture and spirituality found within these lands.
This makes Penticton, or snpintktn, a great ecotourism spot, as you can experience our nature, taking part in low impact and fuel free activities such as hiking, kayaking, mountain biking, all while taking in our local culture and history.
We recognize the Penticton Indian Band and the traditional, ancestral, unceded territory of the syilx Okanagan People, on whose lands we live, learn, and do our work.​​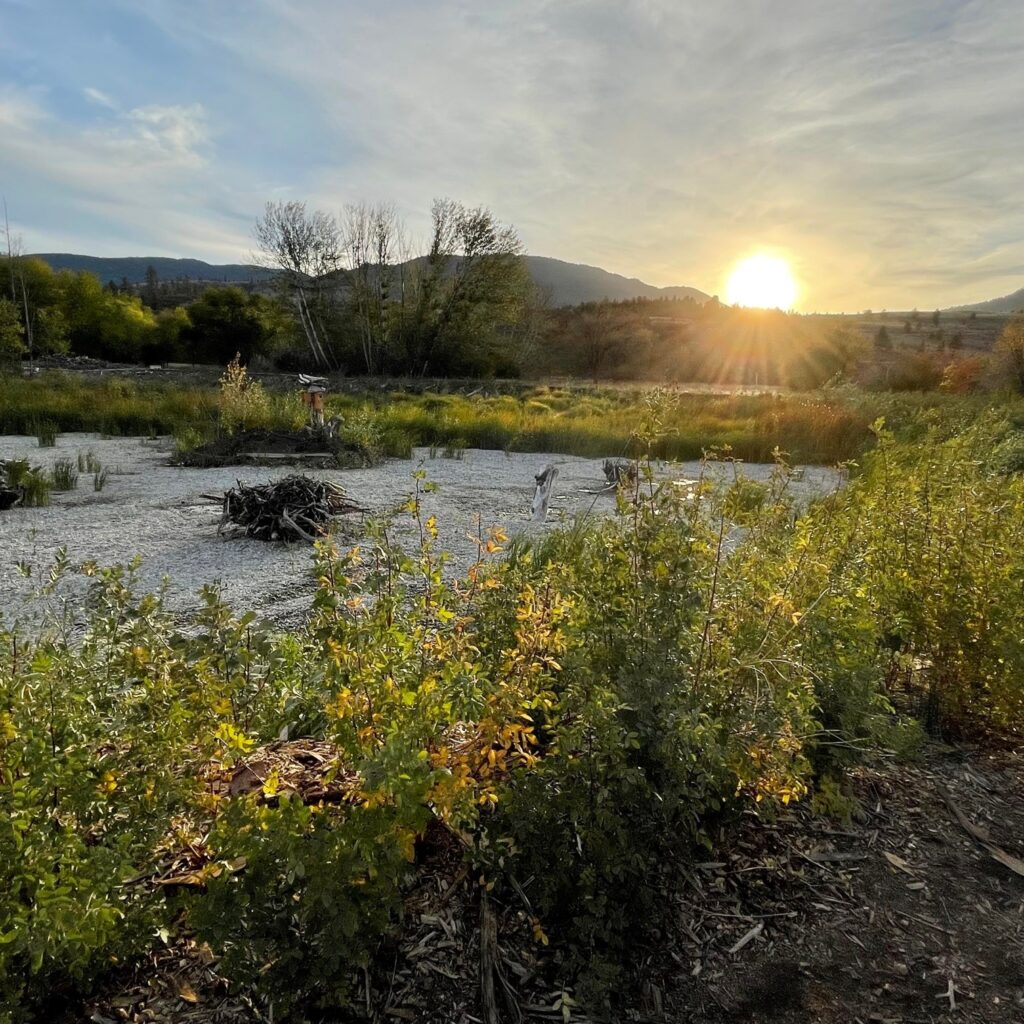 Discover Penticton Fuel Free…Almost
When you visit Penticton, you can do so without fuel, which is the focus of our Fuel Free…Almost idea. We encourage visitors to park the car once they arrive and explore fuel free, with our main focus being on exploring by foot, pedal or paddle.
Fuel Free…Almost encourages you to take time to focus on your personal health and wellness by exploring Penticton's active lifestyle, fresh air and wide open spaces. Be kind both to yourself and the environment.
By Foot
Walking around Penticton provides you the opportunity to take in more of the local sights, sounds and shops. Take in the incredible vistas and views on one of our many walking trails in the area, including beautiful boardwalks along both Okanagan and Skaha lakes.
By Pedal
We are a very bike-friendly city, with our lake-to-lake bike route, hundreds of trails, the Kettle Valley Rail (KVR) Trail, plenty of bike shops and bike rental locations, and with a fantastic year-round climate that provides for a long and enjoyable cycling season. Whether it's road, mountain or leisure cycling you enjoy, you'll find it in Penticton.
By Paddle
Being located right in between 2 lakes, Okanagan and Skaha, makes it very easy to get out on the water, or you can even float down the 7km channel that connects the two lakes.
…Almost
The Almost part of our 'Fuel Free…Almost' initiative is in reference to the activities that will still require fuel, such as a wine tour or bike shuttle, as well as actually getting here first. When searching for flights you can check and sort by carbon emissions on Google Flights, to sort the flights by those with the lowest CO2 emissions. For those driving here, if you have an electric vehicle, there are plenty of charging stations available on the highways in BC, as well as within Penticton. Use PlugInBC.ca to find a charging station near you.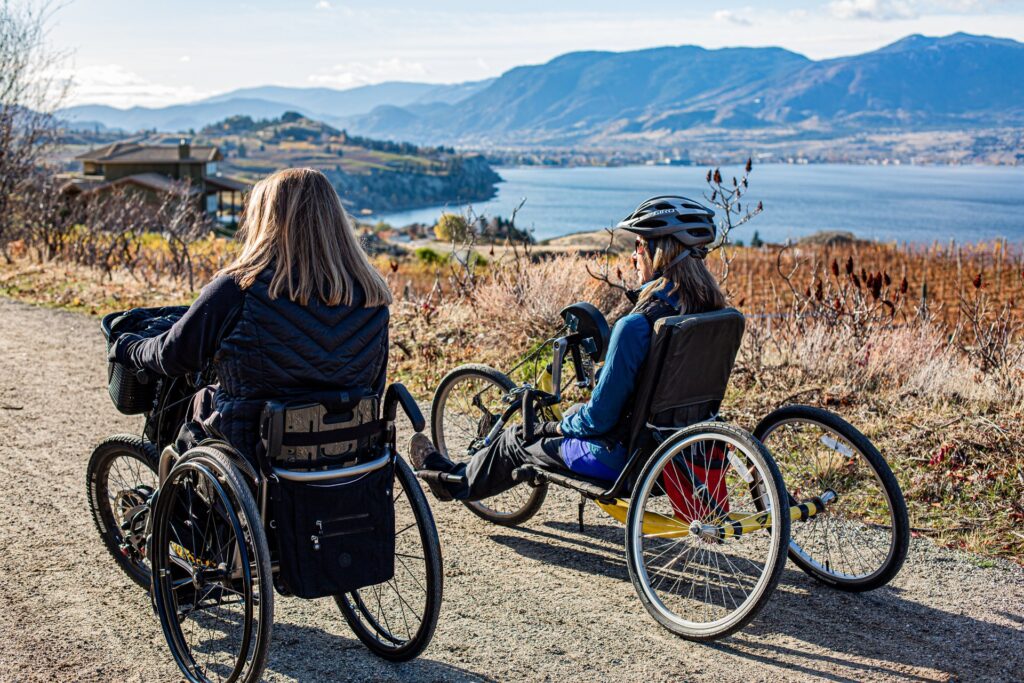 Support Local Penticton
Going fuel free is a major way to travel sustainably, but you can further pursue sustainable options by choosing local for dining, wine, shopping, and more. Our tourism businesses are eager to welcome you and will surely provide a memorable experience.
Local Markets
Support our local farmers and artisans at the Penticton Farmers' Market, where you can find farm fresh fruits and veggies, eggs, honey, baking, preserves and handmade crafts plus a selection of local liquor vendors each week for tasting and purchasing. Many of these local producers pride themselves on keeping their product organic and pesticide free, which is not only beneficial to the consumer, it's also beneficial to the environment. The Downtown Penticton Community Market features even more vendors that feature handmade goods including clothing, food and jewellery, collectibles, antiques and furniture, as well as the weekly food vendors, live music and entertainment that combine to create a fabulous downtown vibe. Other local markets are available in Naramata, Summerland and at the District Wine Village.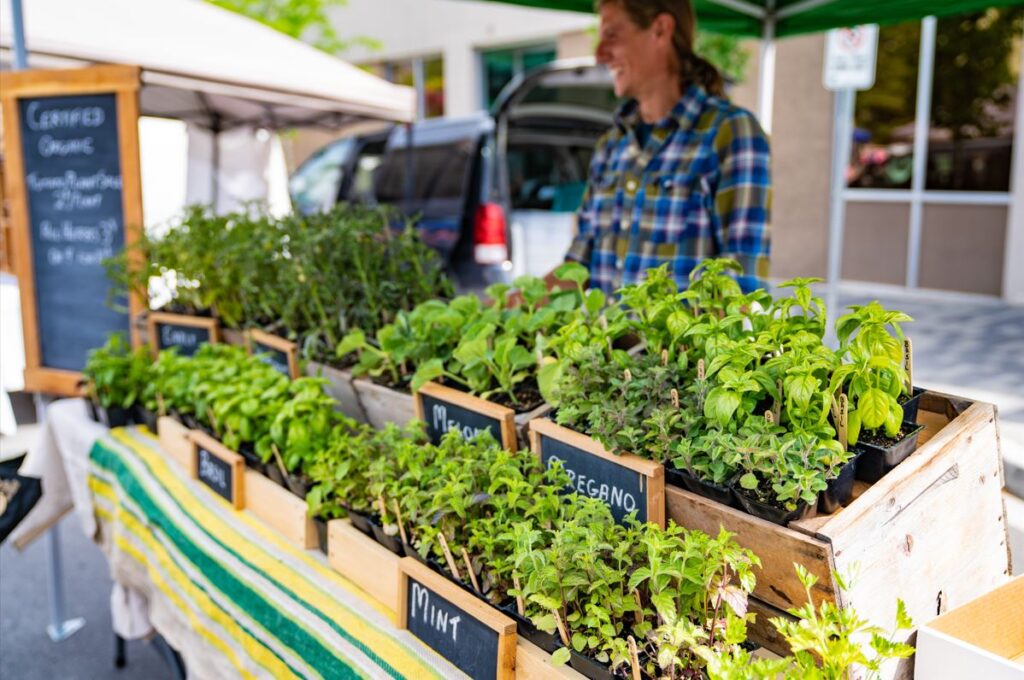 Penticton Shopping
If you missed out on the markets or are are looking for other options shops, Penticton is home to Cherry Lane Mall, the South Okanagan's only enclosed shopping centre, home to a grocery store and cold beer & wine store, drug store, food court, department stores. In the downtown core, there's an assortment of designer boutiques, art galleries, coffee shops, bakeries, and local curiosities selling artisanal gifts, handmade keepsakes, curated products made locally and anything else you may be looking for. Here you'll also find the LocalMotive Low-Waste Market, a unique fresh produce, bulk foods, and hygiene retail market that strives to provide local and organic high quality groceries with minimal, and where possible, zero waste packaging.
When shopping at the local boutiques or the markets, we encourage you to bring your own bag to carry the items you purchase. You can likely even pick up a local reusable tote bag from one of the downtown community market vendors.
Local Dining
Local food doesn't have to travel as far to arrive on your plate, so it helps reduce greenhouse gas emissions and contributes to improving our carbon footprint. We have a great selection of Daily Special culinary trail itineraries available, which include tons of fantastic local options for food and drinks. So you can follow along and discover our culinary community, with most itineraries focused on how you can explore fuel free and explore our local arts, culture, and adventures along the way.
Our culinary community also supports one another, assisting to further promote local. One great example is Tin Whistle Brewing Co, BC's first carbon neutral brewery, that sources their ingredients locally whenever possible, which includes chocolate from Accent Cafe in Penticton, oats from True Grain in Summerland, BC, honey from Cawston BC, and their fruits from neighbouring BC farms. Some other local examples, Gratify Foods treats are available for purchase at Seis Cielo Coffee and Gratify also supplied dietary specific picnic lunches to Grape Escapes wine tours, Cannery Brewing features Upper Bench Creamery and Poplar Grove cheeses on their cheese board and Plot Twist Farms greens on their salads, and most of the local restaurants offer local wine, beer and spirits options on their menus. The Bench Market uses local or BC products, they were a supplier for picnic lunches enjoyed on Grape Escapes wine tours, and they've also partnered with Painted Rock Winery to offer picnic lunches enjoyed during tastings at the winery. When you visit one of our local dining options, you're often supporting and indulging in multiple local flavours.
South Okanagan Wine
When choosing wine, we have no shortage of wineries in the area, with over 180 in the South Okanagan and over 80 of those within just a 20 minute drive of Penticton. Many of the winemakers, wineries and vineyards have sustainability at the core of what they do, adopting regenerative agriculture practices, using cover crops and renewable energy sources for vehicles, electricity and water, and are leveraging a variety of tools to minimize their impact on the environment. Choosing local wine also reduces the carbon footprint since it reduces transportation of the wine, especially if you visit by bike!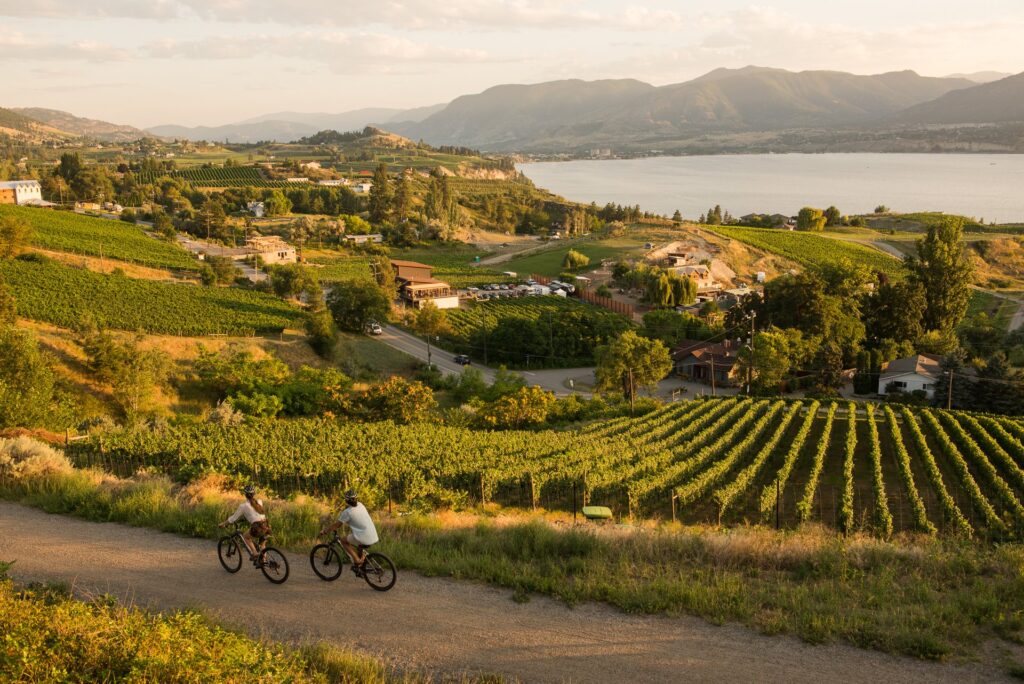 Our wineries use sustainable winemaking practices and farming processes in their vineyards.
Tightrope Winery & Vineyard is the first certified member of Sustainable Winegrowing BC. Their vineyard management plan incorporates practices like lowering water and energy use, and protecting worker health. Their winery management plan focuses on water conservation and recycling, energy efficiency with a focus on clean, renewable energy, and waste management.
At Little Engine Wines, their focus is to grow high quality wines, in harmony with the environment. Farming sustainably with low yields, allows them to bring concentrated and ripe flavour to every glass, they further practice sustainability with composting, drop irrigation, and solar panels on the roof.
Another Naramata winery, Daydreamer Wines, are committed to sustainable farming and winemaking practices that keep vineyards healthy and productive over the long haul, minimizing negative environmental impacts, along with winery methods that conserve resources and reduce waste and pollution. Their grapes are grown without systemic pesticides, herbicides or fungicides.
Covert Farms Family Estate focuses on regenerative farming, including no-till or minimal tillage, keeping the ground covered, species diversity, keeping living roots in the soil as much as possible, and integrating livestock.
These are just a few of our South Okanagan wineries operating with a commitment and focus on sustainability.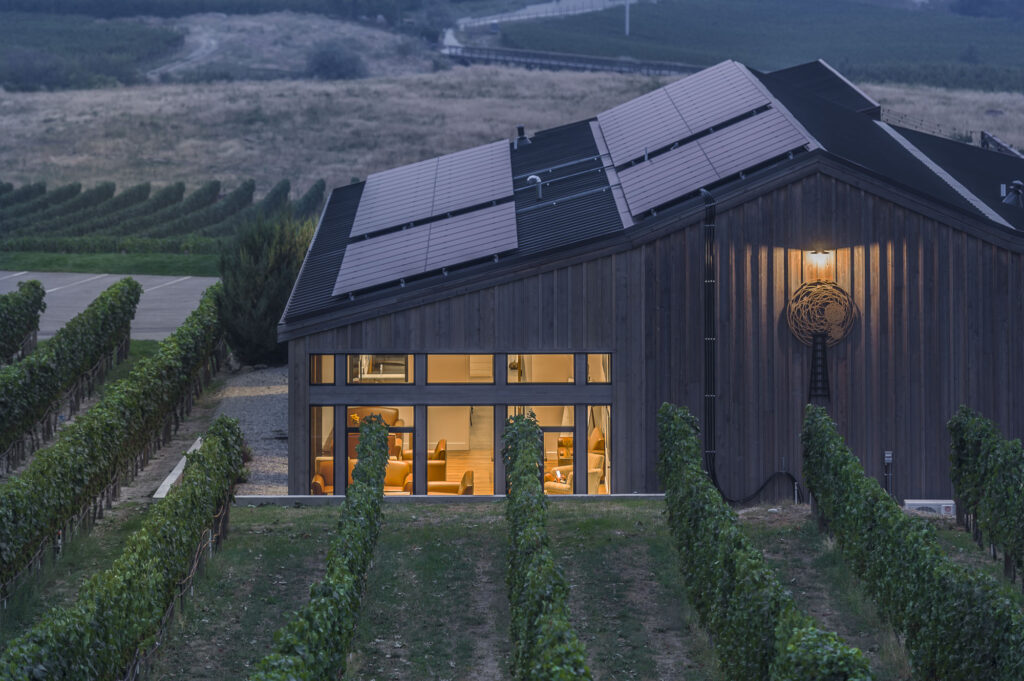 Local Cideries & Craft Distilleries
Our craft distilleries and cideries also use shared processes, and make the most out of all the fruit used, for sustainability and to reduce waste. To be recognized as a craft distillery in BC, they must use 100% BC agricultural products to produce the alcohol and fermentation must be completed on site. This ensures that the distillers in BC are creative and innovative in their search for raw materials and flavours. Just like our wine, spirits and beer makers, our cider makers are constantly experimenting with various methods and fruit mixtures to showcase the bounty of the South Okanagan fruit harvest, including pears, cherries, berries and, of course, apples!
Maple Leaf Spirits craft distillery uses locally grown fruit, grapes and wine, saving the "less than perfect" fruit from going to waste. In their vineyard, the Engel family are committed to sustainable farming practices, minimizing negative environmental impacts. Their grapes are grown without systemic pesticides, herbicides or fungicides. They also distill the pommes and lees of the local wineries in the off-season. Usually, this is a waste product to be composted or taken to the landfill, but instead the wine makers can use this distillate to fortify their next vintage of wines using their own grapes' alcohol.
At Creek & Gully Cider, their Naramata orchards have been Certified Organic for over 30 years, using organic farming practices and low-tech hands-on cidermaking techniques. They like to keep it wild with their farming and ferments, encouraging the natural microbiome to express itself through their cider. Their ciders are alive and unfiltered, handmade with minimal sulphites.
La Petite Abeille Cidery, or in English "the Little Bee", recognizes that bees are crucial to the pollination of their orchard and the health of the planet. La Petite Abeille is a part of the Blue Bee Orchard, which also includes a working orchard, beehives, and Plot Twist Farm's permaculture garden. They never use chemicals in their farming, instead they rely on permaculture and biodynamic farming practices with an emphasis on biodiversity, natural and holistic systems. They continuously promote healthy soil and healthy relationships between insects, animals and people.
Also using Plot Twist Farms, is Legend Distilling. To get the best ingredients, they work with local growers, makers and purveyors such as Plot Twist Farms, Desert Flower Honey and Homestead Roastery.
Travel Responsibly in Penticton
When exploring our trails and outdoors, pack out what you pack in and dispose of waste properly, leaving no trace behind. Stay on the trails and leave stones, plants and all other natural objects in their original place and condition.
Respect our wildlife and help protect our endangered species. If you encounter wildlife, keep your distance, observe them quietly, refrain from feeding them, and remember that you are a visitor in their home.
Visit LeaveNoTrace.ca to learn more about responsible outdoor recreation.
Book hotels with a kitchen or kitchenette, to cook meals with fresh ingredients from the market, rather than foods that are packaged in plastic. Or choose accommodations that have a special focus on sustainability and green initiatives such as the Penticton Lakeside Resort & Conference Centre, or the Waterfront Inn, with 45 solar panels to run the property and 10 solar collectors for hot water and pool heating.
Sparrow Scooters has electric scooters available in 5 local hotels and motels, for an eco-friendly and fun mode of transportation.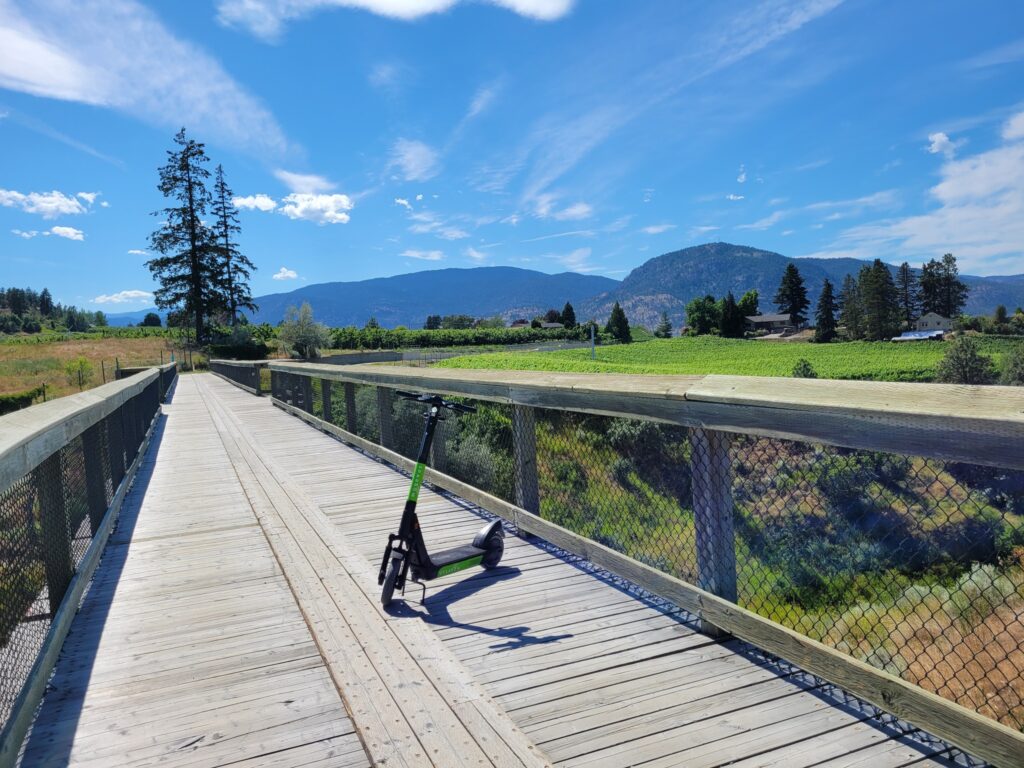 Sustainable Packing List
Bring along a reusable water bottle, or purchase a travel bottle or mug from the Penticton Visitor Centre, to refill with water (or coffee or wine), so you can eliminate the use of single use plastic bottles or cups. Our insulated travel mugs will keep cold drinks cold for 24 hours and hot drinks hot for up to 12 hours.
Pack a reusable tote bag so you don't have to use plastic bags when shopping, or pick one up from a local vendor once you arrive.
Use soap, shampoo and conditioner bars so you aren't using plastic bottles, and this also reduces the amount of liquids in your bag if you're flying here. These can be purchased from the Penticton Farmers' Market or locally from Soda Creek Soap.
If you like to bring along a good book on your travels, we have plenty of Little Free Libraries around town where you can exchange your book for a new-to-you one once you're done reading it. The books in these little libraries are offered for free on a "take a book, leave a book" system, although donations are always gratefully received!
Community Sustainability
In Penticton, not only do we promote our sustainability to visitors but to our locals that live here, and we have actually been a carbon neutral city since 2016.
The Penticton Community Climate Action Plan was updated to to reduce community-wide greenhouse gas emissions and energy use, and to consider actionable climate adaptation measures. The Community Climate Action Plan (CCAP) provides policies and actions that provide guidance for future decision-making to help us achieve our targets. This is to ensure our community will continue to be a healthy place for us – and future generations.
Penticton and the Okanagan are well known for producing some of the best fruits and vegetables in the country. Take a trip up Vancouver Ave hill and you'll notice some of it is grown right here in town. Penticton's official community garden boasts 51 raised bed garden plots. 
The Okanagan is one of three places in Canada identified as having Nationally Significant Biodiversity. Penticton is a signatory to the BC Climate Action Charter to take action on climate change. This involves measuring and reporting our greenhouse gas emissions while implementing strategies to ensure our community is complete, compact and energy-efficient.
Penticton is also working to protect fish and wildlife habitats. Penticton Creek has historically been a significant and productive tributary that provided important habitat for kokanee salmon and rainbow trout for Okanagan Lake. The Penticton Creek Restoration Project will restore the creek to a more natural state while maintain or improving flood protection measures, remove barriers for fish passage, create habitat improvements such as spawning gravel beds, runs, riffles and pools, to increase the aesthetic, ecological and social values of the creek.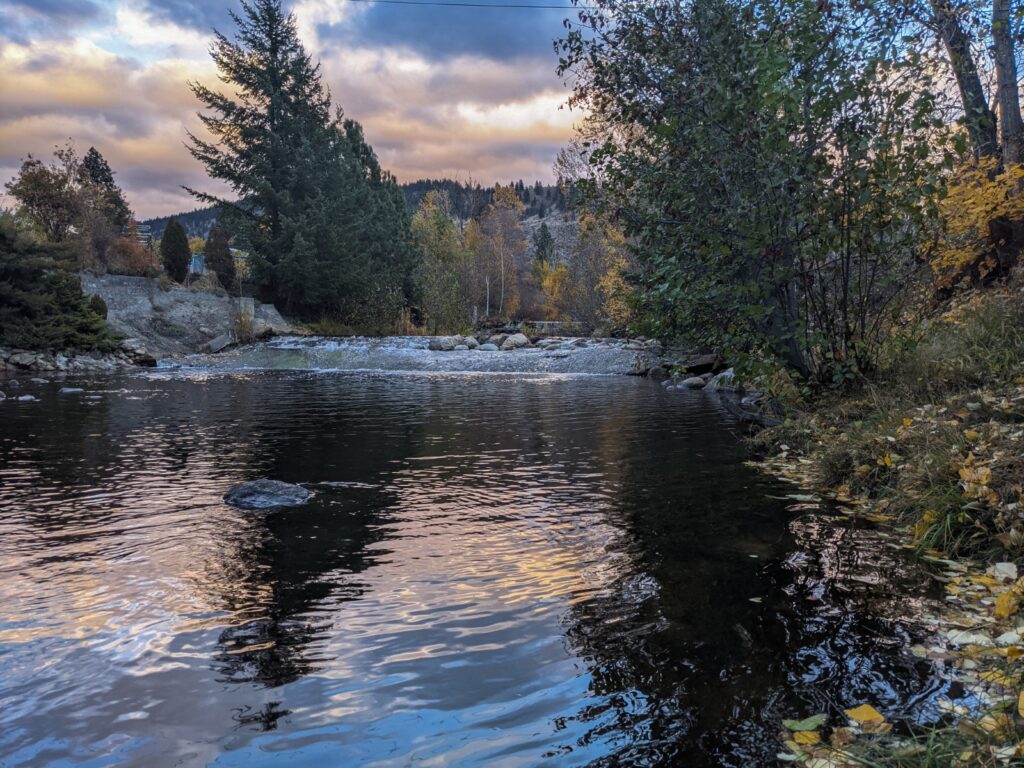 Regional Sustainability
As for our regional community as a whole, the Thompson Okanagan Region became the first certified Biosphere destination in North America back in 2017. Many tourism businesses in Penticton and the South Okanagan have also made the commitment to become a Biosphere Committed company, including Visit Penticton and the Penticton Visitor Centre, and demonstrate their own pledge to incorporate sustainable practices within their business. Look for this designation to ensure you are supporting those businesses embracing environmental, economic and social responsibility. A few local businesses include Hoodoo Adventures, E-kruise, Poplar Grove Winery, Tightrope Winery, Covert Farms, Naramata Inn, Chute Lake Lodge, and Summerland Waterfront Resort.
Sustainable tourism encompasses the idea of providing meaningful experiences to visitors, all while leaving a destination better off then it was before. As such, we have a Regional Pledge that we encourage all visitors to sign. The Thompson Okanagan Regional Pledge, "Seven Affirmations for Seven Generations," was created to articulate guidelines for realizing sustainable tourism in the Thompson Okanagan region and is based on the Indigenous Seven Generations Principle. This philosophy recognizes that decisions an individual makes today have an impact for seven generations to come.
DrinkTeaTravel included the Thompson Okanagan region in their 6 North America destinations as part of their Sustainable Travel Bucket list of the top 50 most sustainable destinations in the world.
Read the Good Travel Guide to a green holiday in the Thompson Okanagan. We invite visitors to be mindful as they explore the region, take the opportunity to learn more about sustainable tourism practices and share our passion for sustaining all that makes this region so special today and for generations to come.