Updated: January 19th, 2022
BC tour operators, accommodation providers and attraction hosts have implemented stringent protocols to keep visitors safe, and visitors are asked to return the favour by travelling responsibly this Winter.
Let's do our part by following provincial health orders and continuing to support local businesses in accordance with the latest health orders.

For more information about the latest Provincial Health Orders, visit
https://www2.gov.bc.ca/gov/content/covid-19/travel/current
#visitpenticton #lovelocalPenticton #exploreBC
Travel Updates and Information
Current public health measures:
No organized indoor social events and gatherings of any size
Concerts, sports games and theatres are reduced to 50% seated capacity, regardless of venue size
Bars and nightclubs that do not offer full meal service are closed
Tables at restaurants, cafes and pubs are limited to a maximum of six people per table with physical distancing or barriers
Indoor, personal gatherings are limited to the household/residents plus 10 individuals, or one additional household maximum, and everyone aged 12 and older must be fully vaccinated
The BC Vaccine Card is required for organized events of all sizes and the QR code is scanned at events
Movement between tables at food and liquor-serving premises is restricted, and masks must be worn when not seated
Venues of 1,000 individuals or more are limited to 50% of the seating capacity with reinforced masking requirements and scanning of the BC Vaccine Card QR code
All sports tournaments are paused
Highway closures and travel restrictions:
Please check Drive BC for an up-to-date list of the latest restrictions and advisories
On January 19, the Coquihalla Highway will reopen to all traffic
Closures remain along sections of Highway 1 north of Hope, and along Highway 8 between Merritt and Spences Bridge
Air travel to BC:
Incoming air travellers from all countries except the United States will be required to take COVID-19 tests when they arrive in Canada (at the airport where they land). There is no cost to the traveller for these tests.
For those arriving at YVR, please read here for more information.
For those arriving at other international airports in BC, please read here for more information.
Tests will be required of all travellers, regardless of their vaccination status. The requirement will also apply to Canadian citizens and permanent residents.
Incoming travellers will have to self-isolate until they receive results of the test.
Canada has temporarily implemented travel restrictions to incoming travellers from certain countries in response to the omicron variant. See the list here.
All travellers aged 12 and older taking flights leaving Canadian airports or travelling on VIA Rail and Rocky Mountaineer trains must be fully vaccinated before boarding.
Marine passengers on non-essential passenger vessels like cruise ships must also complete the vaccination series before travelling. Marine vessels do not include ferries.
For the latest information on travel to Canada including the updated federal requirements and restrictions, please visit the Government of Canada website here.
Further details on the COVID-19 situation in BC can be found here.
The Province has created a dedicated phone service to provide British Columbians with non-medical information about COVID-19, including the latest information on travel recommendations and social distancing. Information is available in more than 110 languages, seven days a week between 7:30 am-8 pm, at 1-888-COVID19 (1-888-268-4319) or via text message at 1-888-268-4319.
Read important updates on highway restrictions and advisories
Read important updates on BC travel.
Read updates on the Canadian border and international travel advisories.
Read important updates from BC Parks.
Read updates on BC Ferries schedules and procedures. It is advisable to make a reservation for BC Ferries.
How To Explore Safely and Responsibly During COVID-19
If you are planning to visit Penticton, here are some guidelines for exploring our community.
Do not travel if you are sick
Practice 2 meters physical distancing at all times
Wash your hands regularly
Masks are recommended and still mandatory in some indoor public spaces
Reduce your contact in the community by bringing essentials with you
Plan ahead and book activities, accommodation, dining reservations, wine tastings and experiences in advance. Review the booking and cancellation policies
Respect the safety procedures enacted by the businesses you visit
Adhere to any local closures or restricted access to communities
Follow the direction of the Provincial Health Officer and keep up to date on changing guidelines and regulations. If you would like to know how local businesses are keeping customers safe, check their website, social media, or give them a call to inquire.
Penticton Visitor Centre


Main Location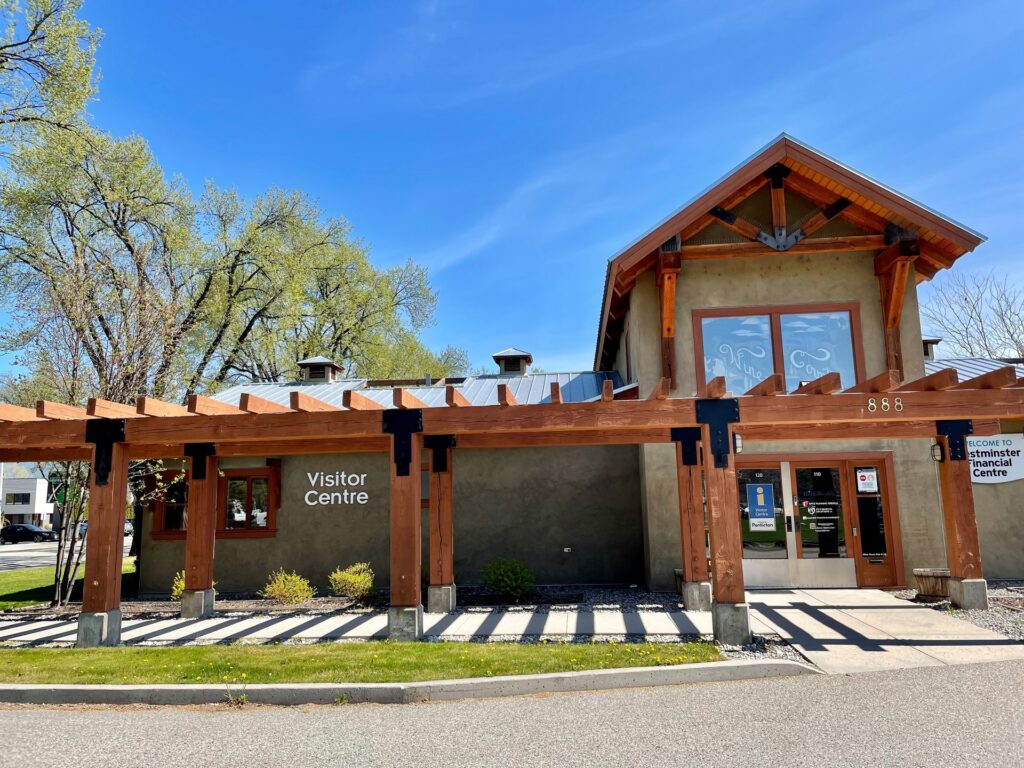 Located at:
888 Westminster Ave West
Penticton, BC
V2A 8S2
Hours:
Monday to Friday
9:00am – 4:00pm
Saturday & Sunday
Closed
Penticton Visitor Centre


Peach Location
Located at:
185 Lakeshore Dr
Penticton, BC
V2A 1B7
Hours:
Monday to Friday
8:30am – 4:30pm
Saturday & Sunday
Closed
Tips for Being Safe While Participating in Outdoor Activities this Winter
Know how to recognize avalanche terrain
Check the forecast
Dress warmly or pack an extra layer
Mingle in mountain communities respectfully
If an area is congested, be patient or change your plans
Practice low-risk activities and recreation
Pack in and pack out. Do not leave anything behind
Stay informed and respect any trail, beach, park, or local area closures as posted
Be AdventureSmart at all times and follow the 3 T's: Trip Plan, Train, and Take Essentials
Additional Resources
Stay Informed