Updated: December 8, 2022
BC is thrilled to welcome visitors for safe and responsible travel in the province.
Penticton tour operators, accommodation providers and attraction hosts continue to implement stringent protocols to keep visitors safe, and visitors are asked to return the favour by travelling responsibly.
#visitpenticton #exploreBC
Travel Updates and Information
Highway closures and travel restrictions:
Always check Drive BC before heading out on the road to learn about the current conditions along your planned route, including webcams, closures, restrictions and advisories, construction delays, or detours.
Weather events:
Please visit Environment Canada for the latest weather information, statements, and air quality advisories.
Current public health measures:
The provincial health officer lifted all restrictions on personal gatherings, organized gatherings and events, worship services, pubs and nightclubs, bars and restaurants, exercise and fitness, swimming pools, sports activities and adult sports tournaments, and all capacity limits have returned to normal. 
Wearing masks in public indoor settings is not required by public health. Wearing a mask is a personal choice. Masks are encouraged, but not required, when travelling by air, train, public transit or BC Ferries.
Individual businesses and event organizers can choose to continue requiring masks on their premises. It's important that we respect the choices of people, businesses and one another.
You must wear a mask in all health care settings, like vaccine clinics and hospitals.
For more details on the current public health measures, click here.
Air travel to BC:
There have been a series of adjustments to current federal border measures for Canada, representing the beginning of a phased easing of travel restrictions. 
Proof of COVID-19 vaccination is not required
COVID-19 pre-entry and arrival tests are not required
Quarantine after you enter Canada is not required
Using ArriveCAN is not required

if you're flying into Toronto Pearson, Vancouver, Winnipeg, Halifax or Montréal-Trudeau international airports, you can still use ArriveCAN to complete your Advance CBSA Declaration to save time upon arrival

Pre-boarding tests for cruise passengers are not required
As always, travel documents are required
Health checks to board planes and trains are not required
Wearing masks on planes and trains is not required
If you have symptoms of COVID-19, you shouldn't travel to Canada.
Click here for more information on travel requirements for vaccinated travellers.
For more information on requirements around travelling in and out of BC, click here.
Further details on the COVID-19 situation in BC can be found here.
For the latest information on travel to Canada including the updated federal requirements and restrictions, please visit the Government of Canada website here.
Let's do our part by following provincial health orders and continuing to support local businesses in accordance with the latest health orders.
For more information about the latest Provincial Health Orders, visit
https://www2.gov.bc.ca/gov/content/covid-19/travel/current
Read important updates on highway restrictions and advisories:
Read important updates on BC travel:
Read updates on the Canadian border and international travel advisories:
Read important updates from BC Parks:
Read updates on BC Ferries schedules and procedures. It is advisable to make a reservation for BC Ferries:
How To Explore Safely and Responsibly
Situated between two large fresh water lakes, ample green space, local wildlife, an abundance of wineries, vineyards and orchards, and never ending trails to explore, it is no wonder travellers choose to visit Penticton. But in order to ensure Penticton remains beautiful we ask you respect and care for the land, the people and our way of life during your stay.
If you are planning to visit Penticton, here are some guidelines for exploring our community.
Do not travel if you are sick
Practice 2 meters physical distancing when possible
Wash your hands regularly
Support local, dine at the local restaurants, book an activity or a tour, and find a unique accommodation
Plan ahead and book activities, accommodation, dining reservations, wine tastings and experiences in advance. Review the booking and cancellation policies
Respect the people, businesses, and communities you visit, and respect the safety procedures enacted by the businesses you visit
Respect local wildlife. Pack out what you pack in and dispose of waste properly
If you encounter wildlife during your adventures, please remember to keep your distance and recognize that you are a visitor to their home
Remember that delays and disruptions can happen at any time of year. Take your time, take care of each other, and practice patience
Adhere to any local closures or restricted access to communities
Follow the direction of the Provincial Health Officer and keep up to date on changing guidelines and regulations. If you would like to know how local businesses are keeping customers safe, check their website, social media, or give them a call to inquire.
Real-time Conditions in Penticton
We will be actively posting real-time Penticton visual updates from around the city and Penticton area to our our social media accounts.
November 30th, 2:57 pm – Video captured at Four Shadows Vineyard & Winery on the Naramata Bench
November 9th, 1:08 pm – Video captured at Okanagan Beach near the SS Sicamous
 

 

View this post on Instagram

 
 

 

View this post on Instagram

 
#realtimepenticton
Penticton Visitor Centre


Main Location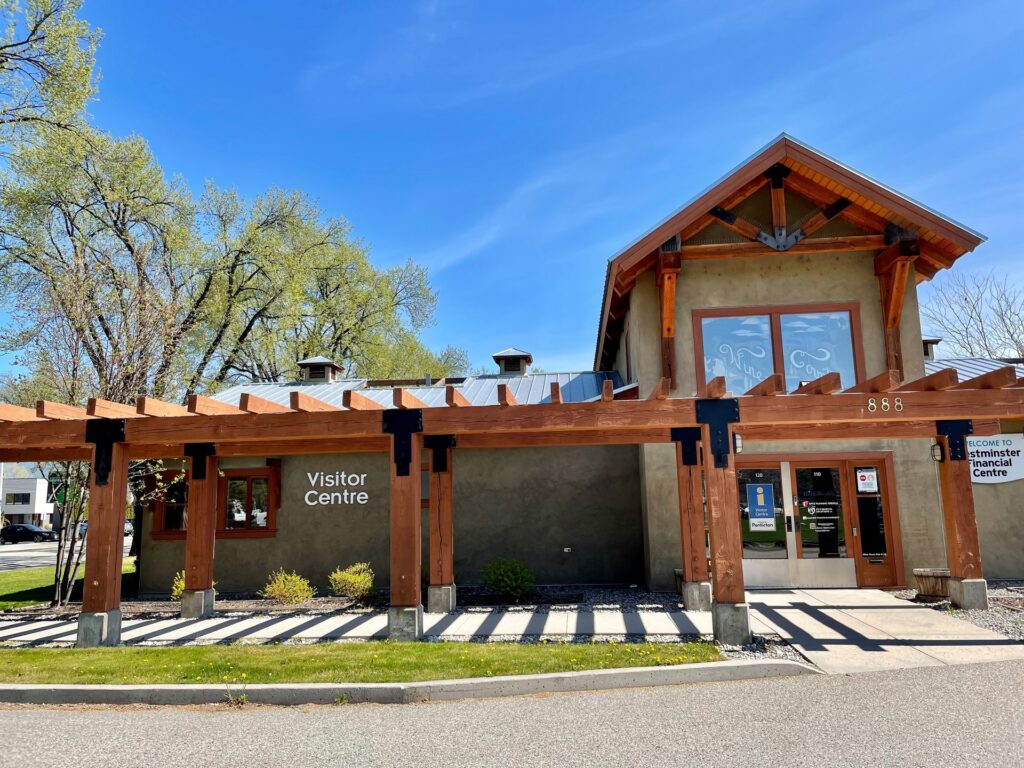 Located at:
888 Westminster Ave West
Penticton, BC
V2A 8S2
Hours:
Monday to Friday
9:00am – 4:00pm
Peach Location
Located at:
185 Lakeshore Dr
Penticton, BC
V2A 1B7
Hours:
Closed for the season
View current visitor centre hours of operation here.
Tips for Being Safe While Participating in Outdoor Activities
Always check the current weather conditions and weather alerts along your planned journey before heading out
Plan your travel route, let someone know where you're going and when
Know the terrain and conditions. Know and stay within your limits
Consider taking a guided tour to learn from the experts. Build up your endurance on short trails before attempting longer trails or more challenging terrain
Practice low-risk activities and recreation
Bring water. Fuel your body before heading outside and pack an additional nutritious snack and water to take along
Pack in and pack out. Do not leave anything behind
Always carry the essentials and know how to use them
Dress warmly and pack extra layers
Stay informed and respect any trail, beach, park, or local area closures as posted
Be AdventureSmart at all times and follow the 3 T's: Trip Plan, Train, and Take Essentials
Plan Your Ski Holiday in Penticton
Be sure to go online well in advance to note restaurant operating hours, lift access information, lift ticket booking procedures, cancellation policies, and safety precautions when planning your trip to Apex Mountain Resort. Expect to find unique safety protocols and operating procedures in place this season and rules may differ from ski resort to ski resort in BC, based on regionalized public health orders.
Come by the Penticton Visitor Centre this winter to pick up our exclusive discounted Apex adult day passes! Save 10% off the regular price with our 1-Day Adult Regular Lift Ticket Voucher, and you can also enjoy 20% off 1 Junior OR 1 Teen Day Pass Regular Lift Ticket, plus, 25% off ski & snowboard rentals.
Stay Informed