We Are Ready!
Starting July 1, recreational travel across Canada is allowed!
However, travel restrictions for non-essential travel across the U.S. border remains in place until at least July 21 to stop the spread of COVID-19 and variants of concern. Let's do our part by following provincial health orders and continuing to support local businesses in accordance with the latest health orders.

For more information about the latest Provincial Health Orders, visit
https://www2.gov.bc.ca/gov/content/covid-19/travel/current
#visitpenticton #lovelocalPenticton #exploreBC
Travel Updates and Information
Starting July 1, 2021 recreational travel across Canada is allowed
Further details on the current orders can be found at: gov.bc.ca/COVID-19.
The Canadian border remains closed for recreational tourism, so we are asking our international visitors to dream now and explore BC later when the time is right. While the border remains open for essential travel purposes, any visitor who arrives from outside of Canada must quarantine for 14 days.
The Province has created a dedicated phone service to provide British Columbians with non-medical information about COVID-19, including the latest information on travel recommendations and social distancing. Information is available in more than 110 languages, seven days a week between 7:30 am-8 pm, at 1-888-COVID19 (1-888-268-4319) or via text message at 1-888-268-4319.
Read important updates on BC travel.
Read updates on the Canadian border and international travel advisories.
Read important updates from BC Parks.
Read updates on BC Ferries schedules and procedures. It is advisable to make a reservation for BC Ferries.
How To Explore Safely and Responsibly During COVID-19
If you are planning to visit Penticton, here are some guidelines for exploring our community.
Do not travel if you are sick
Practice 2 meters physical distancing at all times
Wash your hands regularly
Masks are mandatory in indoor public spaces
Reduce your contact in the community by bringing essentials with you
Plan ahead and book activities, accommodation, dining reservations, wine tastings and experiences in advance. Review the booking and cancellation policies
Respect the safety procedures enacted by the businesses you visit
Adhere to any local closures or restricted access to communities
Follow the direction of the Provincial Health Officer and keep up to date on changing guidelines and regulations. If you would like to know how local businesses are keeping customers safe, check their website, social media, or give them a call to inquire.
Penticton Visitor Centre


Main Location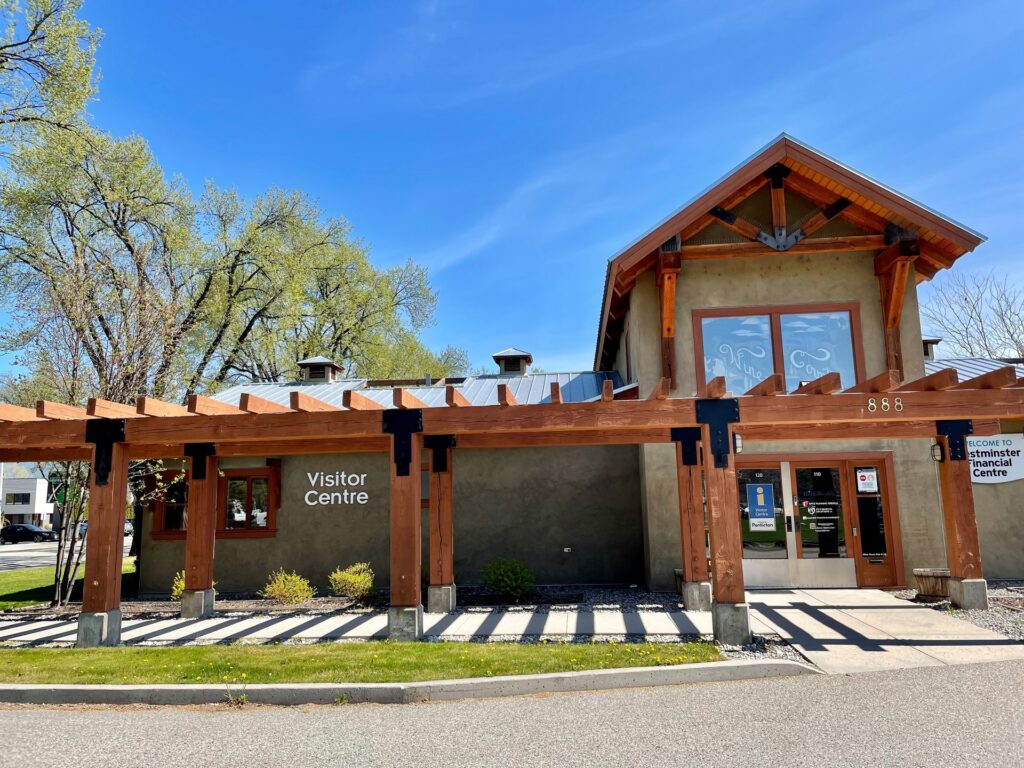 Located at:
888 Westminster Ave West
Penticton, BC
V2A 8S2
Hours:
Monday – Saturday
9am – 5pm
Penticton Visitor Centre


Peach Location
Located at:
185 Lakeshore Dr
Penticton, BC
V2A 1B7
Hours:
Daily
10am – 6pm
Tips for Being Safe While
Participating in Outdoors Activities
If an area is congested, be patient or change your plans
Practice low-risk activities and recreation
While hiking or biking, move off the trail to take breaks
Be wildfire and wildlife safe
Pack in and pack out. Do not leave anything behind
Stay informed and respect any trail, beach, park, or local area closures as posted
Be AdventureSmart at all times and follow the 3 T's: Trip Plan, Train, and Take Essentials
Additional Resources
Stay Informed