Updated: May 4th, 2022
BC tour operators, accommodation providers and attraction hosts have implemented stringent protocols to keep visitors safe, and visitors are asked to return the favour by travelling responsibly.
Let's do our part by following provincial health orders and continuing to support local businesses in accordance with the latest health orders.

For more information about the latest Provincial Health Orders, visit
https://www2.gov.bc.ca/gov/content/covid-19/travel/current
#visitpenticton #lovelocalPenticton #exploreBC
Travel Updates and Information
Current public health measures:
The provincial health officer lifted all restrictions on personal gatherings, organized gatherings and events, nightclubs, bars and restaurants, exercise and fitness, and adult sports tournaments, and all capacity limits have returned to normal.
Wearing masks in public indoor settings is not required by public health. Wearing a mask is a personal choice. Masks are encouraged on public transit and BC Ferries, but not required.
Individual businesses and event organizers can choose to continue requiring masks on their premises. It's important that we respect the choices of people, businesses and one another.
For more details on the current public health measures, click here.
Highway closures and travel restrictions:
Please check Drive BC for an up-to-date list of the latest restrictions and advisories
Air travel to BC:
There have been a series of adjustments to current federal border measures for Canada, representing the beginning of a phased easing of travel restrictions.
The Government of Canada requires all travellers 12 years and older to be fully vaccinated and show proof of vaccination to use federally regulated methods of travel:

Departing from any Canadian airport

Travelling on VIA Rail and Rocky Mountaineer trains
Staying on a non-essential passenger vessel for more than 24 hours (like a cruise ship)

​BC Ferries does not require proof of vaccination

All travellers are required to complete ArriveCan online or through the free mobile app before entry to Canada.
Fully vaccinated travellers are no longer required to complete a pre-entry test for travel to Canada.
Fully vaccinated travellers may still continue to undergo random testing upon entry to Canada, but are not required to quarantine while awaiting their results
Unvaccinated and partially vaccinated travellers will continue to be tested with a COVID-19 molecular test on arrival and on day 8 while they quarantine for 14 days
Children ages 5-11 do not require a COVID-19 test to enter Canada if they are accompanied by a fully vaccinated adult
Pre-entry tests are still required for partially vaccinated or unvaccinated travellers ages 12 and up
Get your federal proof of vaccination document before travelling inside or outside of Canada. Travel agents will ask to see your federal proof of vaccination document and a piece of valid government photo ID.
The Government of Canada has adjusted its Travel Health Notice from a Level 3 to a Level 2. This means that the Government no longer recommends that Canadians avoid travel for non-essential purposes
International flights carrying passengers are permitted to land at all Canadian airports that are designated by the Canada Border Services Agency to receive international passenger flights
For more information on requirements around travelling in and out of BC, click here.
For the latest information on travel to Canada including the updated federal requirements and restrictions, please visit the Government of Canada website here.
Further details on the COVID-19 situation in BC can be found here.
Read important updates on highway restrictions and advisories
Read important updates on BC travel.
Read updates on the Canadian border and international travel advisories.
Read important updates from BC Parks.
Read updates on BC Ferries schedules and procedures. It is advisable to make a reservation for BC Ferries.
How To Explore Safely and Responsibly
Situated between two large fresh water lakes, ample green space, local wildlife, an abundance of wineries, vineyards and orchards, and never ending trails to explore, it is no wonder travellers choose to visit Penticton. But in order to ensure Penticton remains beautiful we ask you respect and care for the land, the people and our way of life during your stay.
If you are planning to visit Penticton, here are some guidelines for exploring our community.
Do not travel if you are sick
Practice 2 meters physical distancing when possible
Wash your hands regularly
Support local, dine at the local restaurants, book an activity or a tour, and find a unique accommodation
Plan ahead and book activities, accommodation, dining reservations, wine tastings and experiences in advance. Review the booking and cancellation policies
Respect the people, businesses, and communities you visit, and respect the safety procedures enacted by the businesses you visit
Respect local wildlife. Pack out what you pack in and dispose of waste properly
If you encounter wildlife during your adventures, please remember to keep your distance and recognize that you are a visitor to their home
Remember that delays and disruptions can happen at any time of year. Take your time, take care of each other, and practice patience
Adhere to any local closures or restricted access to communities
Follow the direction of the Provincial Health Officer and keep up to date on changing guidelines and regulations. If you would like to know how local businesses are keeping customers safe, check their website, social media, or give them a call to inquire.
Penticton Visitor Centre


Main Location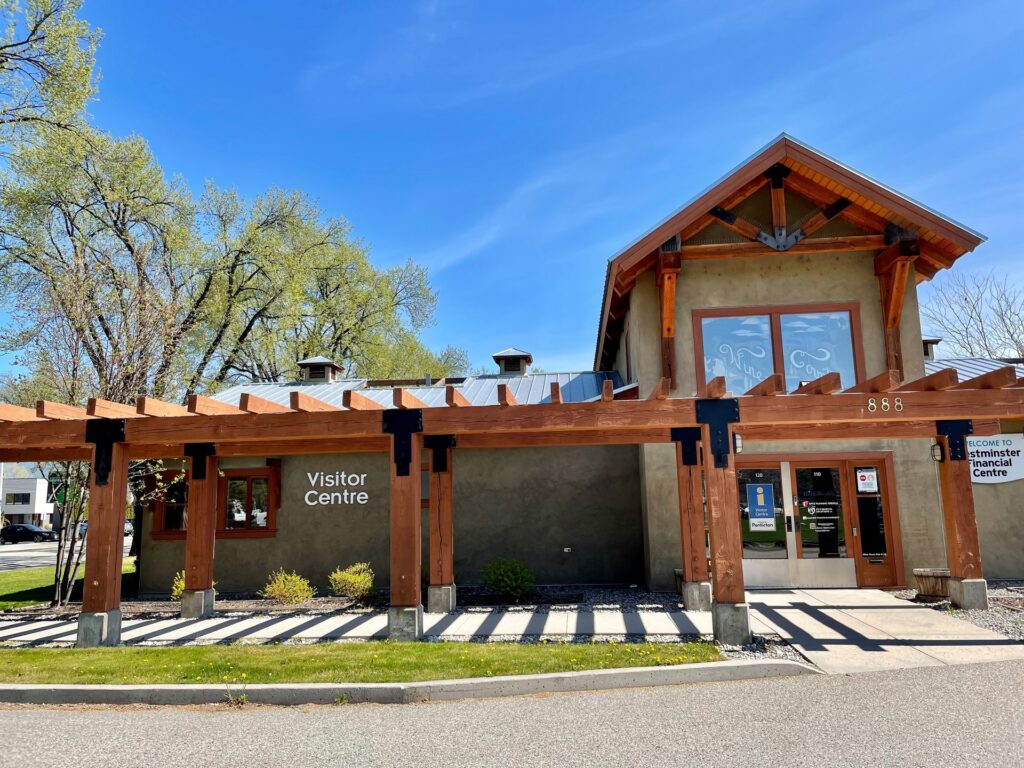 Located at:
888 Westminster Ave West
Penticton, BC
V2A 8S2
Hours:
Monday to Saturday
9:00am – 4:00pm
Sunday
Closed
Penticton Visitor Centre


Peach Location
Located at:
185 Lakeshore Dr
Penticton, BC
V2A 1B7
Hours:
Monday to Friday
8:30am – 4:30pm
Saturday & Sunday
Closed
Tips for Being Safe While Participating in Outdoor Activities
Always check the current weather conditions and weather alerts along your planned journey before heading out
Dress warmly or pack an extra layer
Plan your travel route, let someone know where you're going and when
Know the terrain and conditions
Practice low-risk activities and recreation
Pack in and pack out. Do not leave anything behind
Stay informed and respect any trail, beach, park, or local area closures as posted
Be AdventureSmart at all times and follow the 3 T's: Trip Plan, Train, and Take Essentials
Additional Resources
Stay Informed