COVID-19 Safety Procedures
The Penticton Visitor Centre team has taken every precaution to ensure the health and safety of both staff and visitors.
CLICK HERE to view a copy of Safety Procedures Handbook.
Please note that masks must now be worn at all times in the Visitor Centre.
Contact Us
Penticton Visitor Centre is here to help you make the most of your stay. Call, e-mail or visit us in person. Whatever your preferred method of communication, if there is anything you need to know about Penticton & Wine Country reach out to us! Who better than a local to provide travel tips, help book accommodations, give recommendations on places to eat or drink, or tell you about all the festivals and events taking place while you're here.
Penticton Visitor Centre (Main Location)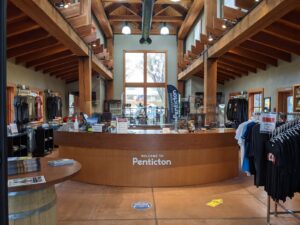 888 Westminster Avenue W, Penticton, BC V2A 8S2
Toll free: 1-800-663-5052
Phone: 250-276-2170
E-mail:
Hours
Monday – Saturday: 9:00am – 5:00pm 

Sunday:

Closed
Penticton Visitor Centre (Peach Location)
185 Lakeshore Dr W, Penticton, BC V2A 1B7
Hours (Seasonal)
Monday – Friday: 9:00am – 4:00pm

Saturday & Sunday:

Closed
Connect With Us
Connect with us on social media:
@VisitPenticton #VisitPenticton