Casual or fine, winery or brewery, eat-in or to-go — options in Penticton abound.
by Steve MacNaull
We have a dilemma.
There are two wine-pairing suggestions listed with the pulled-pork tacos on the menu at The Bistro at Hillside Winery. Both my wife, Kerry, and I adore Hillside's Rose and Gewurztraminer, so which do we choose?
Of course, it's a first-world problem we solve with incredible mental and culinary dexterity. I order the Gewurtz with the tacos and Kerry selects the Rosé to match the caprese salad she has her eye on. After all, the pink wine is also one of salad's suggested pairings.
Our shared scallops and pork belly entree poses no such crisis. Both the Pinot Noir and the Heritage Pinot Gris are recommended pairings, so we get a glass of each.
Chef Evan Robertson and winemaker Kathy Malone are both doing sensational work at Hillside and as such The Bistro has become a South Okanagan wine country stand out. Whether you happen upon it while wine touring on the Naramata Bench or make a reservation, you can taste wine at the bar or seated outside and also stop for a lunch or dinner of inspired food-and-wine pairings seated inside or al fresco.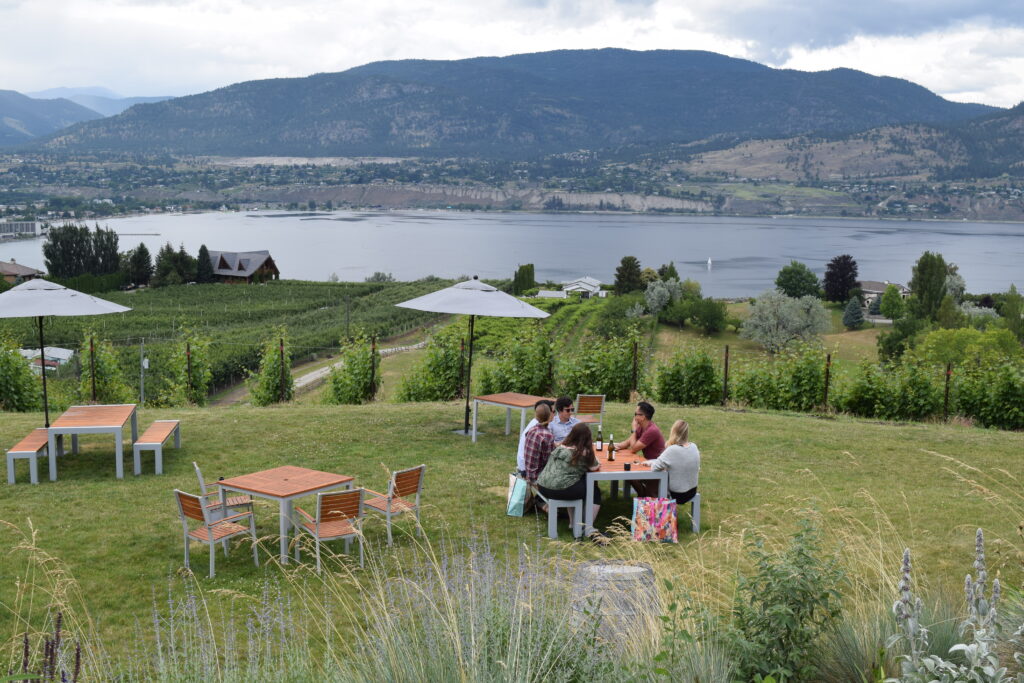 The restaurant at Poplar Grove Winery is also a Naramata Bench hotspot with options to eat and sip indoors with floor-to-ceiling windows, on the patio or lawn — all of which afford panoramic views of vineyards, Okanagan Lake and mountains.
It's often said that food is the most constant and most important element of a holiday. We all have to eat, so why not nosh local and eat well on your Penticton vacay, whether you're in the city to hit the beach, ski, wine tour or triathlon?
Your culinary pit stops can be casual or classy, eat-in or take-out or even make-your-own after visiting the Penticton Farmers' Market on Saturday on Main Street.
"We're so lucky because we have so many food and drink options in Penticton," says Stewart Glynes, the chef and owner at The Bench Market. "We were doing farm-to-table before it was a thing and as a result the food and bar scene has exploded."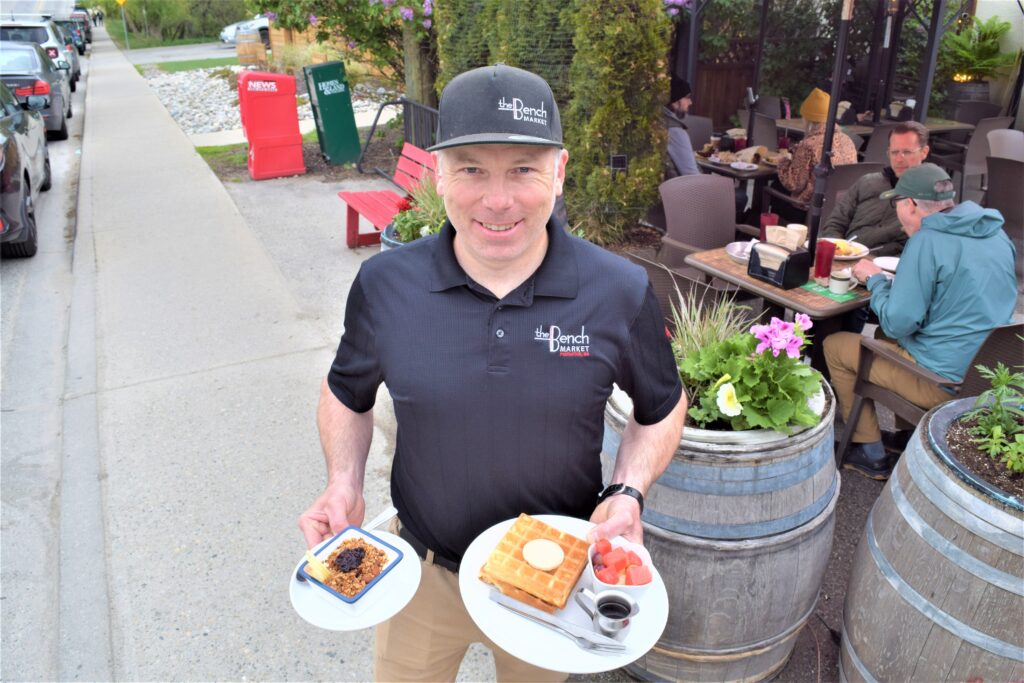 The Bench's part in all this is "nailing" the coffee, all-day breakfast, brunch and lunch crowd with fresh and organic options such as famous eggs bennie, homemade waffles and trendy avocado toast with a twist.
We have a 'why-didn't-I-invent-that' moment at Pizzeria Tratto in downtown Penticton when our sausage-and-smoke pizza arrives with a pair of scissors with green-and-red handles to mimic the flag of Italy.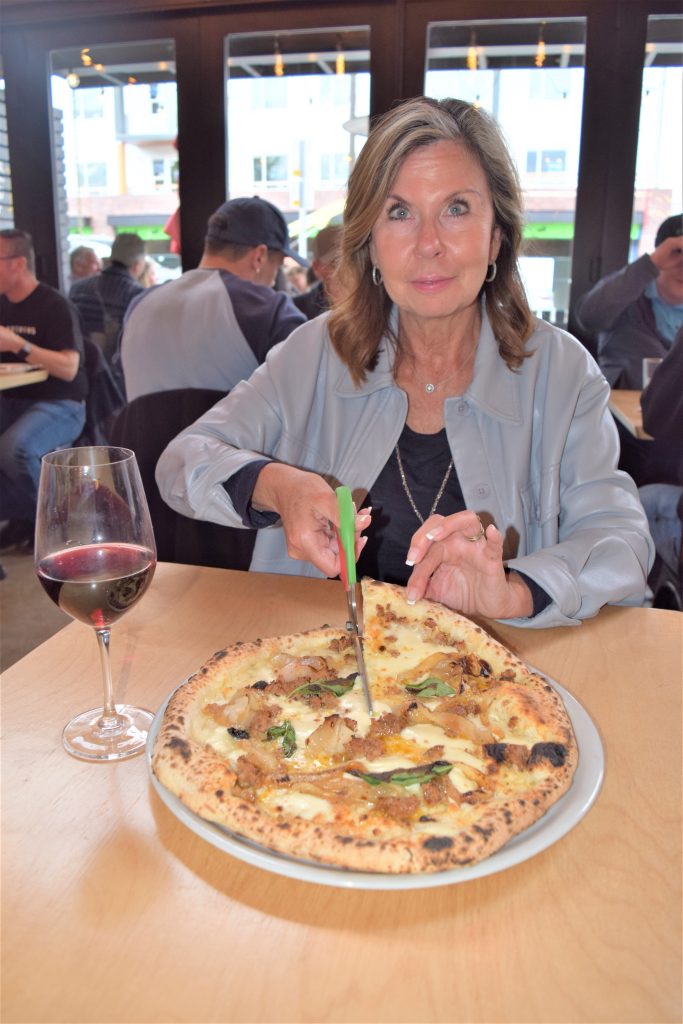 "People like to cut their own pizza and these pizza shears are just the ticket," says Tratto co-owner Christopher Royal.
By the way, the authentic hand-stretched-dough pizza paired magnificently with Foxtrot Foxly Pinot Noir from the Naramata Bench.
From Italy to Turkey, the next night we dined at Elma, the Turkish-inspired resto off the Okanagan Lake promenade. The menu is 'meze' or share-plate dominated, so we eat our way through burrata cheese with charred eggplant, Turkish bread and dip, grilled swordfish and morel mushroom pide that chef Derek Ingram bakes in the forno oven. By the way, Turkish fare pairs nicely with Okanagan wine, so with our feast we sipped Viognier from Terravista on the Naramata Bench.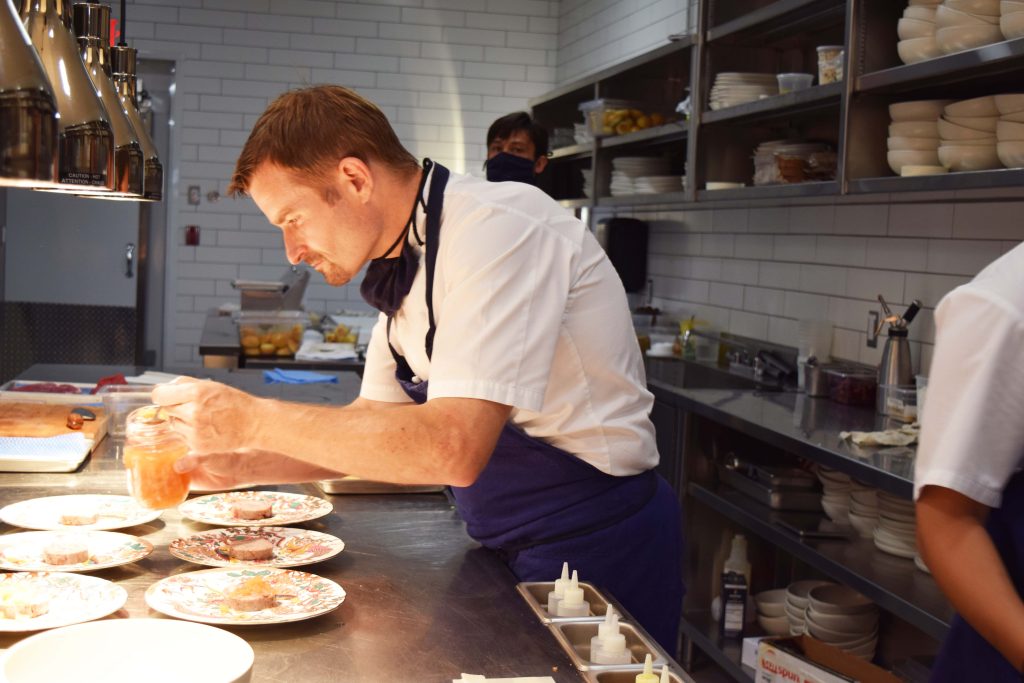 While he is Penticton born-and-raised, Ned Bell ventured to Vancouver to earn his celebrity chef stripes at Le Crocodile, Lumiere, Yew at the Four Seasons Hotel, as executive chef of Ocean Wise and writing the cookbook Lure: Sustainable Seafood.
But, home drew him back and Bell is now the co-owner of the historic, 12-room Naramata Inn and the chef at the inn's restaurant and wine bar, which are both earning accolades for their beautiful-British-Columbia approach to food-and-wine pairing.
Dry-aged Fraser Valley Duck with 1 Mill Road 2019 Pinot Noir from the Naramata Bench, anyone?
"I feel I was destined to cook at the Naramata Inn," says Bell. "It's my destiny. It's a dream come true."
In Grade 4, Luke Walsh was cast as Loki, the Norse god of mischief, in a school play. The name stuck and when it was time for him to open his own restaurant in downtown Penticton he went with Loki's Garage, a nod also to the location at 52 Front St. previously housing Larsen Brothers Automotive.
The garage doors are still there and open to create an industrial-casual, indoor-outdoor space for devouring chef's salad, chicken and waffles and the crafty burger with local wine and beer.
Loki's also happens to be in the downtown brewery district that's home to seven makers of craft suds — Cannery, Neighbourhood, Highway 97, Slackwater, Bad Tattoo, Tin Whistle and Barley Mill — each of which has their own tasting room, patio and food scene.
Penticton's eighth and newest microbrewery is Abandoned Rail and as its name implies, it's located along the abandoned railway that's now the Kettle Valley Rail Trail for hiking and biking on the Naramata Bench.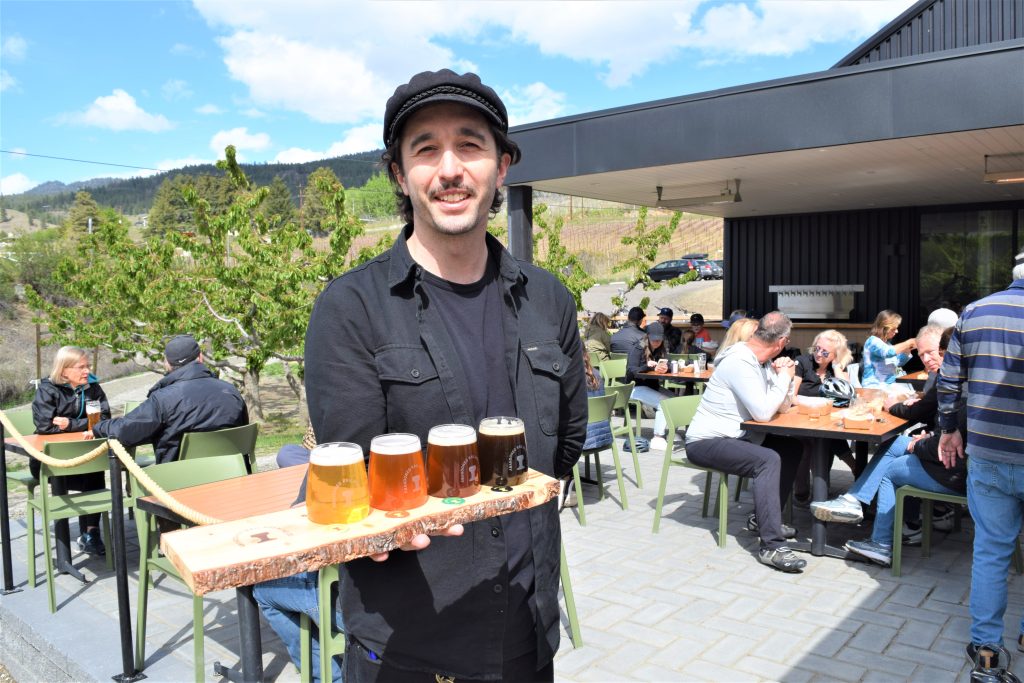 Abandoned is attracting crowds to sit on its sunny patio to sip the likes of Goldenauer and Bellhop and gobble up beer snacks like warm pretzels, pepperoni and hand pies.
District Wine Village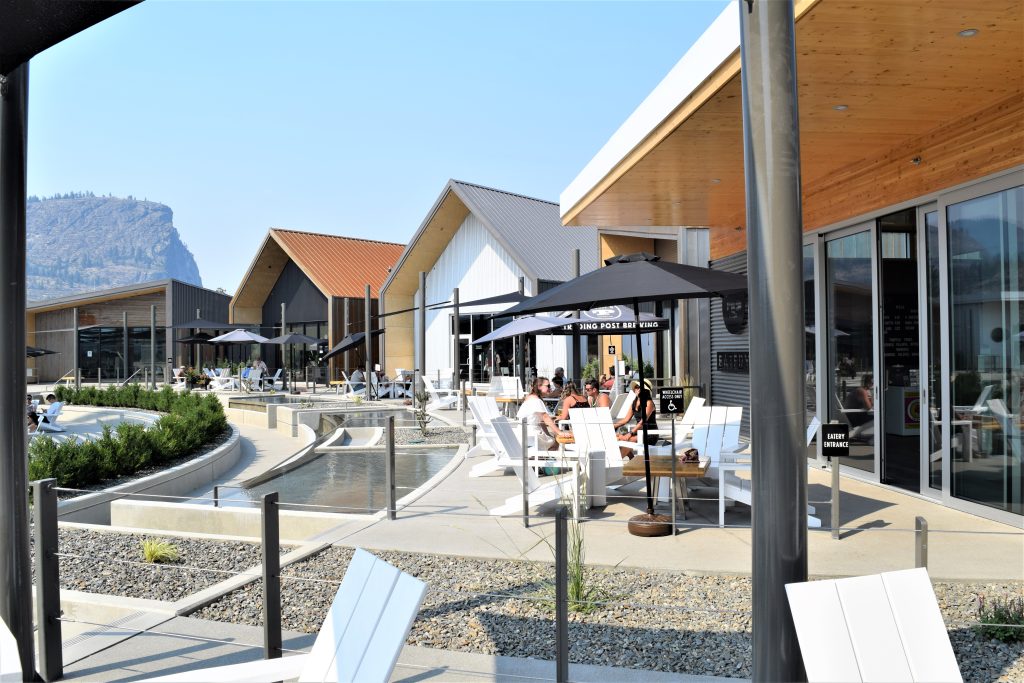 Game changing wine tourism is on tap just 35 kilometres down Highway 97 from Penticton in Oliver at the new District Wine Village.
"This concept is definitely catching on," says village general sales manager Darcel Giesbrecht.
"People love that there's a concentration of 13 wineries, a brewery, a distiller and a restaurant here surrounding a plaza where we regularly have farmers' markets, art shows and concerts."
The winery, brewery and distillery buildings that ring the big, tiered, central courtyard all have their own tasting room and patio.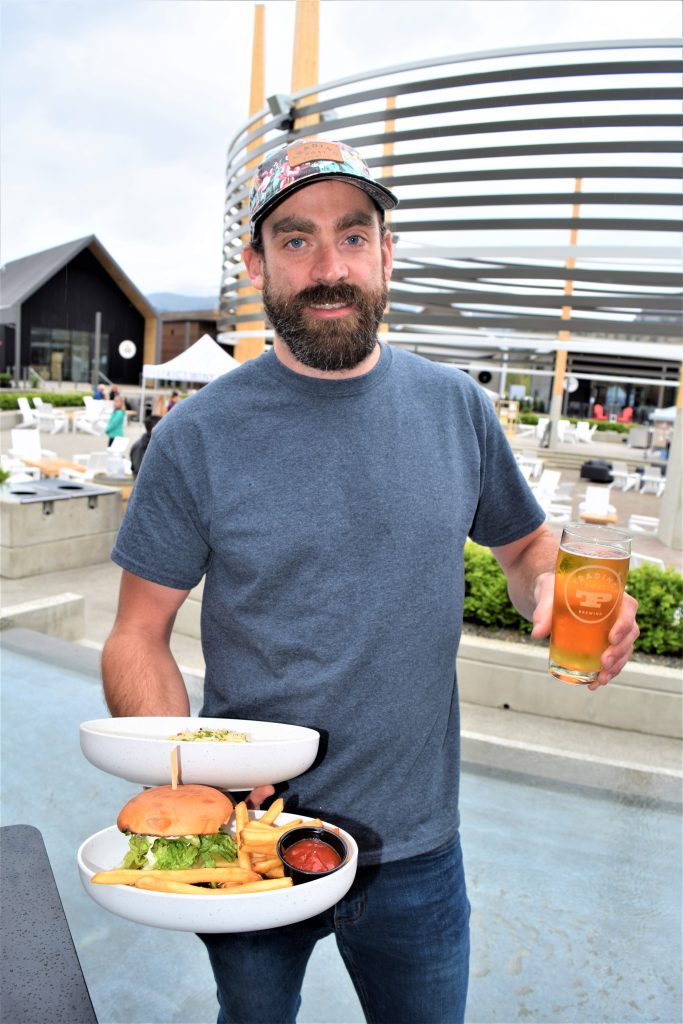 The Trading Post Restaurant, with both indoor and outdoor seating, serves the whole village for food and drinks with the a to-go option so you can have a beer or wine in hand to check out the art or farmers' market.
At the Trading Post, I opted for the voyager burger with Helles Lager (Trading Post is also the brewer at the village) and Kerry the lemon linguine with a glass of Eau Vivre Rose.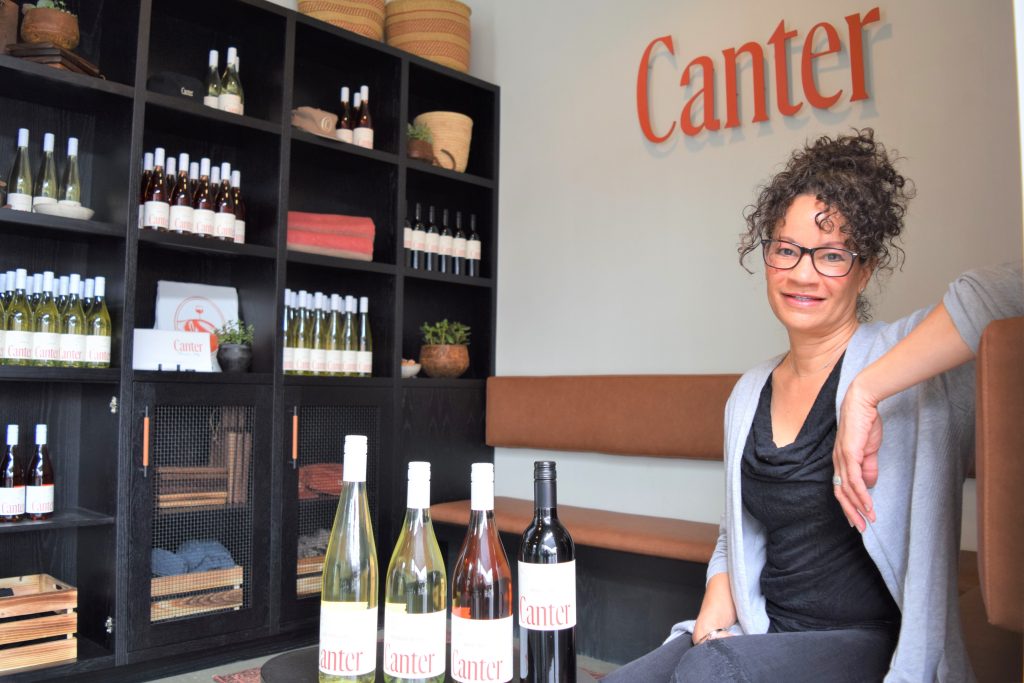 We were also drawn to the most recent winery to open at the village — Canter. Canter is the brainchild of village developer Matt Kenyon of Penticton-based Greyback Construction, his wife, Sara, and two other families. It's so named for the three-beat, relaxed horse gait 'canter' and the three equestrian-obsessed families involved with the venture. All of Canter's wines are fresh, fruit-forward and eminently approachable.