With plenty of winter activities to enjoy, world class wine tasting, and an impressive culinary scene, Penticton is the perfect destination for a winter couples retreat.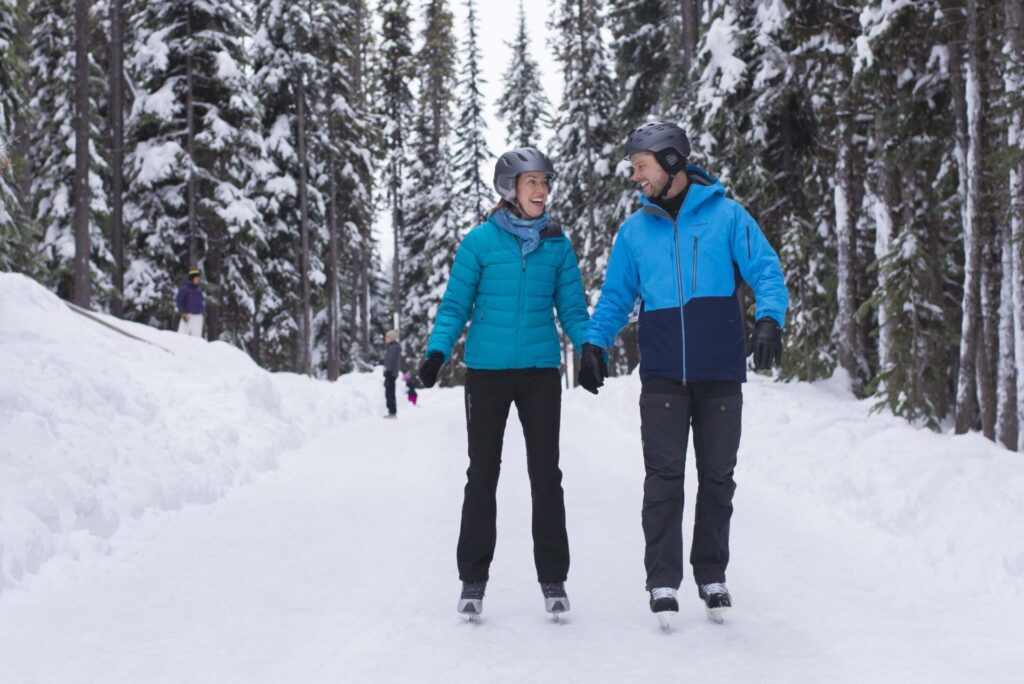 Make New Memories with Fun Winter Adventures
Penticton provides a cozy base for exploring nearby snow-covered mountains and trails with your partner. When staying in Penticton this winter, make sure to explore Apex Mountain Resort, Nickel Plate Nordic Centre and Baldy Mountain Resort for your fill of outdoor adventure.
Apex Mountain Resort is a winter playground with a wide variety of terrain to suit every snow rider, and is just a quick 30-minute drive from Penticton. Ideal weather conditions conspire to create incredible, light champagne powder for skiiers and snowboarders of all levels. Other outdoor activities available at Apex Mountain Resort include night skiing, and a tube park. If down hill isn't your thing – not to worry. Rent some skates and go for a romantic skate together on the 1km skating loop through a winter wonderland forest. Scheduled Opening Day 2023: December 9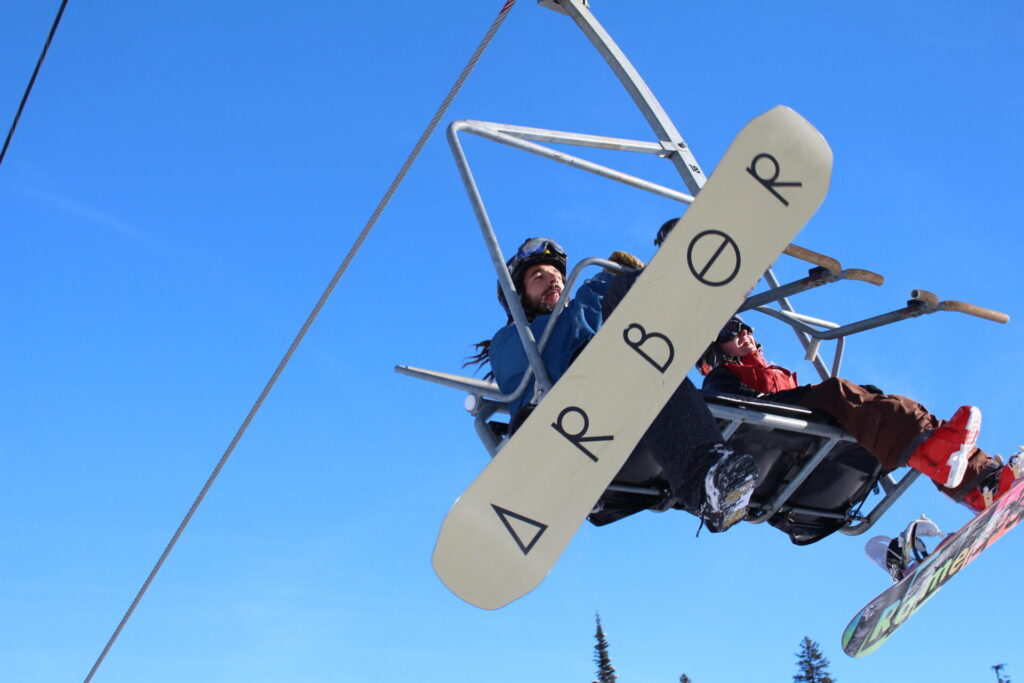 Nickel Plate Nordic Centre boasts 56 km of groomed trails for both classic and skate skiing and 22 km of marked snowshoe trails, and is a short 45-minute drive from Penticton. At 1,850 meters (6,000 ft) elevation, they enjoy one of the longest ski seasons in the western hemisphere, with trails for all abilities. When you need a break, enjoy their warm and cozy day lodge with kitchen, eating and lounge areas. They have everything you need for a day of fun, with a full line of rental equipment, professional instruction, and special events. Check out A Snowshoe Day Trip in Penticton blog post, to get an idea for the adventures that await you at Nickle Plate Nordic Centre! Scheduled Opening Day 2023: November 24
Baldy Mountain Resort is located just a little over a 1 hour drive from Penticton, and is a high alpine treasure (the 3rd highest elevation ski area in BC), with plentiful powder, and a variety of beginner, intermediate and expert runs. They offer a full line up of rentals, everything from snowshoes to snowboards, for whatever winter adventure you have in mind. Scheduled Opening Day 2023: December 16
Hoodoo Adventures offers a variety of guided snowshoe tours throughout the winter for you and your sweetie to experience. Whether you seek a steep mountain trek with epic views, or less challenging terrain complete with winery and brewery stops, there is something for every explorer to enjoy. Alternatively, if you prefer to forge your own path, individual snowshoe rentals are available, and the helpful Staff at Hoodoo Adventures are happy to recommend the perfect trails to suit your needs.
Drive down to Vaseux Lake, only a 25-minute drive from Penticton, just past Okanagan Falls, for skating and winter hiking. There is an astounding number of rare wildlife species in this small park for those that have the luck of spotting the many types of animals, from California bighorn sheep, rabbits, deer or Pallid bats hibernating between rocks to Canada geese, trumpeter swans, blue-winged teal, widgeons and wood ducks, if they haven't yet flown south for the winter. It's also a great place for those that enjoy ice fishing.
Make sure to start your day of adventure off right with a visit to one of the many charming local cafes or coffee shops for a warm drink and a bite to eat.
Winter Wine Tasting
Come for the outdoor winter adventures, stay for the ice wine! While visiting Penticton this winter, it is a great time to visit our wineries. The quieter season means more opportunity to slow down and enjoy your wine time with a more intimate wine tasting experience, and it's also a great time to try some ice wine.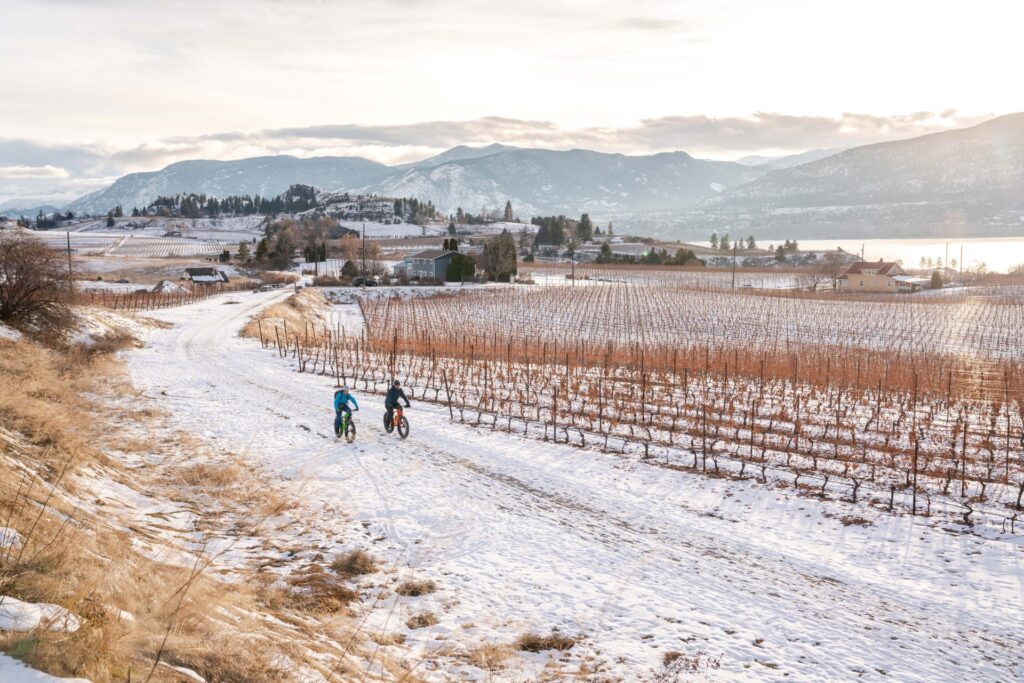 Although some wineries close for the winter season, many are still open throughout the year. You can find a list of wineries open throughout the winter here. It's always recommended to call ahead or visit the winery website to book a reservation, and double check the tasting hours of the wineries you are looking to visit. There's several wine tour companies in Penticton and area, all of which are knowledgeable on the wineries and would love to help you plan your wine tour for the day, including Grape Friends Tours, Sagebrush Tours, Grape Escapes Tours, Unique Blend, Wicked Tours, Cheers!, and Vivid Tours.
If you prefer the adventurous route, rent a fat bike from Freedom Bike Shop and take the KVR trail with some wine stops along the way.
The Best Date Night Dining
For a small town, Penticton boasts an impressive culinary scene, and is home to some of the most amazing date-night restaurants that you just have to try.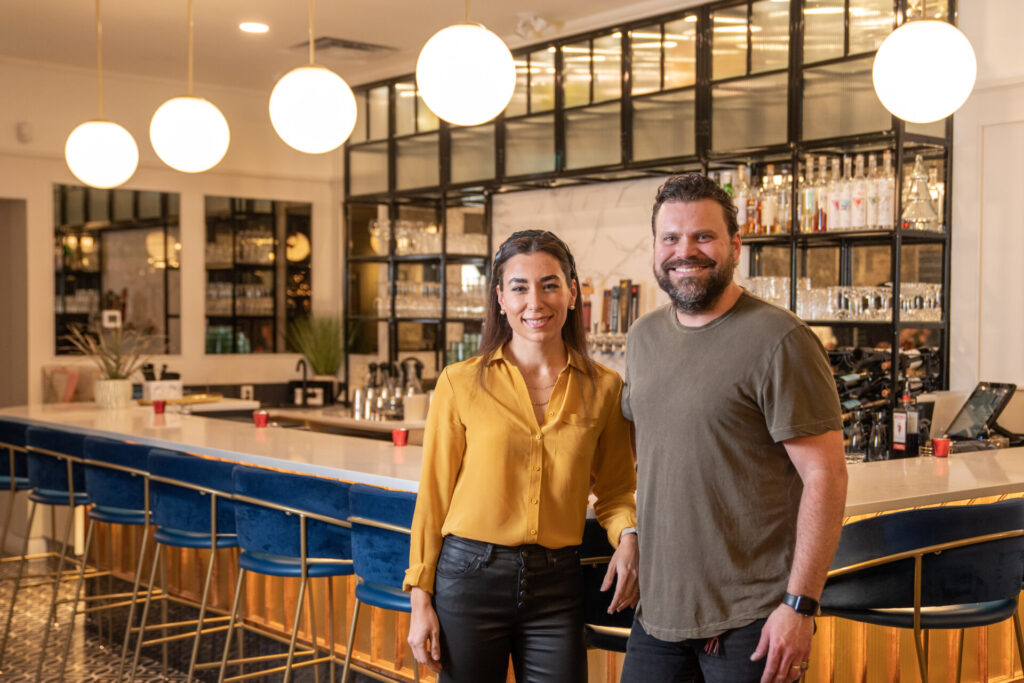 Elma offers a Turkish inspired dining experience on beautiful Lake Okanagan. Their big, bright dining room features tiles, lighting and other décor sourced directly from Turkey. The menu, features traditional Turkish food and tapas infused with local ingredients to give it a distinct Okanagan feel and flavour. After a delightful and flavorful meal, finish your evening with one of their authentic Turkish coffees.
Pizzeria Tratto was born out of a passion for great Italian ingredients and a respect for the craft of pizza making. At the heart of it all is the traditional domed forno, which churns out perfectly balanced, soft, yet charred, Neapolitan pizza. At Tratto, you can expect great local and Italian flavours, an extensive Italian wine list, classic Italian cocktails, and local craft beer.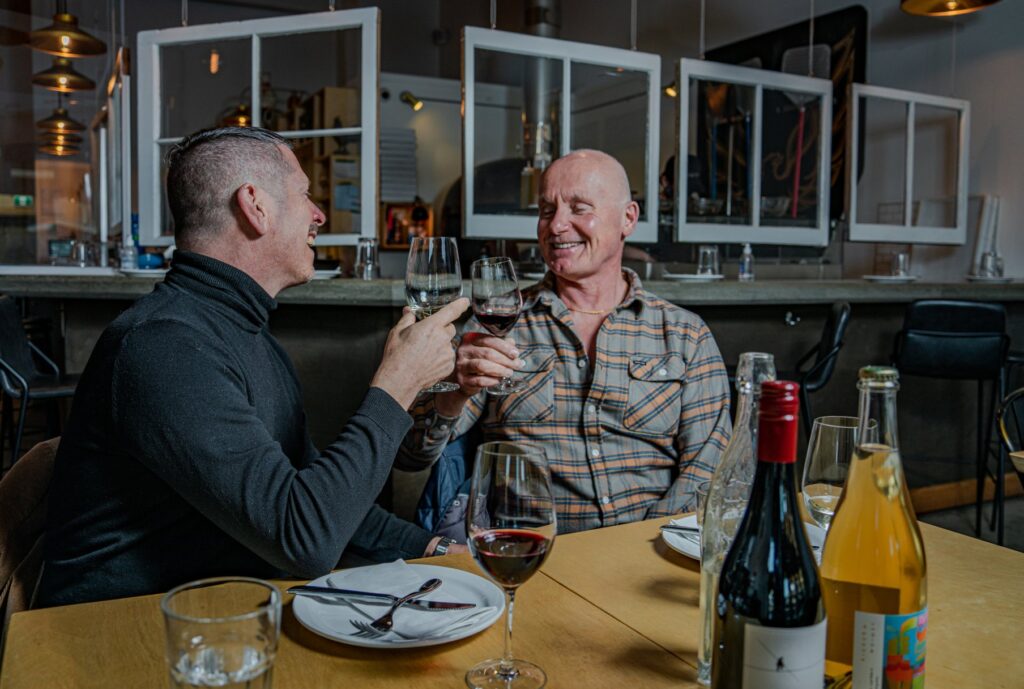 Kin & Folk serves up a delicious menu with asian flavors at its core. The chef draws inspiration from global cuisines, contemporary techniques, fresh ingredients and local producers to create a truly unique experience. They have also become well known for their craft cocktails, influenced by the classics but with a cheeky spin!
Nestled on the slopes of Munson Mountain, The Restaurant at Poplar Grove offers a romantic dining experience with beautiful views of Okanagan Lake, paired with exceptional wines and carefully crafted food. You can expect exceptional service, and extraordinary Okanagan sourced food and wine.
Experience Penticton's Downtown Scene
Downtown Penticton has a little extra glimmer this time of year. The snowflakes sparkle in holiday lights that line the downtown streets. There is plenty to do and explore, from shopping, craft beer tasting, enjoying our outdoor ice rinks, and taking in Penticton's arts and culture scene across our many galleries.
Shopping
Downtown Penticton is the perfect place to do some holiday shopping together – or just shopping yourself!
Outdoor enthusiasts have to check out Eskala Mountain Sports, and The Bike Barn, for the best in sports gear and outdoor apparel.
Find unique and local sweets and treats at Tickleberrys, and vegan specialty chocolate and at Maison Mulnati.
Originally built in 1914, what was originally a charming family home is now home to Cannabis Cottage, where you can shop a wide variety of cannabis products and accessories.
If fine and fashionable clothing is what you're after, you will want to stop in the Okanoggin Barbers Men's Wear shop, where you will find a large selection of casual and formal men's wear (perfect for another date night!). The Bumwrap on main street also carries a fantastic selection of both men's and women's apparel, and stocks a large selection of swim wear year round – so you can pick up a new swimsuit in preparation for beach season (it's not so far away…).
Craft Beer Tours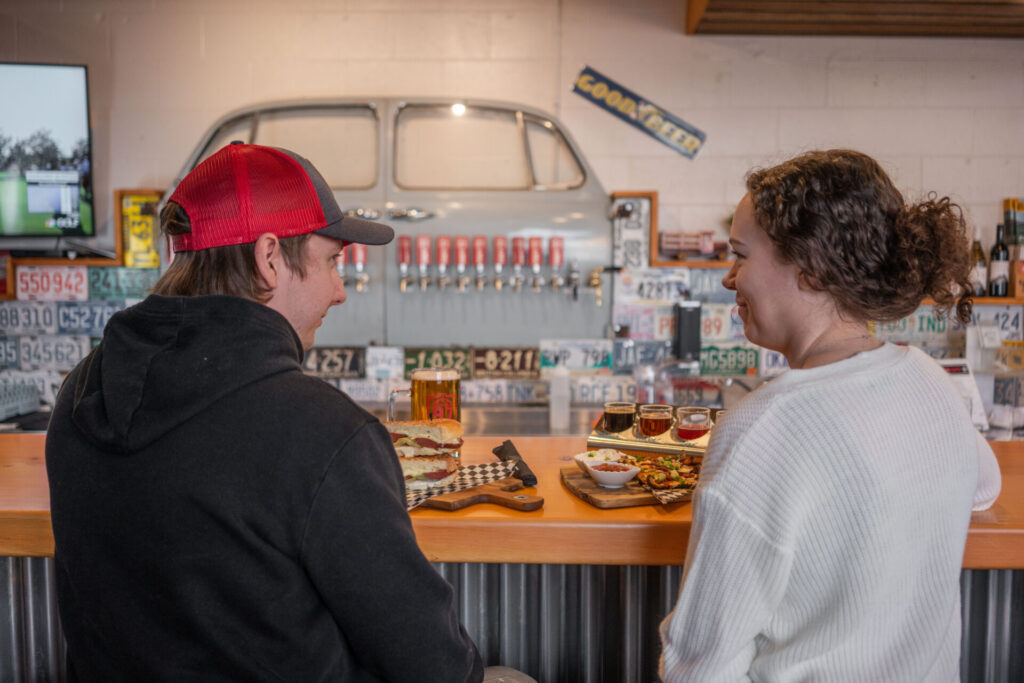 While we Penticton is well known as a premeir wine destination, but you'll also find a dynamic craft beer scene. Out of 8 local breweries in Penticton, 5 of them are located downtown. You'll not only find a wide selection of local craft beers, but more delicious options for dining, with Mexican inspired cuisine at Neighbourhood Brewing, a menu of great shareable dishes from Cannery Brewing, and classic pub style favorites like hamburgers and fish and chips at Slackwater Brewing and Highway 97 Brewing.
Ice Skating Downtown
Lace up your skates and hit the ice together! Penticton has two outdoor skating rinks located downtown which are open to the public during the Winter season, and available to use free of charge – just bring your skates!
The first is the Activate Penticton ice rink located on Martin Street, right beside Gyro Park. Be sure to check the schedule for the public skate times during your stay. Food Trucks also on site to share a post skate snack or meal!
If you prefer an ice rink with a view, look no further than the ice rink at the Penticton Lakeside Resort. The 30'×50′ fully lit ice rink is set located on their private licensed beach, right off the shores of Okanagan Lake.
Explore Penticton's Downtown Art Scene
There's no shortage of talented artists and art galleries in downtown Penticton, so take an afternoon to keep warm inside and check them out. The Penticton Art Gallery features exhibits which change monthly, and hosts various events such as painting classes. There are several galleries located in the downtown core which showcase talented local artists. The Lloyd Gallery, which has been around since the 1980's and showcases over 40 Canadian artists, and you'll have to visit Cormier's Studio, an art gallery, sculpture garden and bed and breakfast all in one.
Catch Cirque du Soliel "Corteo" at the South Okanagan Events Centre
Corteo, Cirque du Soleil's most enchanting arena production, is back in North America and heading to Penticton, set to charm audiences for the very first time. This one-of-a-kind production, directed by Daniele Finzi Pasca, was performed for the first time in Montreal in April 2005. Since its creation, the show has dazzled over 10 million people, in 20 countries on 4 continents. Corteo, presented by Sun Life, will be presented at the South Okanagan Event Centre for 8 performances only, from January 4th to January 7th, 2024.
Corteo, which means cortege in Italian, is a joyous procession, a festive parade imagined by a clown. Combining acrobatic feats, comedy, and acting, the show plunges spectators into a theatrical world of fun and spontaneity situated in a mysterious space between heaven and earth.  You can learn more and get tickets here.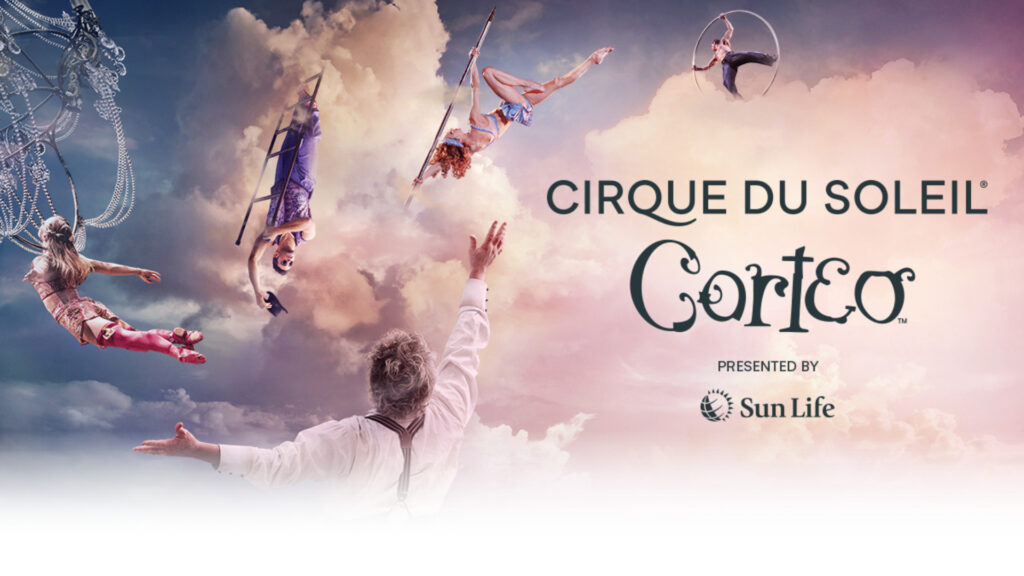 Start Planning your Winter Couples Retreat
Penticton is the ideal location for a romantic winter getaway. Experience the best of outdoor mountain adventure, with plenty of fun to be had in the city, and so many great dining options for the perfect date-night vibes.
For a cozy stay this winter, there are a variety of accommodation options. A few choices include Penticton Lakeside Resort with heated bathroom floors and stunning lake views in their West Wing rooms, Ramada Penticton Hotel & Suites with cozy fireplaces and plush king beds, or book a stay at HAVN House for a comfortable "home away from home".
Check out our Penticton Packages and find a travel deal to make the most of your vacation to Penticton this winter.