Founded as a bike rack brand in beautiful British Columbia, Swagman has always been passionate about not just creating the best way to transport bikes, but also about the rides themselves. Nestled in Penticton, BC, we're fortunate to call one of the greatest biking destinations our backyard.
And what good are our local mountain bike trails if we can't share them with the world? That's why we partnered up with Visit Penticton and some of our favourite local breweries to put together this series: Swagman's Backyard Ride Guide.
We'll be showcasing the different riding zones on offer, giving you an insider's guide on some of the best local lines, epic climbs, and scenic routes. Each Backyard Ride Guide piece will dive into a specific riding zone, sharing a little of what to expect, suggesting some routes, sharing our favourite trails, and of course, pairing up with a local brewery for the best spot to enjoy an apres pint.
So join us for Swagman's Backyard Ride Guide, where every ride promises an adventure, and every adventure ends with a brew.
Words & Photos: Evan Wishloff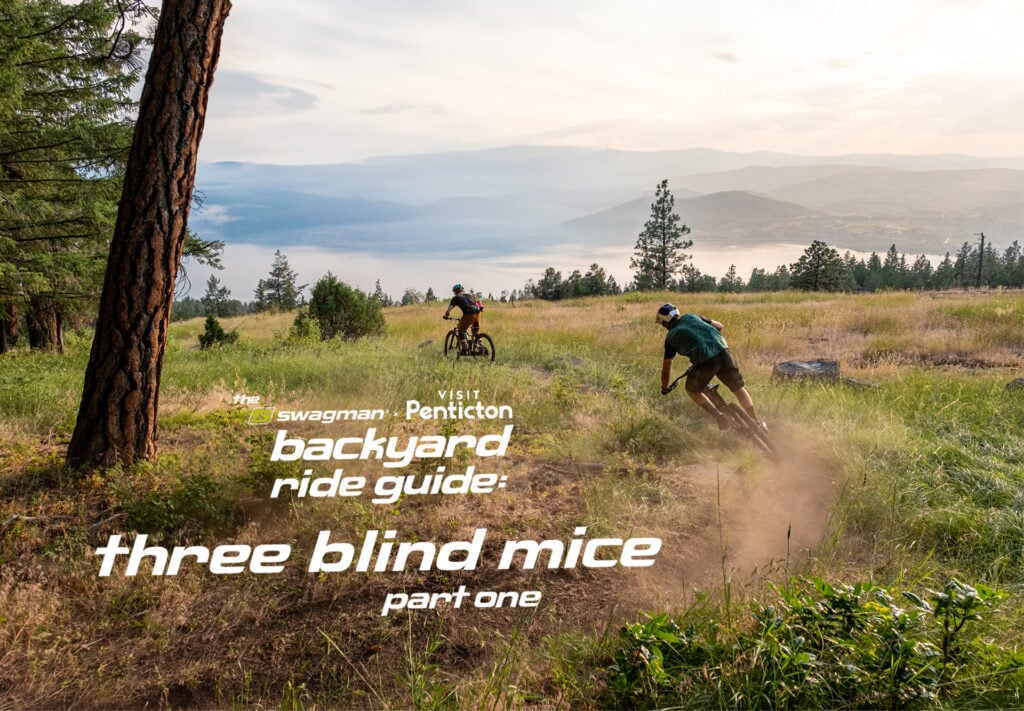 Swagman's Backyard Ride Guide is almost coming to a close, and we've saved the most expansive for last! The final trail network we're featuring is so large, we're dividing it into two parts.
Sure, you could try riding all 100+ km of trails in a single day. It's not like that's a terrible idea that we wrote about last year… but for our Backyard Ride Guide, we'll split things up to make it a bit more approachable.
Anyways, onto our Ride Guide for Three Blind Mice.
For Part 1, we're featuring some flow.
Swagman's Recommended Ride – Three Blind Mice Part 1 (Flow):
Distance: 22.8 km Vertical Ascent: 685 m
Click here for Trailforks Route.
Customize your ride! If you're looking to make the ride easier, pay attention to the optional green text below. If you're looking to make your ride more challenging, pay attention to the optional red text.
Usually, we save a mention of the post-ride brewery stop for the end of the Ride Guide, but we're throwing in a spoiler here, because it just so happens that Abandoned Rail Brewing Co. isn't just the perfect spot for a post-ride pint, it's also a great starting point for this ride! If you prefer a Fuel Free ride, pedal from town by connecting the Lake-to-Lake bike route to the gravel-grinder favourite, KVR, which will lead right past Abandoned Rail and on towards our ride of the day.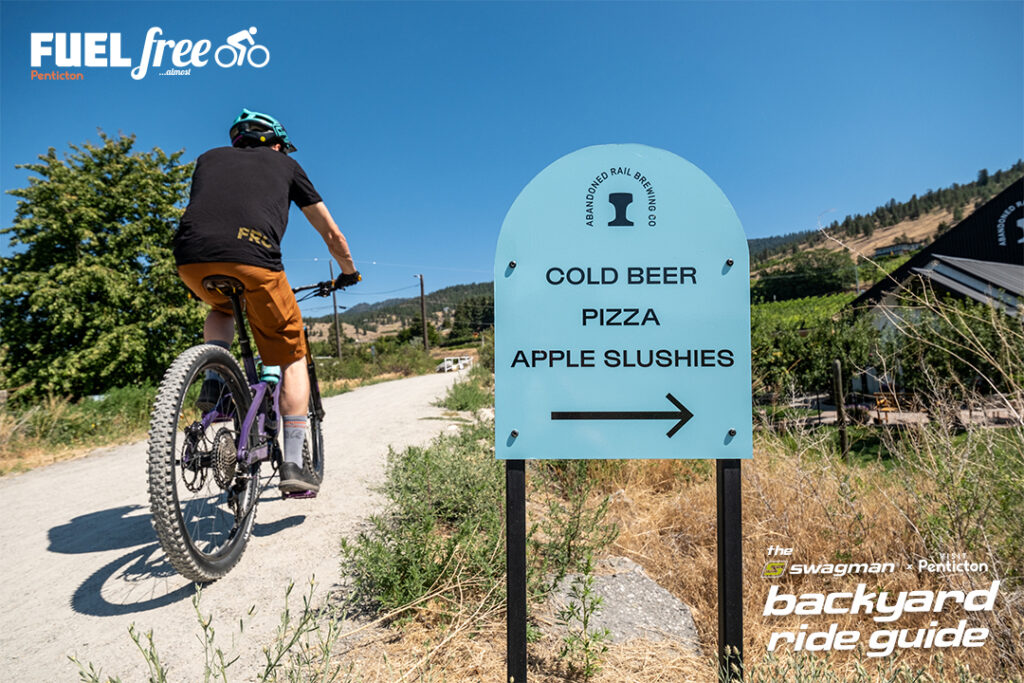 The map of Three Blind Mice is that of an erratic spiderweb, so follow our guide closely. To start, we'll be climbing up the most popular route, along the KVR past the amazing (and paved!) Poplar Grove Pumptrack, then up Riddle Road, past the disc golf course, before the marquee climb in the Mice, Yellow Brick Road.
This climb goes on and on. And on.
Make sure to take a break from the grind and take in the vistas. As the elevation increases, the panoramic views only get better!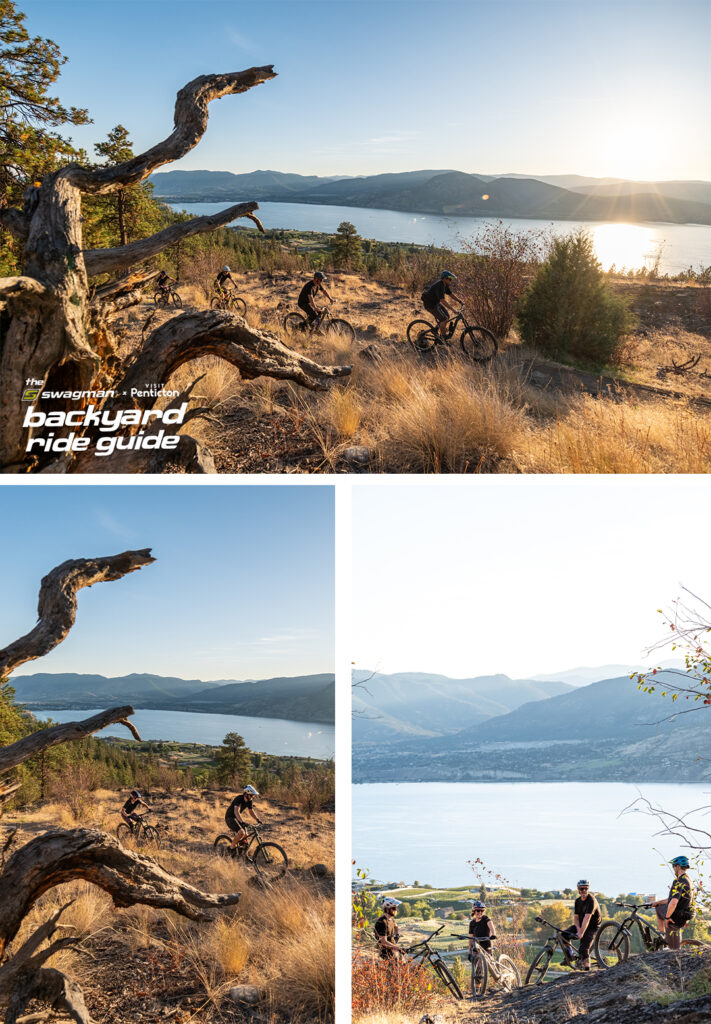 As you near the north end of the trail network, you'll exit onto the lower segments of another climb, Neverland, which will kick up through a few switchbacks leading to our highpoint – the start of Rusty Muffler.
Craving more of a challenge? Continue climbing on Neverland to get to the very top of the Mice. From there, we recommend riding Rainbow and either Bronco (black diamond) or High Pony (intermediate), before linking up with our ride guide further down the ride on Black Bear.
Now that the climbing is (mostly) out of the way, the fun begins! A short warm-up through the windy dirt of Rusty Muffler brings you to Eagle, the first black-diamond test of the day. Expect chunky rocks, roll-downs, and technical sections that can all be ridden at high-speed if you dare. A more conservative approach will reveal ride-arounds at most technical points.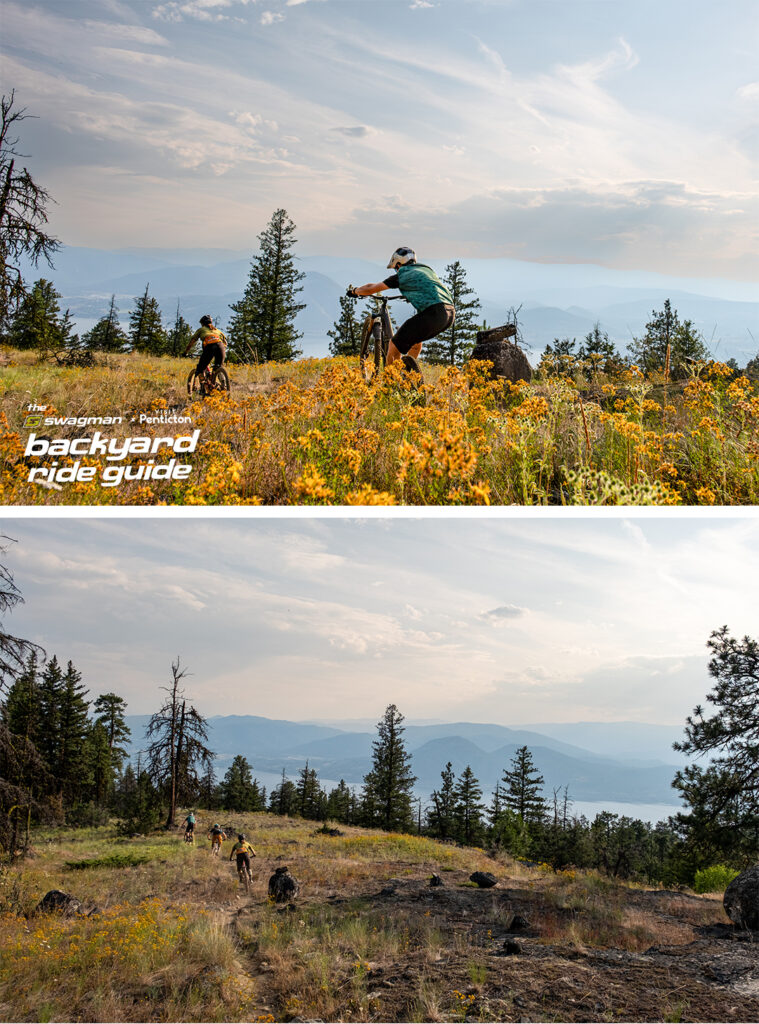 Fun fact: Eagle was featured in a stage of BCBR in 2021, and quickly earned itself the nickname "Flat Tire Alley." At race-pace, there's no shortage of square-edged rocks, bumps and drops, so keep this in mind as you descend and try to keep your tires (and rims) intact!
Looking for an easier ride? Skip the turn-off to Eagle, and continue on Rusty Muffler where you'll rejoin the Ride Guide route further down the trail.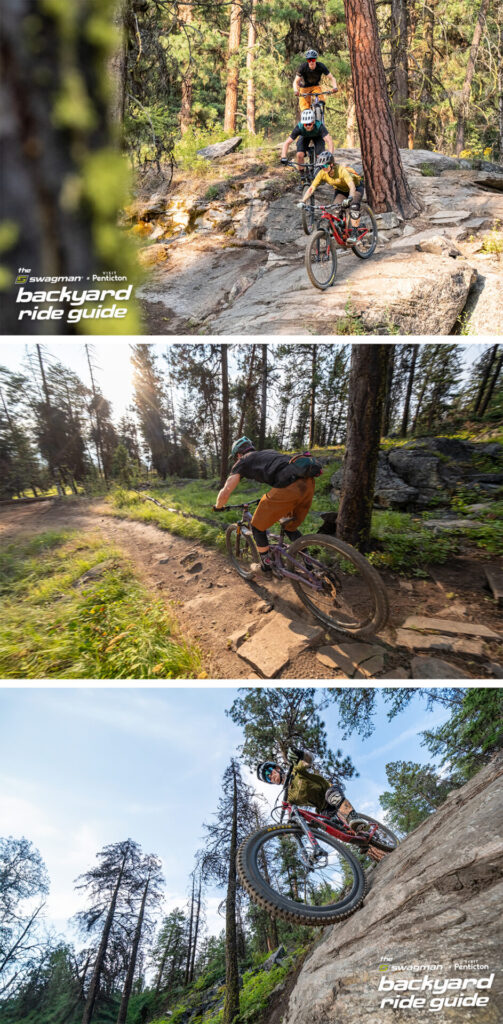 After the thrill ride of Eagle, a quick jaunt on Crow and Mule Deer will reconnect you to Rusty Muffler. Let off the brakes and enjoy some fun, flowy corners as you exit Rusty and start on Marmot.
Some short, mellower climbing awaits on Black Bear, before another fun, flowy-yet-rocky-and-technical black diamond trail, Slabs.
Want to skip the black diamond? Continue on Ponderosa, exit left onto Pinecone, and then ride the lower half of Fred, one of the flowiest trails mid-mountain with some of the best views out of the entire trail network! You'll rejoin the Ride Guide route at the end of Fred for the flowiest of grand finales!
Large slabs and rock rolls await on Slabs (perhaps that may be part of the origin of the name, but we at Swagman are not historians…)
The rock work on this trail is smooth and speedy – although a black-diamond trail, Slabs is decidedly more intermediate than many rocky trails you'd find on the West Coast or other comparable locations, so this is the perfect initiation if huge rock rolls are something you aspire to.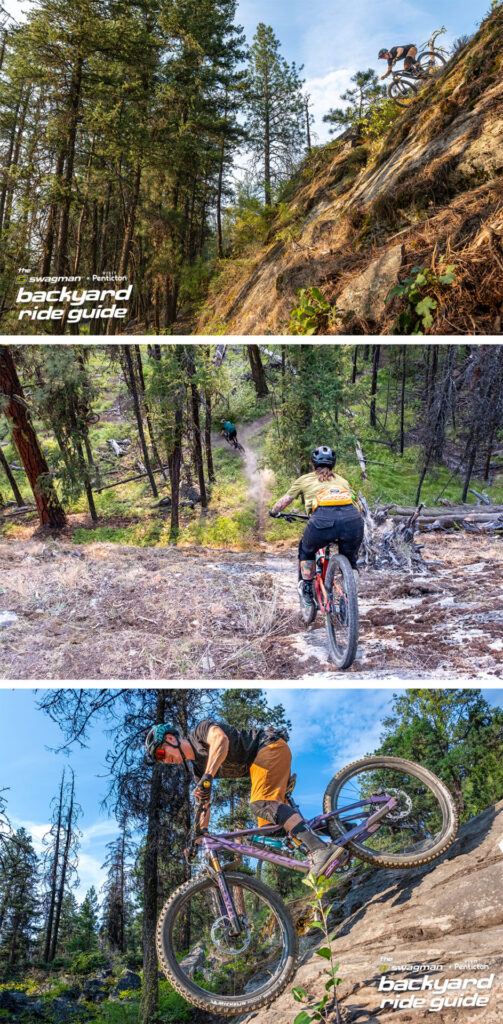 You'll skip the last small segment of Slabs to exit onto the last segment of Fred, which is when the sandy, flowy finale begins.
The piece de resistance of our flow ride in the Mice comes with one of PACA's most ambitious trail projects: Flow Coaster.
Completed in 2019, this flow trail of nearly 2 km features berms, rollers, doubles and jumps for a true thrill-ride! Don't worry, the trail is entirely rollable, with ride-arounds at a few larger features, so it truly is a fun-for-all-types kind of trail.
Relish the rollers, shred the berms, and hit the infamous road gap if you dare, because this ride is coming to an end.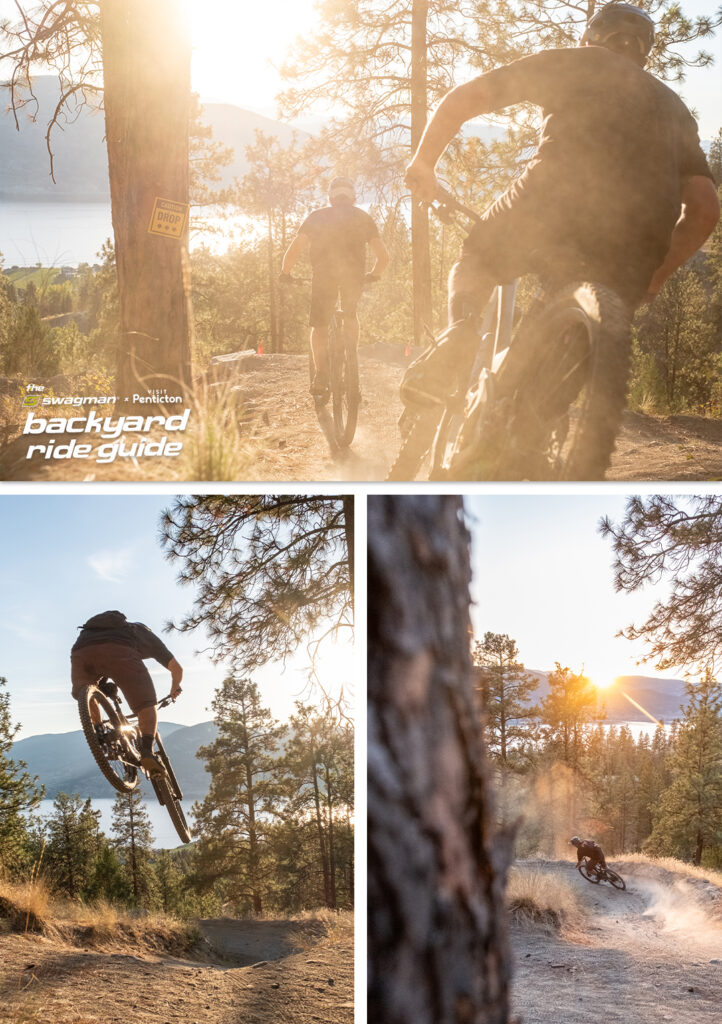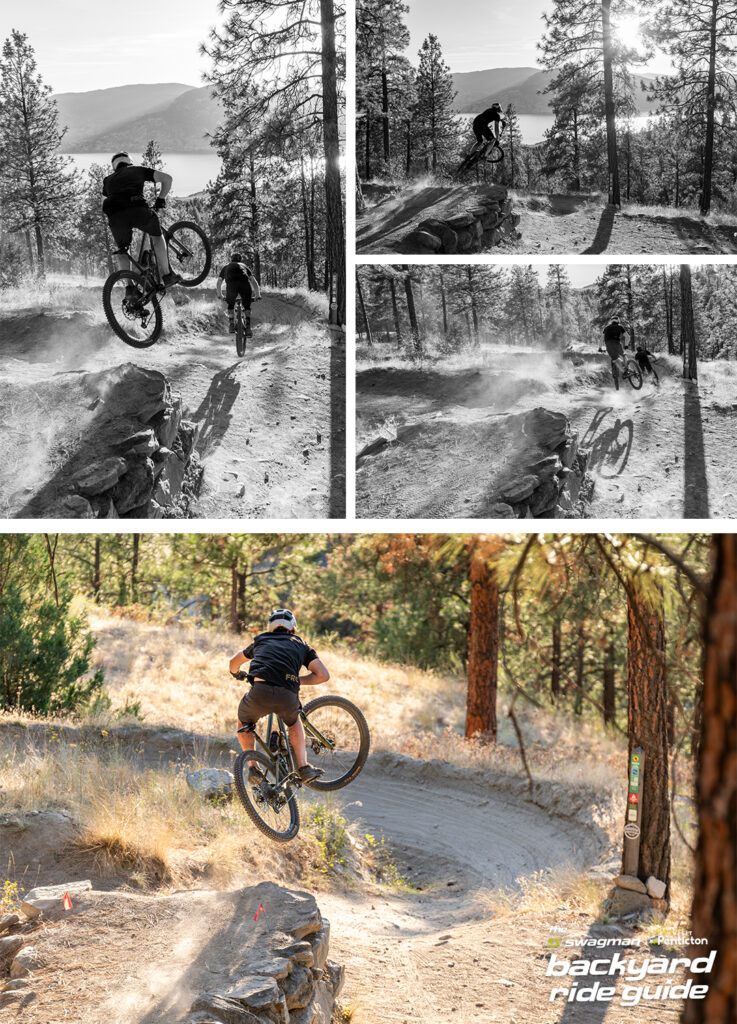 One more short trail, Tsweet Tsue, empties down to the Riddle Road entrance, where it's a short downhill coast and pedal back to Abandoned Rail Brewing Co. for the apres celebration.
Abandoned Rail Brewing Co. isn't just a brewery, it's an experience that ties together the best of the Okanagan. Nestled right off the Kettle Valley Rail (KVR) Trail, this farm-based brewery not only harvests their own barley right on-site but transforms it into a distinctly European beer, crafted by their German-certified Brewmaster. The result? Brews that many enthusiasts might say is, "sehr gut, ja!"

The setting compliments the beer perfectly, with a patio tucked amidst cherry trees, providing a cool shade from that hot Okanagan sun. It's the perfect spot to unwind after a day on the trails!
Oh, and we almost forgot to mention the woodfire pizza! Featuring adventurous and delectable flavors, it's the perfect pairing for a post-ride pint!
So raise a glass, and cheers to great rides, great pizza, and "sehr gut" beer, as that concludes our penultimate Backyard Ride Guide.
Stay tuned for our grand finale, where we'll return to the labyrinth that is the Mice, for something a tad different – and dare we say, even more exciting!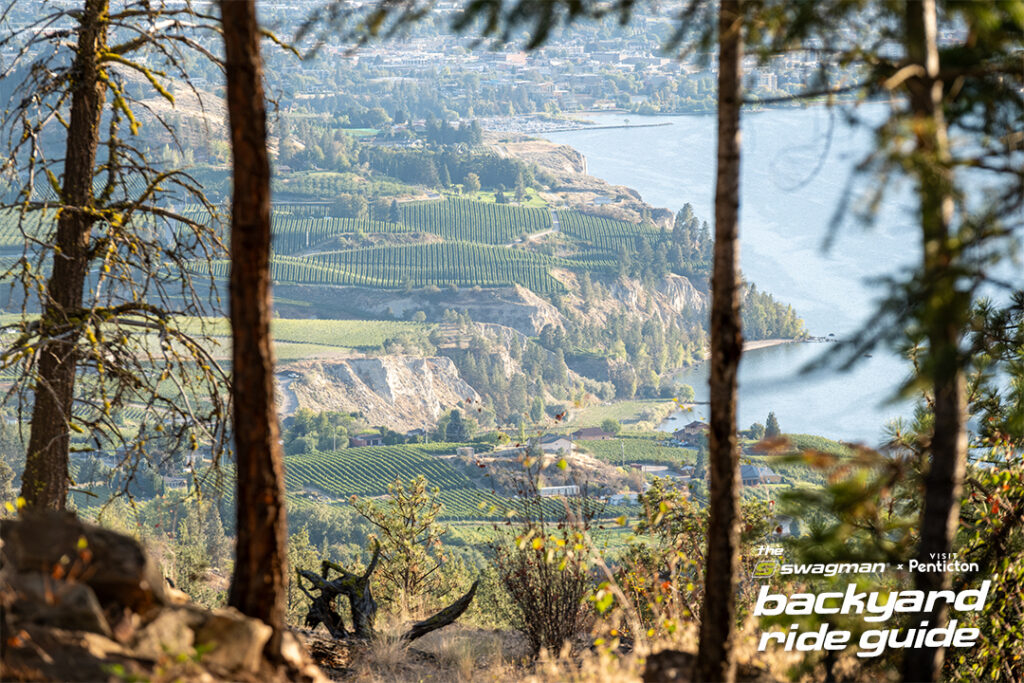 Have you ridden our recommended ride? Let us know in the comments!
Stay tuned for more of Swagman's Backyard Ride Guide, where we continue to explore the best that our local trails and breweries have to offer. For more information on mountain biking trails, craft breweries, and to plan your vacation to Penticton be sure to check out the rest of the www.visitpenticton.com website.
Help Maintain the Trails
The trails we ride and recreate on in Penticton are developed and maintained by community members, dedicated volunteers, and passionate bikers. It takes thousands of hours and incredible effort to keep trails open and safe for all bikers. When visiting or riding in a BC community, consider donating to the local trail club – through Trail Karma or directly to the club – and support those who work tirelessly to maintain the trails. Learn more and donate to the Penticton and Area Cycling Association (PACA) here.