Founded as a bike rack brand in beautiful British Columbia, Swagman has always been passionate about not just creating the best way to transport bikes, but also about the rides themselves. Nestled in Penticton, BC, we're fortunate to call one of the greatest biking destinations our backyard.
And what good are our local mountain bike trails if we can't share them with the world? That's why we partnered up with Visit Penticton and some of our favourite local breweries to put together this series: Swagman's Backyard Ride Guide.
We'll be showcasing the different riding zones on offer, giving you an insider's guide on some of the best local lines, epic climbs, and scenic routes. Each Backyard Ride Guide piece will dive into a specific riding zone, sharing a little of what to expect, suggesting some routes, sharing our favourite trails, and of course, pairing up with a local brewery for the best spot to enjoy an apres pint.
So join us for Swagman's Backyard Ride Guide, where every ride promises an adventure, and every adventure ends with a brew.
Words & Photos: Evan Wishloff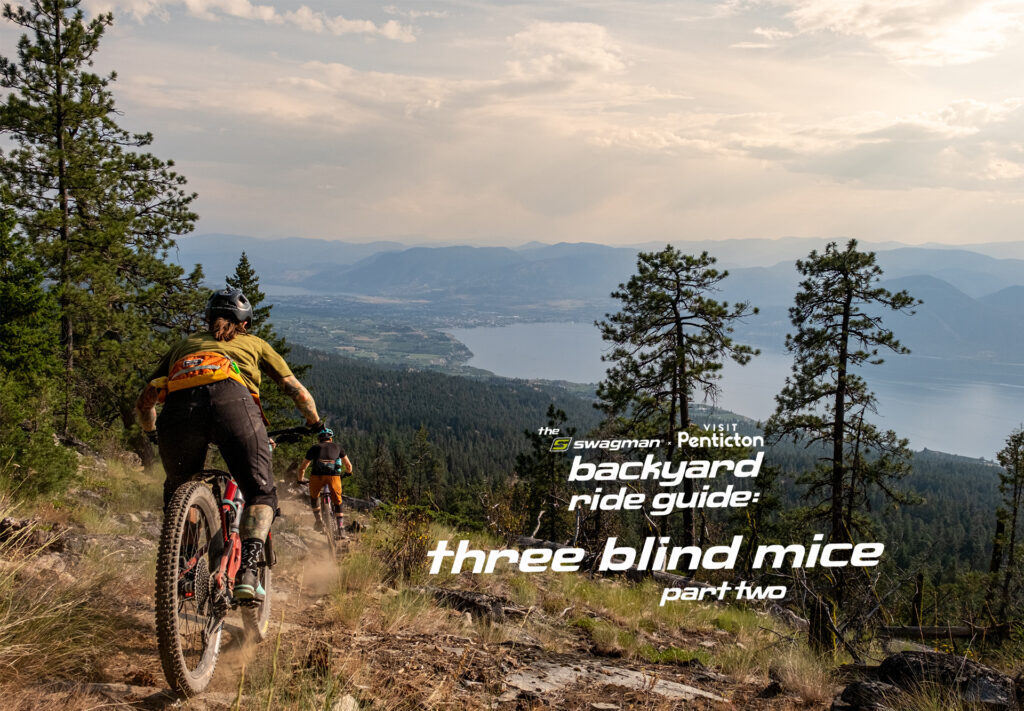 Swagman's final Backyard Ride Guide is here – we're wrapping things up with the 2nd recommended ride in the Three Blind Mice trail network.
Old-school tech seems to have fallen a bit by the wayside with modern mountain biking flow, so we thought to end our Ride Guide series, we'd lean a bit into the jank for a fun finale.
Because our trail selection for this guide skews a bit more techy, we've designed our route as a shuttle ride. Of course, like all of our other rides, there are fuel free options that can minimize your impact and maximize your bike time, so keep an eye out for those directions if you don't want to deal with shuttling logistics.
Swagman's Recommended Ride – Three Blind Mice Part 2 (Tech):
Distance: 17.4 km Vertical Ascent: 326 m
Click here for Trailforks Route. Customize your ride! If you're looking to make the ride easier, pay attention to the optional green text below. If you're looking to make your ride more challenging, pay attention to the optional red text.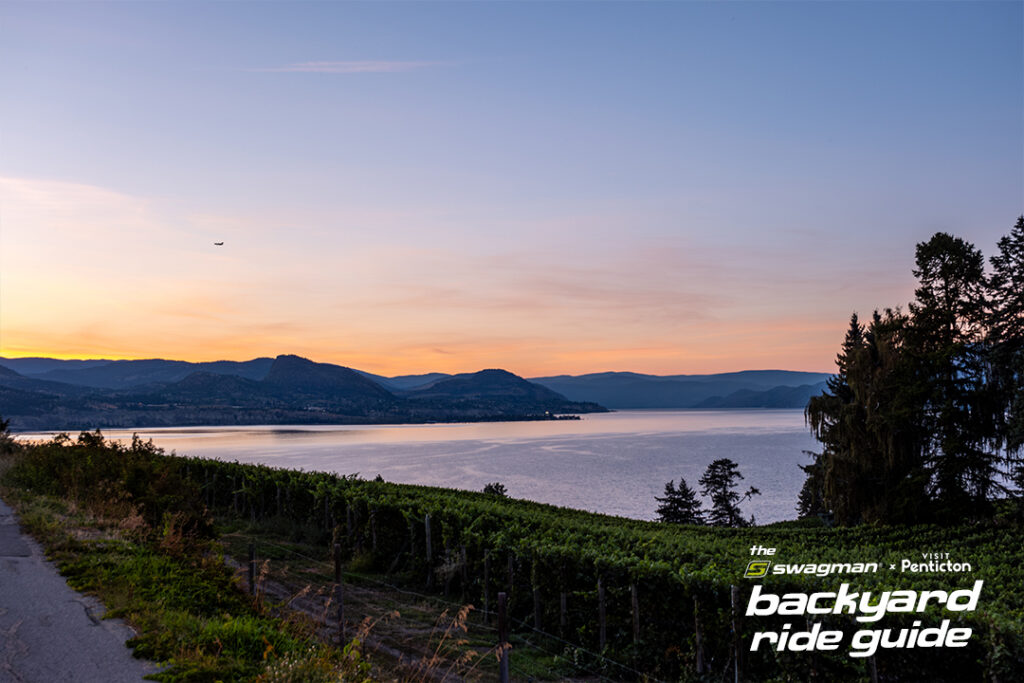 We're starting things off with a shuttle through beautiful vineyards and eventually up Arawana Road, stopping at the reservoir turn-off to unload.
If you want to go Fuel Free, you'll be rewarded with an epic climb that most would only expect to find in the high mountains. Ride from town to the KVR, turning off onto Riddle Road, (just like our Three Blind Mice Part 1 Ride Guide), before merging onto Yellow Brick Road. You'll climb this Okanagna classic until Neverland, which you'll continue on to the high point of the trail network where you'll rejoin the start of the recommended route. If you start in town, you'll crank out around 900 metres of elevation on well-crafted, easy-riding climbing trails!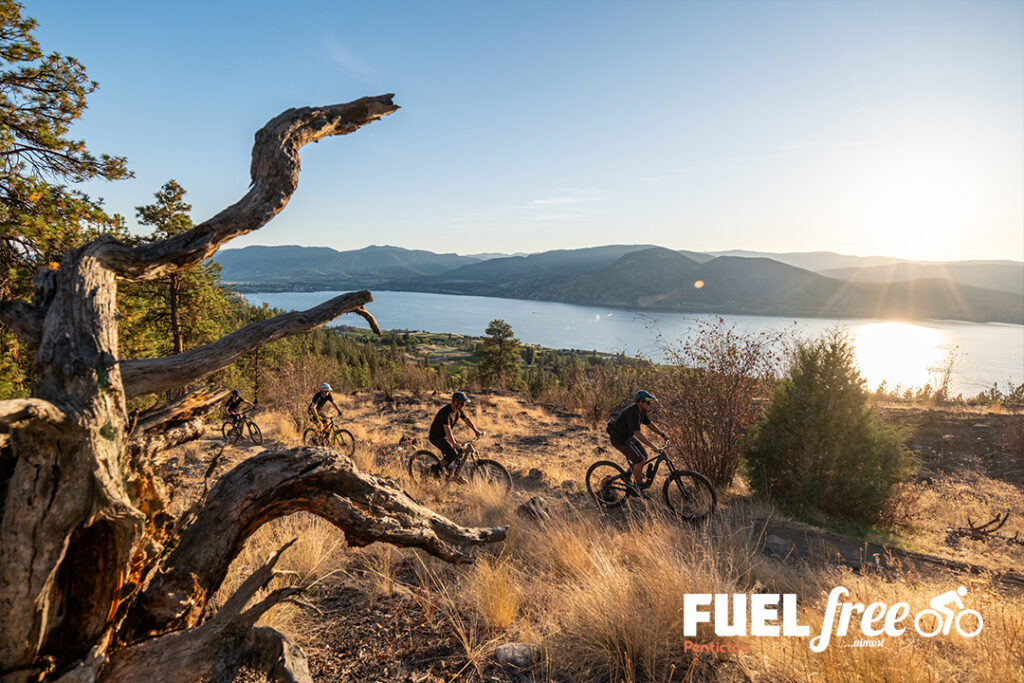 The fun begins with Sidewinder, a fun section of flow, scattered with the odd chunk rock, which serves as a great warm-up for the first black-diamond challenge of the day: Jose.
Pardon our interruption here, but our recommended easier route could be a ride guide in itself! If you're looking to avoid the tech that is Jose, exit Sidewinder a bit earlier, onto Tripod. You'll get similar views to Jose, without having to worry about the technical challenge nearly as much. Make sure to stay on the main Tripod trail, which will terminate near the upper reaches of Riddle Road. A short climb up Riddle Road gets you to Rainbow, the trail that traverses across the top of the Mice. Follow that towards High Pony, which will give you a taste of tech that is intermediate-friendly. From there, you'll take short sections of Marmot and Black Bear to get to another classic: Southern Dancer. Here, you'll get more big vistas as you descend down towards the lake, where eventually you can hang a left onto Chute Out to return to Riddle Road Parking Lot. Epic day indeed!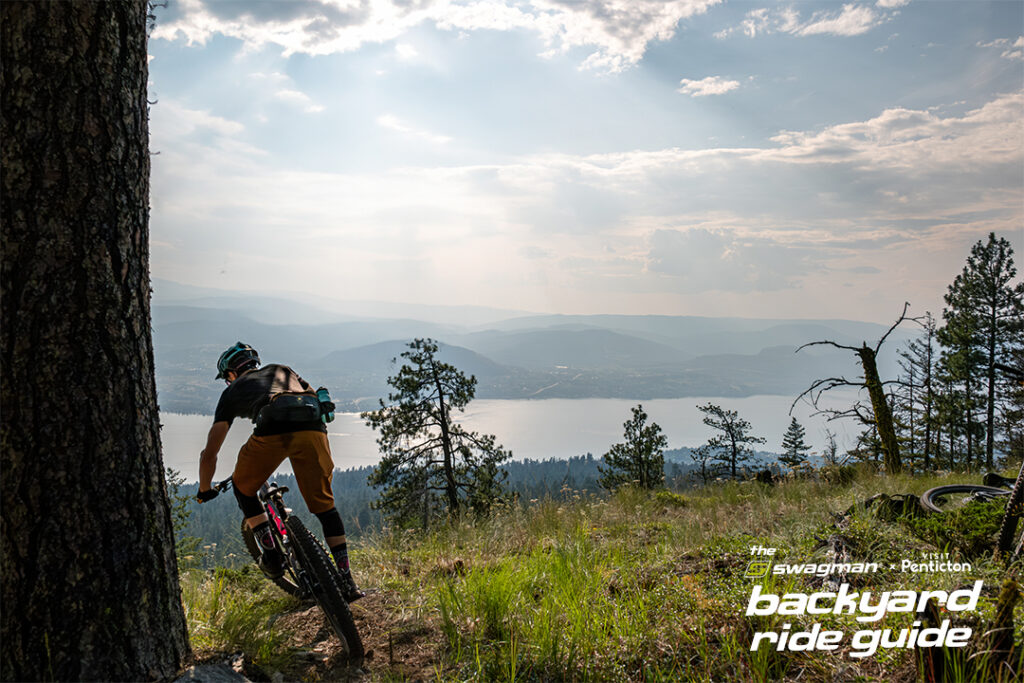 Jose features what many would say are the most epic views of Lake Okanagan that you'll get. A rocky, loose, dusty descent awaits, with a few tight corners made even more challenging with the loose shale stones constantly shifting underneath your bike.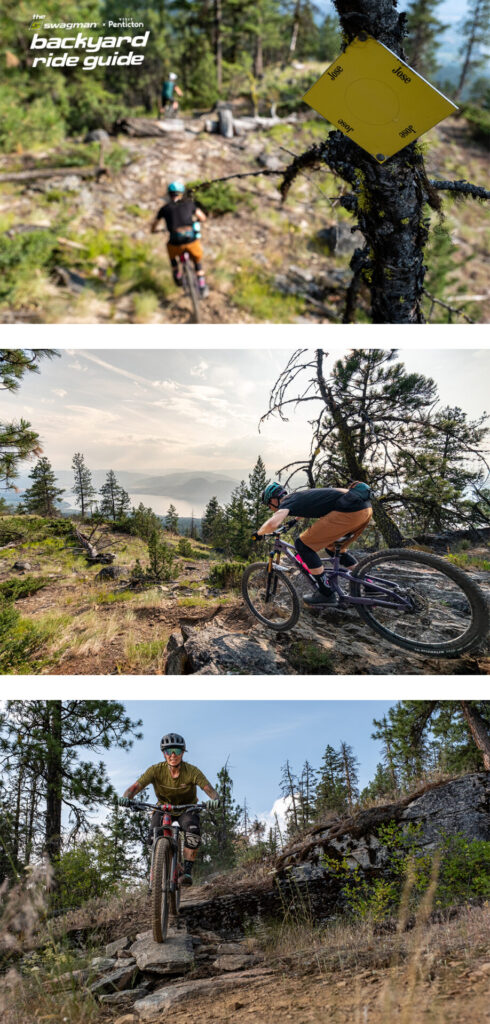 After that thrill ride, you'll jaunt on over to Mule Deer before starting a short climb up Crow, which leads to the next thrill of the day: Drops A Lot.
Pretty much everything you need to know about Drops A Lot is in the name – that is, you can expect your wheels to spend some time in the air.
Fun Fact: Back before the advent of nice climbing trails, one of the most popular routes to get up the Mice was alongside Drops A Lot. That's right, before adrenaline junkies had scoped out air time coming down, riders were climbing up the rocky terrain here, finding lines that bypassed the slabs you're now dropping off of!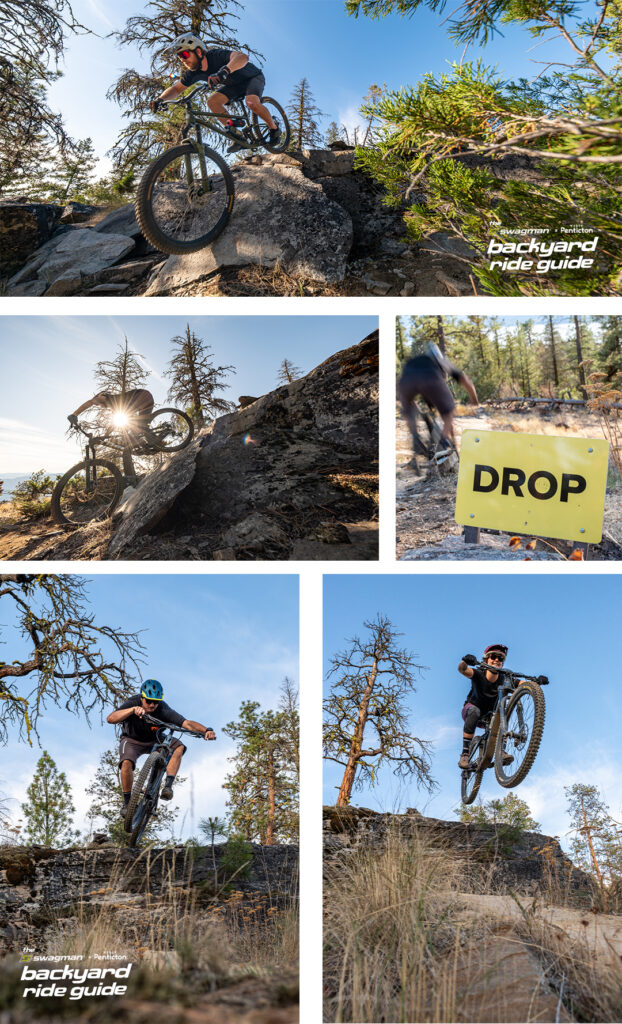 You'll exit onto Skull Coaster, connect onto Fred, then tackle another short climb on Turnbull Creek Trail and Bear.
This leads us to another rocky, tech challenge: Deadhorse Extension. What it lacks for in distance, it makes up for in some gnar with consequence.
After conquering that challenge, it's time for the most significant of the climbing of the day (don't worry, aside from a few steep segments, you'll still only climb about 100 metres of elevation in one go) on Fred.
You'll double back on a short segment before joining onto Skull Coaster, before the final black-diamond test of the day.
Wedding Crashers is more of a freeride zone than a single trail. It acts much like a choose-your-own-adventure area, although as always, scope before you send, as some cliffs are just that, cliffs, whereas others offer some creative drops, gaps and jumps.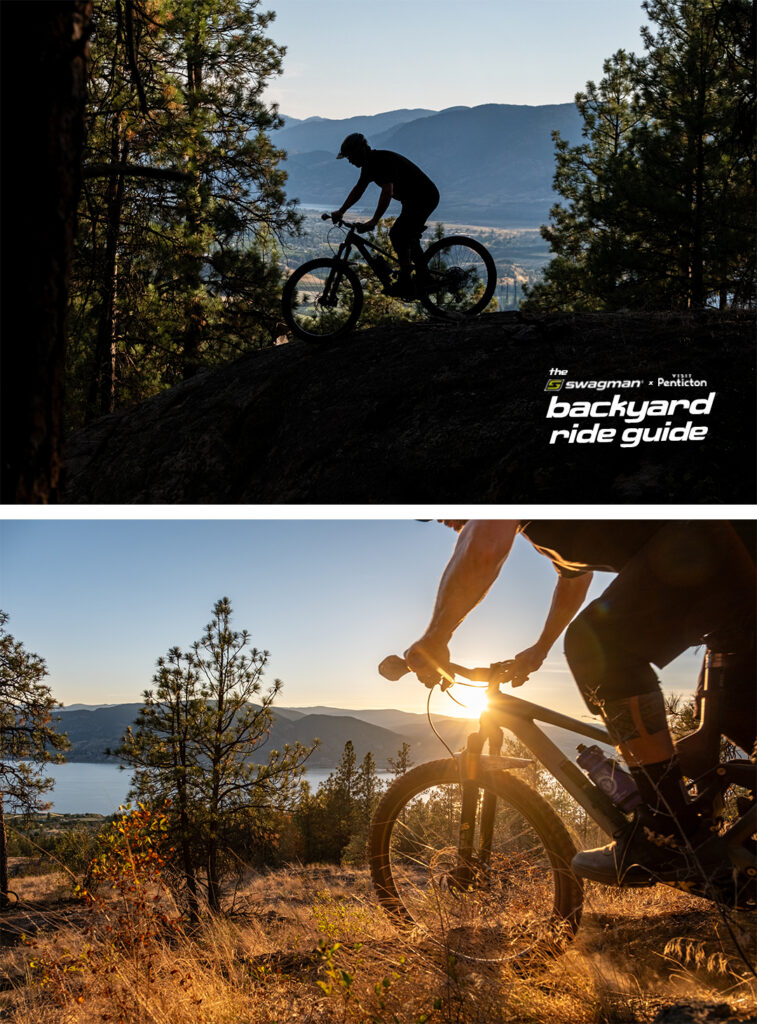 At the bottom of Wedding Crashers, you'll climb up a very short section of Yellow Brick Road, before ending your ride on Roller Coaster, a fast and flowy trail with the Compression Redemption feature (you'll know it when you see it) that promises to have you reaching the bottom with a smile on your face!
If ever there was a day that earned a pint, this would be it, and we're wrapping up our Backyard Ride Guide Series with the South Okanagan's original brewery: Tin Whistle.
Founded in 1995, Tin Whistle has history, but is also charting a new path forward while staying true to its historic roots. How are they charting that new path forward, you ask? While you sit and enjoy your delicious pint, you happen to be enjoying a beer from BC's very first certified carbon-neutral brewery!
So go ahead – go Fuel Free and ride to Tin Whistle, conveniently located with easy bike lane access – and enjoy a carbon-neutral beer. Glasses up for completing the Swagman Backyard Ride Guide series!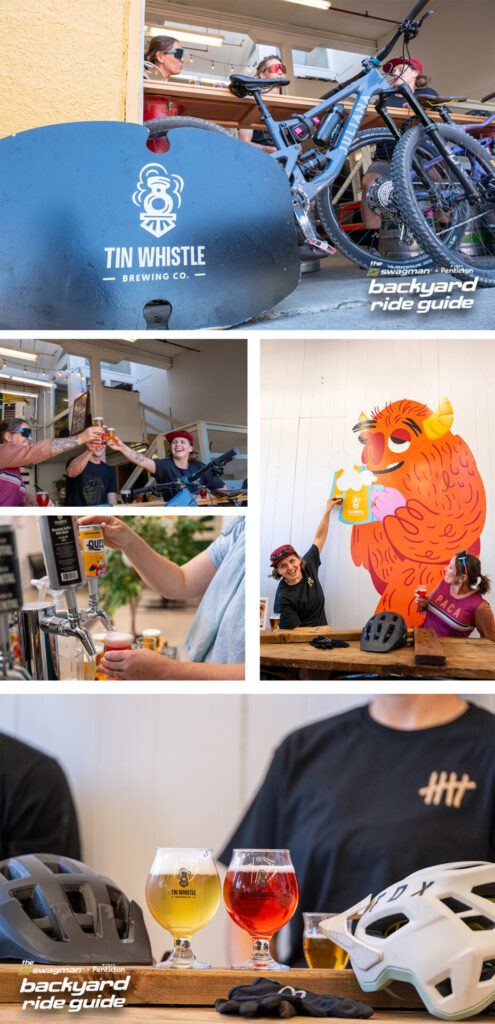 Have you ridden our recommended ride? Let us know in the comments!
Stay tuned for more of Swagman's Backyard Ride Guide, where we continue to explore the best that our local trails and breweries have to offer. For more information on mountain biking trails, craft breweries, and to plan your vacation to Penticton be sure to check out the rest of the www.visitpenticton.com website.
Help Maintain the Trails
The trails we ride and recreate on in Penticton are developed and maintained by community members, dedicated volunteers, and passionate bikers. It takes thousands of hours and incredible effort to keep trails open and safe for all bikers. When visiting or riding in a BC community, consider donating to the local trail club – through Trail Karma or directly to the club – and support those who work tirelessly to maintain the trails. Learn more and donate to the Penticton and Area Cycling Association (PACA) here.