The charming South Okanagan city of Penticton is situated between Okanagan and Skaha Lakes. Well known as a premier summer destination, Penticton is truly just as beautiful and vibrant in the wintertime. The snow-covered mountains, glistening lakes, and breathtaking landscapes are visually impossible to not appreciate. Acknowledged for its outdoor recreation options, historic wine industry, world-class sporting, and cultural events, Penticton is also a culinary and artisans mecca. Regardless of what type of visitor you are, Penticton offers something unique for everyone.
Let me share with you our weekend itinerary for a relaxing winter getaway in Penticton.
Accommodations:
Penticton offers a wide variety of accommodations for every budget. These include hotels, motels, resorts, lodges, inns, B&B, hostels, and so on.
I highly recommend staying at the beautiful Penticton Lakeside Resort. We stayed in the West Wing, which encompasses a million-dollar view of the Okanagan landscape and downtown core. With this recent addition, the resort opted to use sustainable and eco-friendly materials in its construction. The rooms are finished with beautiful floor-to-ceiling wood accents, all sourced from sustainably-managed B.C. forests. A grand staircase, an atrium showing off their contemporary design, and an observation deck on the 6th floor, are just a few other breathtaking features.
Other great places to stay are the Ramada by Wyndham Penticton Hotel & Suites and Fairfield Inn & Suites by Marriott Penticton.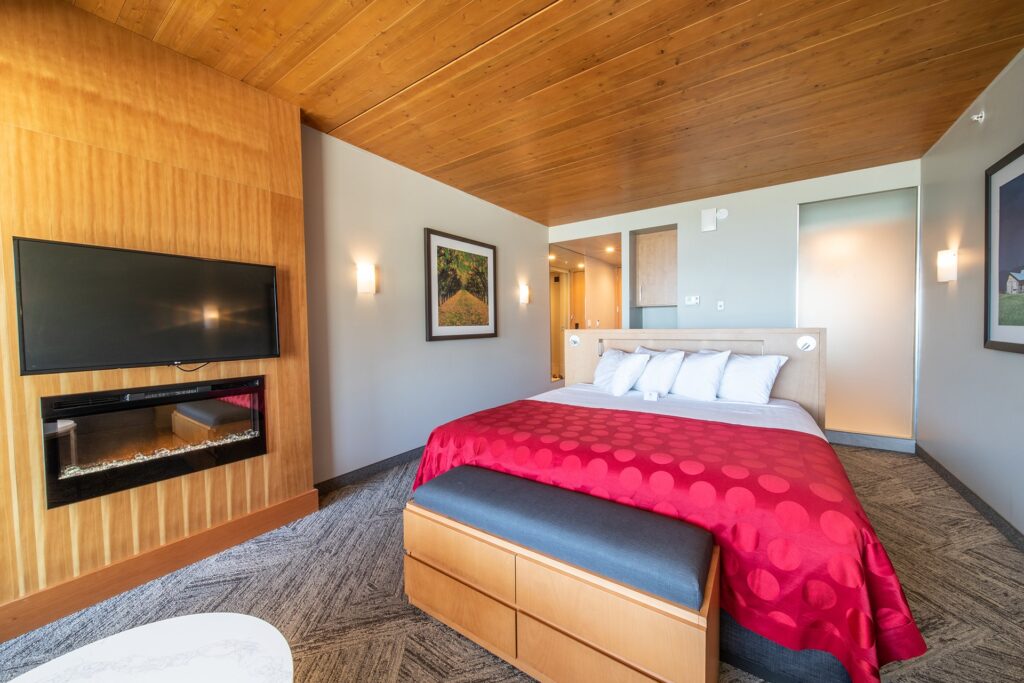 Hiking:
If you're into being active, there are several scenic hiking trails around the City of Penticton.

-The KVR Trail is a four-season attraction that provides access to a lot of wineries. As it once was a functional railway, the trail is mostly flat and suitable for all users.
–Skaha Lake Park is lovely to walk along, as it's on the south side of Penticton facing towards OK Falls. It is great for families and one of Penticton's main attractions!
-If you're looking for a more moderate hike, check out Campbell Mountain! The views at the peak are spectacular and it's also great for mountain biking.
-If you were to only choose one hike, I highly recommend Munson Mountain Viewpoint (or otherwise known as the home of the iconic Penticton Sign hike). This is a short, 1-kilometer round trip hike that gives you panoramic views of Okanagan Lake, Downtown Penticton, and Naramata Bench.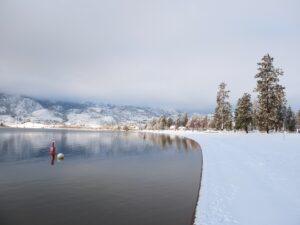 Wineries:
There are over 80 wineries in the Penticton region within a 20-minute drive from downtown! Some even call it "Napa Valley North." My favorite time to go wine tasting, believe it or not, is actually in the winter months. With Penticton being in the hub of the South Okanagan wine region, the wineries can become very busy in the summertime. In the winter, the pace slows down, which enables a more personalized experience.

The other benefit of going to wineries in the winter is that winter is red wine release season! Who doesn't love cozying up by the fire with a glass of an Okanagan big red? This is the time of year to stock up!

Many wineries, in and around Penticton, are open all year round. Some of my favorites are Red Rooster, Little Engine, Poplar Grove, and more! TIME Winery is great to visit too, as it is located right in Downtown Penticton.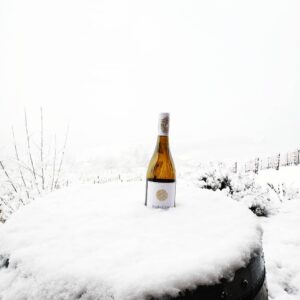 Breweries:
If you love craft beer, Penticton is home to a dynamic and flourishing craft beer scene with eight craft breweries to choose from. Spring and fall beer festivals are big attractions for locals and visitors too.

My personal favorite is Bad Tattoo Brewing for the fun, imaginative names, and of course taste, of their beers. Another noteworthy brewery is Cannery, which is known for its extensive list of beers and industrial-style taproom.

Other great breweries to check out are Slackwater and Neighbourhood Brewing. They're all a short distance from each other, so you can easily do a brewery crawl on the Penticton Ale Trail for a tasting (or two)!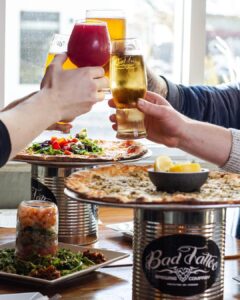 Eateries:
Despite the modest size of Penticton, it is known for its great food diversities: big or small, fancy or relaxed, and local or international!

If you're a coffee-lover, one of my favorite places to grab a latte is from Wayne and Freda. They also offer tasty and healthy breakfast and lunch selections. I love indulging in one of their breakfast sandwiches and a Lavender Fog.
For a beer and pizza, I love to hit up Bad Tattoo Brewing. What's better than a flight of beer, so I can sample a few different flavors, and pair it with a Forager Pizza? It's a super funky spot and their rock oven pizza is delicious.
For a nice dinner, we always enjoy The Hooded Merganser. The only restaurant in Penticton literally located above the water, it offers a diverse food and beverage menu and incredible ambiance. We love to splurge on a succulent steak dinner, paired with a great glass of Okanagan wine.
If you're up to trying something different and internationally inspired, Elma is the spot. I would recommend ordering a handful of dishes, so you can experience a variety of Turkish cuisine. Their unique cocktail list is well known locally, but if you're to try one thing from Elma only, you MUST try their house-made Turkish Bread.
For dessert, check out Tickleberry's for a scoop of their house-made ice cream! An Okanagan Falls classic, Tickleberry's recently opened up a second location in Penticton- yahoo!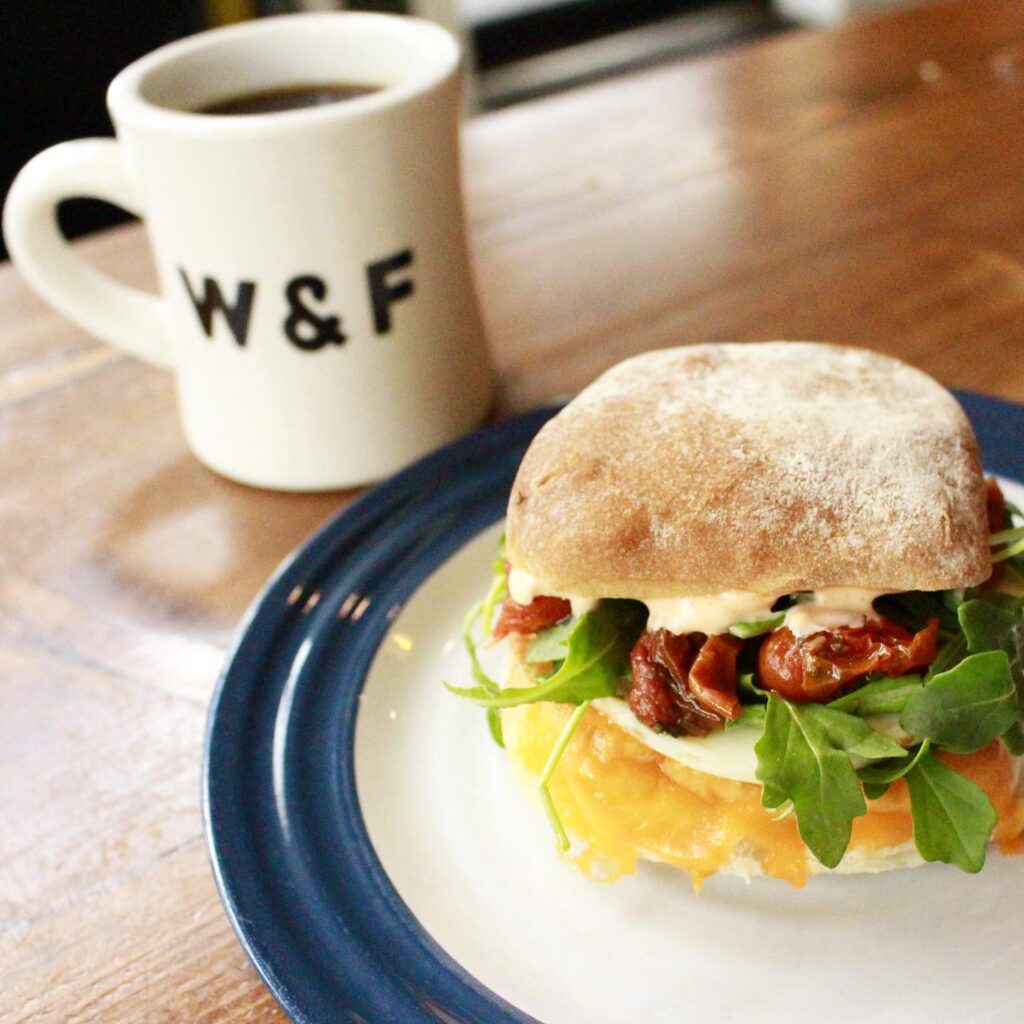 Other Points of Interest:
One of my favorite Penticton activities is strolling along the Okanagan lakeshore promenade. The views are spectacular and you can walk right along the beach. Such a scenic experience!

-The SS Sicamous paddle wheeler and museum, located at the south end of Penticton's waterfront, is a must-see. Once used to travel up and down Okanagan Lake, it is preserved as a historical heritage landmark. The bonus of seeing it at this time of year is that it is decorated with lights during the wintertime!

-The iconic giant peach of Penticton, in Rotary Park, makes a great photo op and serves as a concession in the summer months.

-Another great point of interest is the Ikeda Japanese Gardens. It is open to the public all year round. What a peaceful, quiet, and relaxing place!

-I also recommend taking a trip to the Penticton Art Gallery. Here you will find historical and contemporary local and Indigenous art.

Penticton is the perfect place to slow down and relax and yet get the adrenalin fix if required. Whether you want great food and activities or to take in the sheer beauty of the natural environment, Penticton is a must-visit, four-season destination! If you're seeking a getaway this winter season, check out Penticton and you won't be disappointed.