Plan your family vacation in Penticton, and enjoy a week away during Spring Break! Penticton is the perfect spot for a family getaway, with plenty of family friendly fun and outdoor adventures, you're sure to have a trip to remember.
Family Adventures in Penticton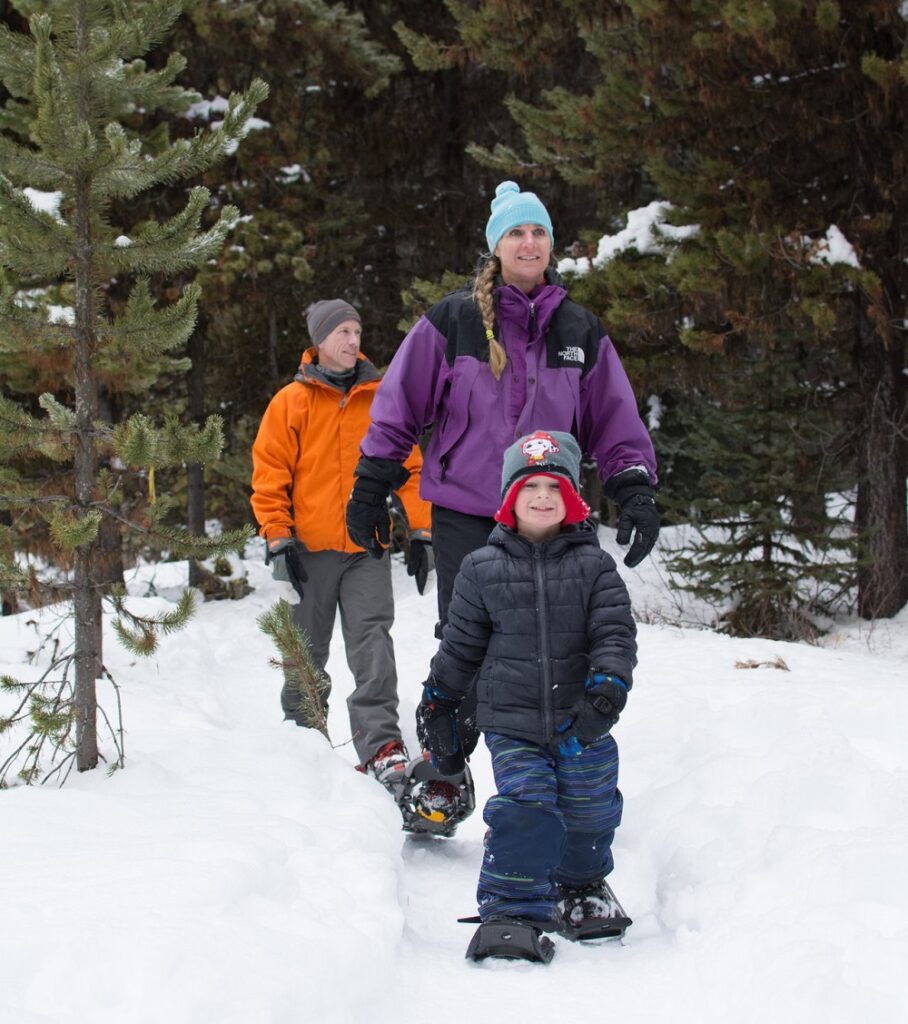 With the weather warming up, it's the perfect time for outdoor adventures with the family! Just 45 minutes out of Penticton, Nickel Plate Nordic Centre is a great spot for some family snowshoeing or cross country skiing. They have rentals available for those that don't have their own gear, and from March 15-31, you can rent snowshoes for 1/2 price. Visit Apex Mountain Resort for downhill skiing or snowboarding, with tubing and skating also available. Stop into the Penticton Visitor Centre before heading up to Apex and pick up our exclusive discounted Apex Adult Lift Tickets, which also offer 20% off 1 Junior OR 1 Teen Day Pass, plus 25% off ski and snowboard rentals.
For those wanting the fresh air and views, but looking to stay in town, you can play a round at one the local disc golf courses or head out for a bike ride. The 9 hole Rotary Marina View Disc Golf Course is a beginner and kid friendly course, perfect even for first timers. Bring your bikes along on your trip and check out the newest sections of the Lake-to-Lake Bike Route or stop by the Penticton Youth Park on Riverside Drive. Pedal along the beach and enjoy the views along the waterfront boardwalks at either end of the city on Skaha and Okanagan Lake. If you don't have or aren't able to bring your own wheels, bikes for all ages as well as transport trailers and your choice of mountain, comfort, road, or e-bike, are available to rent at one of our many bike shops, with some that will deliver the bike right to your accommodations.
For cooler days when it's raining or a bit chilly to be outside and you're looking for a perfect indoor family activity, check out Hoodoo Adventures' indoor climbing gym. Another great indoor activity option is a visit to the Penticton Museum & Archives. Immerse yourself in the history and culture of Penticton and the South Okanagan through fascinating exhibits and interactive learning spaces, with tons of hands-on displays and activities for the whole family.
Dining Options for the Whole Family in Penticton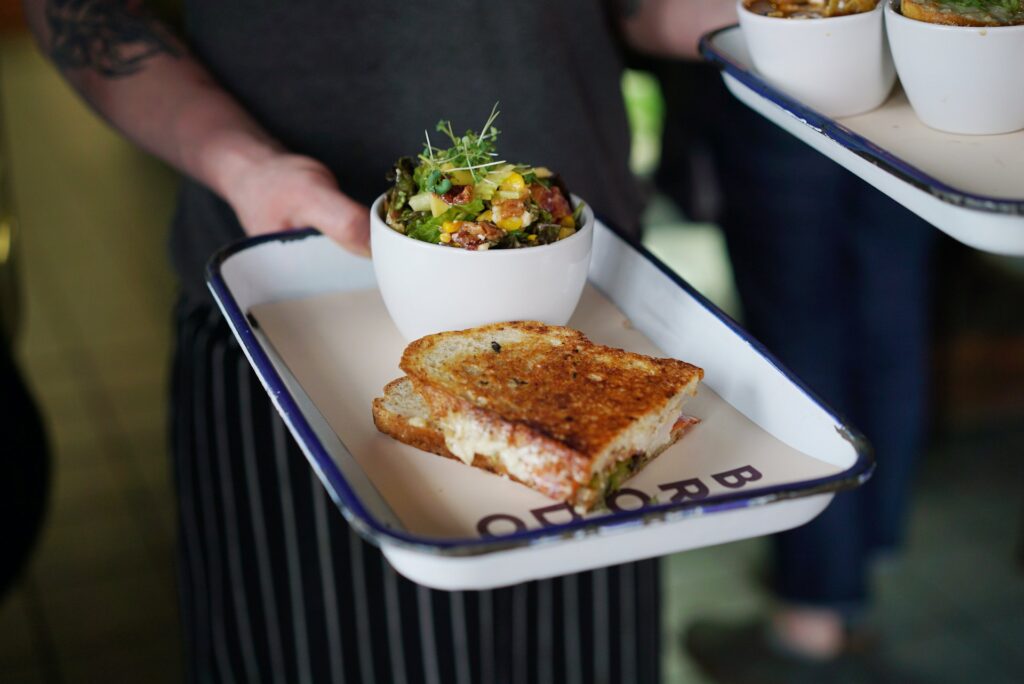 Having plenty of food choices is important when you're travelling with family and Penticton has an amazing selection of dining options, to suit even the pickiest eaters!
Breakfast is the most important meal of the day, so check out The Bench Market or Petrasek Bakery and start your day right. The Bench Market offers offers all-day breakfast, weekend brunch, lunch, baked goods, and takeaway meals, along with the best coffee in town, made using Summerland-roasted organic beans. Petrasek Bakery is an artisan European bakery where everything is traditionally handcrafted and made from scratch. They use local ingredients for their products to support the community.
A few lunch choices include Brodo Kitchen, Sushi Genki or Match Eatery. Brodo Kitchen features simply fresh food. Enjoy a soup flight, fresh salad, a "sammie" or a combination of all three. Sushi Genki serves Japanese cooked fare, ramen noodles & creative sushi rolls. Match Eatery & Public House, located at the Cascades Casino, offers the social traditions of a neighborhood pub, with the high-energy of a lively sports bar, and they do offer a kids menu.
For dinner, try Villa Rosa Ristorante, Theos' Restaurant or a local brewery. Villa Rosa Ristorante Italiano opened its doors in the spring of 1996, offering consistently great food, using local vegetables and ingredients in their dishes. Theo's Restaurant offers authentic Greek dishes, especially from Crete, that feature the flavour and qualities of the ingredients themselves. Everything that they serve, they make in their own kitchen. We now have 8 local breweries in Penticton, offering a fantastic selection of locally crafted beers and a variety of menus, all of which allow you to have the kids and even your four legged friends in tow.
Check out our full list of our many dining options in town to choose from with our Winter Dining Guide.
Penticton Spring Vacation Packages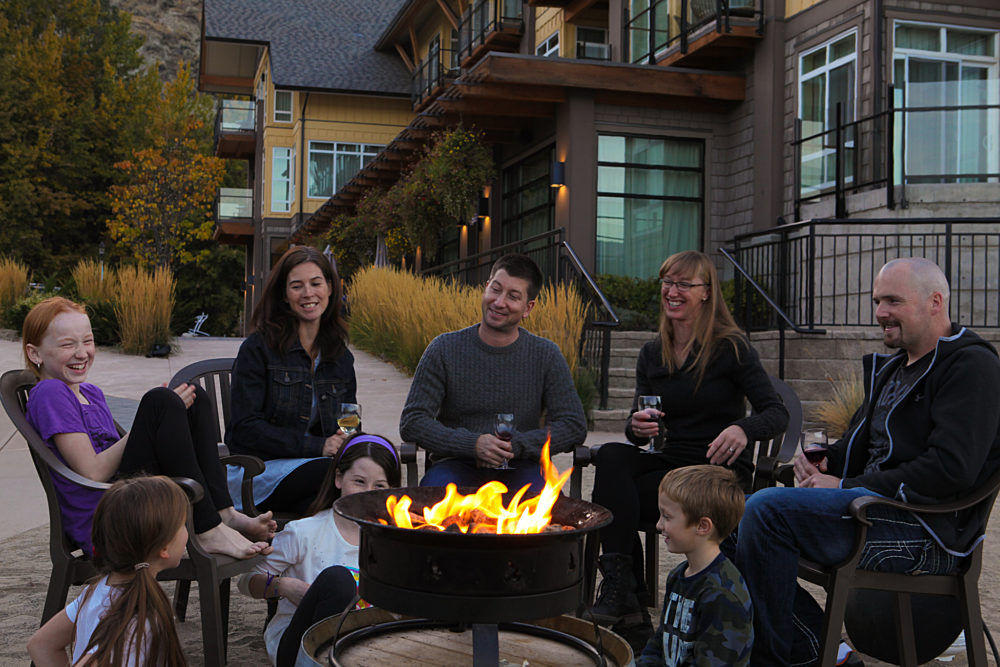 Enjoy the fresh air and spend some time outdoors, make reservations for a family dinner or lunch in a park, and book some time away from home with one of our accommodators for the ultimate family getaway or staycation. To make trip planning even easier, book one of the Penticton packages available over Spring Break, that has everything included for a fun family vacation.
March Family Jam Package at Summerland Waterfront Resort – Available March 1-31, 2022
Jump in with both feet for this fun family adventure getaway. These memories are going to stick around forever.
Family Jam Package starting at $230 includes:
Discount on two night's accommodation in a luxury suite with kitchen and fireplace
Sweet and salty snack basket in suite upon arrival from Maple Roch, locally made in Summerland
Pancake breakfast bar kit for four people
Family photo scavenger hunt with a prize for the whole family once completed
Snowshoe Adventure Package at Penticton Lakeside Resort – Available until March 31, 2022
Snowshoeing is perfect for families and groups to experience beautiful views.
Snowshoe Adventure Package starting at $609 includes:
Two night accommodation in a premium West Wing room
Two hour guided snowshoe tour with a one hour bonfire, hot meal, shuttle, equipment, lift pass, snack and a hot drink. (Approximately five hours)
Daily, Departure time 8am, for a 9am lift pass
Indoor pool and hot tub
Private ice skating rink at the Penticton Lakeside Resort
Unlimited access to the full size gym
Complimentary parking
Spring Package at Penticton Lakeside Resort – Available until May 19, 2022
Take advantage of some time away by the lake in a beautiful guest room!
Spring Getaway Package starting at $339 includes:
Three night accommodation in a deluxe West Wing guest room
Fresh baked homemade croissants and muffins delivered daily
Unlimited access to the full size gym
Special drop-in rates for group activity classes at PURE Gym + Juicery
Indoor pool and hot tub
Complimentary parking
May 1- May 19- 20% discount on EKRUISE e-bike rental
View all Penticton packages here.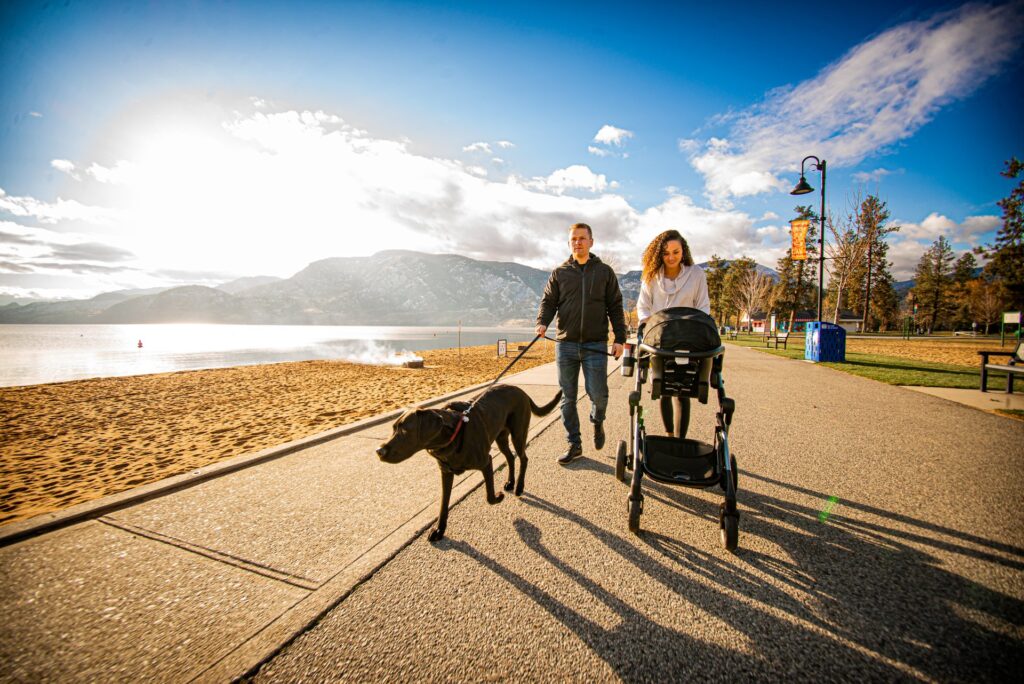 Spring Break Getaway in Penticton
Escape with the whole family and enjoy a week away in Penticton for Spring Break.