Tranquility awaits at Nickel Plate Nordic Centre
A look at the endless five-star reviews and inviting photos on Google's listing for Nickel Plate Nordic Centre is enough to make you want to say yes to booking a trip to Penticton and explore its Nordic skiing terrain.
Tempting from the computer screen are winter scenes with crisp groomed tracks, outdoor fires and sunset skiing accompanied with words like good value, clearly marked trails, and welcoming vibes. It's a hint of the feel-good time you can expect from this South Okanagan winter secret.
And the city of Penticton is all about the outdoor lifestyle, surrounded by mountains, vineyards, orchards and lakes. It offers plenty of activities to entertain groups and families, couples or solo adventurers plus a great selection of shopping and gourmet culinary experiences paired nicely with endless views to make for a memorable trip.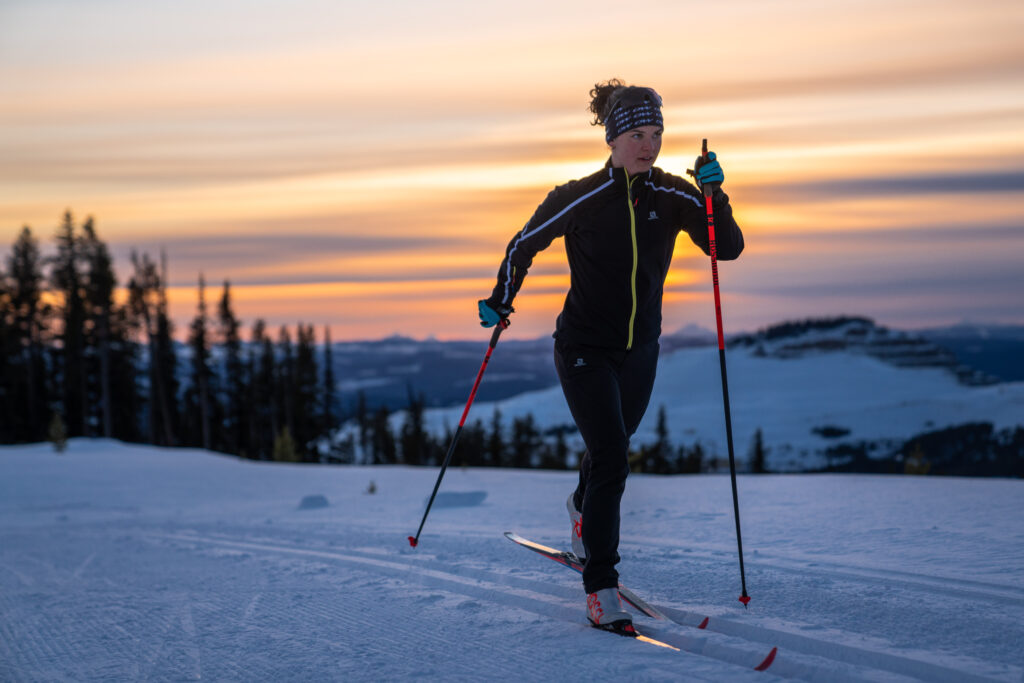 Nordic skiing: meditation-in-motion
Revel in nature as you swish through ski tracks, cool winter air and the euphoric feeling of movement. Nickel Plate Nordic Centre has 56 kilometres of groomed trails, many offering a reward for your efforts with views of the mountain ranges and valleys beyond, also a sunset if you're lucky. At 1,850 meters (6,000 feet) elevation, the season here runs from November to April with soft, dry snow and impeccable trail grooming.
Nordic skiing, also known as cross-country skiing, can either be an endurance-based workout or an easy adventure depending on your style. It's affordable, set in a serene environment without crowds and extends a welcoming hand to anyone wanting to enjoy the simplicity of being outside. With low consequences should you happen to fall over, it is fun for all ages.
If you've never Nordic skied or even skied in general, Nickel Plate Nordic Centre is a great place to start. The sport is simple to pick up from the get-go, although lessons are available. Nickel Plate's trail network offers a great mixture for different skill sets and there are plenty of flat sections for beginners to experience the gliding feeling of Nordic skiing without the challenge of steep descents or sharp corners.
For intermediate Nordic skiers, try the steady climb of Panorama Ridge to the lookout or try the Eagle's Nest trail, which will give you an eagle eye's view back to the lodge area.
For advanced skiers happy to adventure to the far reaches of Nickel Plate's terrain, try Reimer's Reach or the Motherlode trail, which is the highest point of the trail network and has the best view. Both offer a fantastic downhill section.
For families, check out the Kids Adventure Trail, which is a mystical treed trail with interpretive signs and characters along the way. There's also an unofficial hill for tobogganing near the office. And don't forget the K9 loop to enjoy the snow with your four-legged friends.
For romantics, pack a picnic and headlamps and head out for a sunset cruise. While the office is closed after 3pm, the trail network is available for skiing at all times. Support the club by buying a ticket online.
The lodge at Nickel Plate Nordic Centre is closed for the 20/21 season but there are heated washrooms and some outdoor fires to toast hands and trade smiles and stories with others.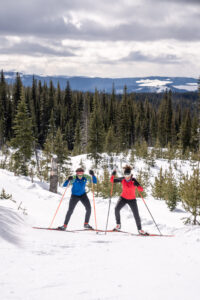 The Details
Lessons (rentals and day passes not included) for a family costs $125 or you can choose from private, $90, or semi-private, $100 for two and $30 for every extra person.
Rentals for adults are $25 for skate skis and $20 for classic, including boots, bindings and poles.
In classic Nordic skiing, your skis move forward and back in parallel lines in the tracks on groomed trails, which make it easy to glide along without having to exert too much energy. Skating is the newer, sexier style with your feet angled out and pushing off similarly as you would with ice-skates.
Where to stay and eat
Nickel Plate Nordic Centre is a scenic 45 minute drive from the city of Penticton, population of 33,000. Ten minutes before the Nordic Centre you pass through the resort village of Apex Mountain Ski Resort.
Closer to the Nordic Centre and Apex Mountain Resort, are a number of vacation rentals where you can score a cabin with a hot tub or you can stay at the lodge at the ski resort.
Alternatively, Penticton only 40 minutes away and has many options from affordable resorts, hotels and modern motels. Click here to see Penticton's accommodation options
For food options at Nickel Plate Nordic Centre, you can bring your own lunch to eat at the car or picnic at a viewpoint. Or try the popular Gunbarrel Saloon at Apex Mountain Resort, or The Edge Bistro also in the village at the resort. In Penticton, discover the growing local culinary scene with a number of restaurants and cafes, breweries and wineries in the city center and along the Naramata Bench.
What else is around?
For more fun on the snow, rent snowshoes at Nickel Plate Nordic Centre and get trekking or strap on some skates and try the forested 1 kilometer skating loop at Apex Mountain Ski Resort.
A visit to the Penticton area means making the most of the lakes and beaches. The Kettle Valley Rail trail is an easy walk on the East side of Okanagan Lake offering iconic views overlooking the lake and vineyards of the Naramata Bench. For more views above Okanagan Lake and the Penticton downtown, Munson Mountain is an accessible and easy hike close to downtown.
The local Campbell Mountain trail network offers tons of year round hiking routes or challenge yourself to a winter mountain bike! If you want to be active but stay indoors, you can try the only indoor climbing wall in the South Okanagan at Hoodoo Adventures.