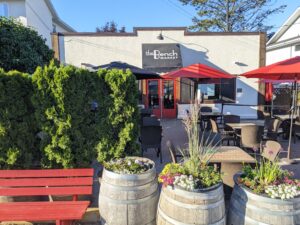 We are open again our usual daily hours 7am-4pm as of March 1st. See you soon!
The Bench Market is a top eatery & community hub in Penticton – set at the entrance to the Naramata Bench and next to the KVR trail. They are a quintessential local food and coffee experience in the South Okanagan.
The Bench Market offers all-day breakfast, weekend brunch, lunch, baked goods, takeaway meals & catering – along with the best coffee in town, made using Summerland-roasted organic beans. They are committed to using local, fresh ingredients to make their healthy menu items from scratch. Their meats and eggs are from BC-raised, ethically-treated animals. And their retail shelves are stocked with a wide variety of unique Okanagan/BC fine foods, including their own signature Bench-made granola.
The Bench Market also has monthly artwork displays, offering a commission-free exhibit space to Penticton-area artists. They are proud to sponsor numerous local events & youth sports teams, such as the Penticton Vees hockey team and KISU swim club. They also support dozens of Penticton charities with donations of gift cards & baskets.
2021 marks their 16th "Benchiversary" – celebrating 16 years as a vibrant part of the community. Come and see how they are "keeping it local and making it fresh!"