Attention people! There are still 3 full weeks of Summer left, maybe more if September weather co-operates. Why not make a break for the lake and head to Penticton to soak up some Summer sun and chill in the cool fresh water.
Penticton happens to be only one of two cities in the world that sits between two lakes. There's the long and large Okanagan Lake at the North end of town and the small and sassy Skaha Lake to the South. Whether you're a #sunbunny or a #waterbaby there's plenty to keep you entertained.
For the resters and relaxers among you take your pick from one of 6 golden sandy beaches stretching more than 5 km along the water's edge.  Okanagan Beach is just a few steps from bustling Downtown Penticton, where you'll find a variety of cafés, restaurants and craft breweries.  Skaha Beach is a little quieter, but has the benefit of being surrounded by a beautiful shady park and there are some fantastic eateries nearby including Sushi Kojo.
On a hot summer's day in Penticton the only way to tour the City is by floatie.  Spend a couple of very leisurely hours sunning yourself as you slowly drift down the cool waters of the Okanagan River Channel – a 7km lazy river that runs from lake to lake #bucketlist.  The guys at Coyote Cruises rent single or double tubes as well as floating islands for 4-12 peeps.  They'll also pick you up at the end of your float and drive you back where you started.
Once you've acclimatized to the heat and started to develop that nice golden tan – #dontforgetyoursunscreen – it's only a matter of time before those clear blue waters and gentle lake breezes draw you in. Take a dip or head further out on a kayak or stand-up paddle board.  Hoodoo Adventure Company on Ellis or Penticton Bike Rentals on Lakeshore Drive are great places to get yourself kitted out for a fantastic paddle-powered lake adventure.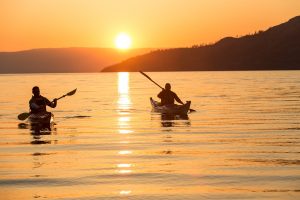 If you prefer to just take the helm and let technology do all the grunt work, Penticton Boat Rentals and Skaha Marina offer a variety of pleasure craft for rent including, ski boats, pontoon boats and jetskis. Or for something more adrenaline fuelled, why not try an extreme banana boat ride or parasailing excursion at Pier Watersports.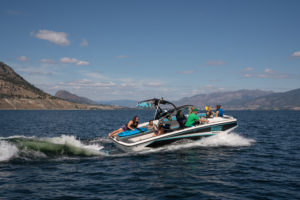 Make the most of the remaining Summer and make your break to the lake NOW.