Urban Euphoria
Winemaking meets city at TIME Family of Wines in the heart of downtown Penticton within a historic and revitalized movie theatre complex. The appeal of an urban winery is enthralling as residents and tourists can conveniently drop in to taste wine and have a bite to eat without having to schedule their day around more complicated travel logistics. Here, you can peer through the windows that divide the tasting and production areas to witness the winemaking process in action.
The decor, too, is chic meet industrial with massive wooden beams lending warmth to the ambiance.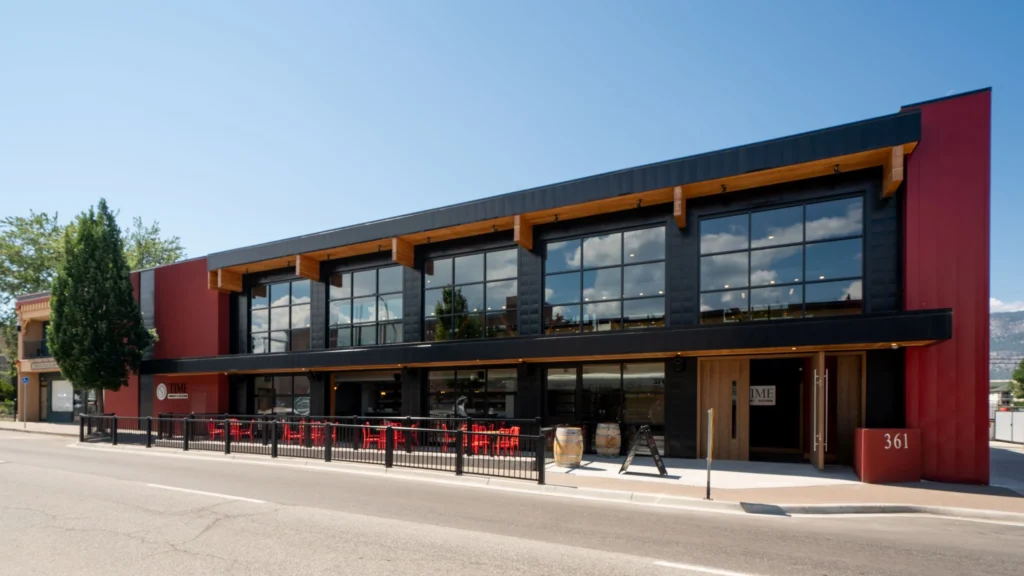 TIME Family of Wines is a parent wine company owned by Ron and Shelley Mayert, and the home to celebrated VQA wine brands Chronos Wines, TIME Wines, Evolve Cellars, and McWatters Collection. The tasting room provides opportunities to taste through the various portfolios developed from grapes sourced from multiple vineyards throughout the Okanagan. Wines can be terroir-driven from a single vineyard or blends that leverage a combination of unique terroirs.
The wines reveal a rich and authentic Okanagan taste thanks to the unique terroir of the region, which allows complex flavours to develop. The winery team has leveraged its long-standing relationships with growers to access the best fruit for all four of the wine labels.
Lynzee Schatz, winemaker, crafts the portfolio of the distinctly different labels using this top-quality fruit. The goal is to produce the best BC wine via grapes delivered to its downtown crush pad located in the heart of wine country.
McWatters and BC Wine History
Many recognize the McWatters name, a family that has created more than 50 vintages in the Okanagan; led by the late founder Harry McWatters. The Mayerts took a thoughtful approach to ensure continuity of what the McWatters family established and be well-positioned to build from there with the next generation. Christa-Lee McWatters remains as general manager and sister Darrien McWatters as the operations manager. Each sibling is armed with lifelong wine industry experience and insight.
While TIME Family of Wines is Penticton's only urban winery, it's not the city's first. Harry McWatters started his career in wine in sales with Casabello Wines, located on Main Street about halfway between Okanagan and Skaha Lakes, where retail outlets are now situated. Casabello closed when it became part of Cartier Wines, however, Harry's history there served well in navigating the approval process when TIME's current location was proposed.
He was the previous owner, too, of Sumac Ridge Estate Winery, which he founded in 1979 and sold it in 2000. It was at Sumac Ridge, Harry secured the rights to use the term Meritage that originated in California for Bordeaux varietal blends. Plus, he originated Steller's Jay Mountain Brut, the foundation of the sparkling program there and still widely acclaimed today. It's little surprise you'll find sparkling expressions in the TIME Family of Wines portfolio.
Dining and Gathering Hub
The vision from the beginning was to rescue the historic theatre and recreate it as a vibrant space once more. TIME Winery & Kitchen's food service, guided by Executive Chef AK Campbell, has earned a strong reputation for its upscale casual culinary offerings.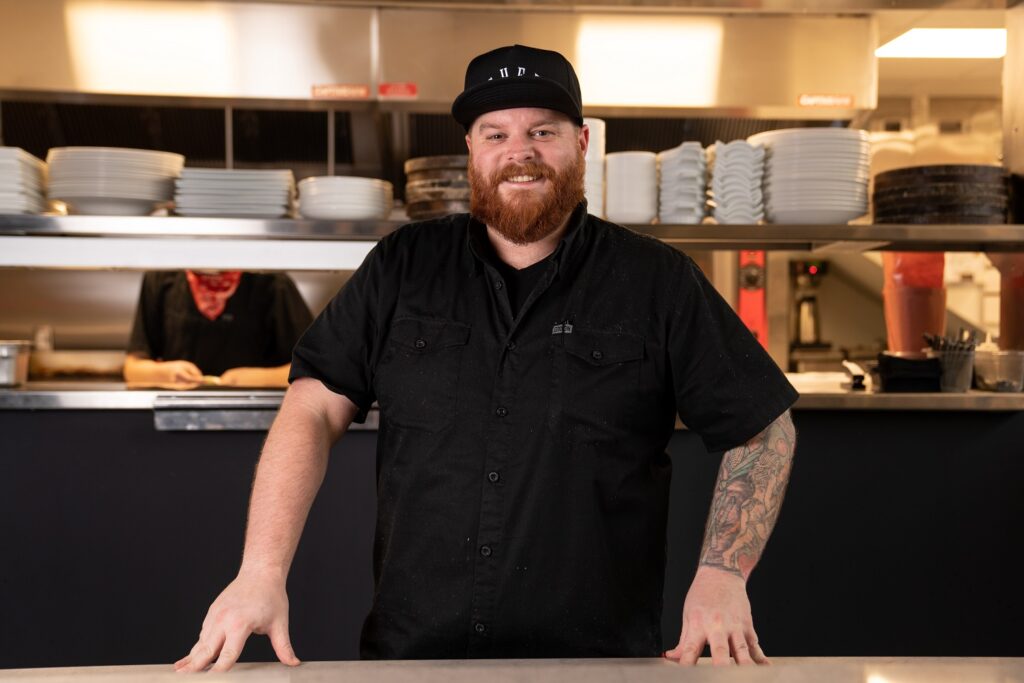 In acquiring the urban winery, Ron Mayert said, "Our family grew up appreciating the spirit and neighbourly hospitality from the people of the Okanagan Valley; we want to instill that spirit in everything we do."
TIME Family of Wines has developed as a team and as a family, to reflect the quality and attention to detail in all operations. Other core team members include Kimberly Hundertmark, Hospitality Manager; Becky Marte, Controller; Kerri-Anne Sexton, Retail & Guests Services Manager, Wine Club Concierge; Kevin Curtis, Director of Sales & Marketing; Robbie Hundertmark, Estate Sommelier; and a strong core of tasting room, winemaking and culinary associates.
The evolution and growth continues with exciting plans ahead for events and culinary happenings. TIME prepares to launch an elegant upstairs dining facility and patio and offer intimate private meeting space.
Events return with the popular Live@TIME each Thursday evening resuming to enhance your dining experience. TIME is committed to supporting live, local music in the Okanagan. Suitable for guests 19+ with advance tickets sold per table, check out all the details and current roster of musicians on the website.
In the Community
TIME Family of Wines and its team are known for their commitment to community, contributing both as volunteers on various boards and through fundraising initiatives. For example, TIME to Give – a Christmas season event in collaboration with the South Okanagan Women in Need Society's (SOWINS). For the Saturday festivities, visitors were encouraged to bring unwrapped gifts and cash donations and a 10 per cent of TIME's sales were designated to assist SOWINS in providing 150 Holiday Hampers to families in the community.
To celebrate its rebranding of Evolve Cellars, TIME Family gave away a Peloton last November. It was a fitting reward in tune with changing priorities and routines everyone has been experiencing over the past couple of years.
District Wine Village
The urban winery is also part of the exciting new District Wine Village – Canada's first true wine village. TIME Family of Wines created a satellite location, becoming one of 16 artisan producers in the village, which is situated in the heart of South Okanagan surrounded by vineyards.
Sure to become a popular destination for tourists, the village provides TIME the opportunity to highlight its wines to fans and newcomers in collaboration with leading boutique wineries, breweries and distilleries.
Whether you enjoy one of the TIME Family of Wines selections from your favourite retail store or at a restaurant or can immerse yourself in the experience of its Penticton urban setting or at the District Wine Village, make sure to take time to treat yourself to the experience.