Penticton has so much to offer year-round, including lots of outdoor adventures and winter activities. Whether you're visiting Penticton for a family trip, romantic getaway or a vacation with friends, you're sure to find everything you're looking for this winter!
Day Trips for Outdoor Adventures
Penticton provides a cozy base for exploring nearby snow-covered mountains and trails. When staying in Penticton this winter, be sure to make day trips to check out Apex Mountain Resort, Nickel Plate Nordic Centre and Chute Lake Lodge for your outdoor adventure fill.
Apex Mountain Resort is a winter playground with a wide variety of terrain to suit every snow rider, and is just a quick 30-minute drive from Penticton. Ideal weather conditions conspire to create incredible, light champagne powder for skiiers and snowboarders of all levels. Other outdoor activities available at Apex Mountain Resort include night skiing, a tube park, an NHL sized hockey rink and a 1km skating loop through the forest.
Nickel Plate Nordic Centre boasts 56 km of groomed trails for both classic and skate skiing and 22 km of marked snowshoe trails, and is a short 45-minute drive from Penticton. At 1,850 meters (6,000 ft) elevation, they enjoy one of the longest ski season in the western hemisphere, with trails for all abilities. Nickel Plate also has a warm and cozy day lodge with kitchen, eating and lounge areas, and separate heated washrooms, and they offer a full line of rental equipment, professional instruction, races and special events. Check out A Snowshoe Day Trip in Penticton blog post, for a more in-depth look at a day trip to Nickel Plate.
Chute Lake Lodge has created a place unlike any other, steeped in history and the stories of people once brought by rail, now inspired by a passion for nature, this is a place to unplug and reconnect, and is just a 45-minute drive from Penticton. Explore the natural beauty of the area through many self-guided options, from hiking, fat biking, and ice fishing, to snowshoeing, cross country ski trails, and a skating rink. Chute Lake Lodge also has a sauna for guests to warm up on a cold winter day!
Hoodoo Adventures offers snowshoe and pole rentals throughout the winter, so pick up a pair of snowshoes and head out to the KVR or up to the Carmi Recreational Trail Network and check out the series of trails available here. If you prefer a guided adventure, then book one of Hoodoo's ski or snowshoe tours.
Drive down to Vaseux Lake, only a 25-minute drive from Penticton, just past Okanagan Falls, for skating and winter hiking. There is an astounding number of rare wildlife species in this small park for those that have the luck of spotting the many types of animals, from California bighorn sheep, rabbits, deer or Pallid bats hibernating between rocks to Canada geese, trumpeter swans, blue-winged teal, widgeons and wood ducks, if they haven't yet flown south for the winter. It's also a great place for those that enjoy ice fishing.
Before you head out for a fun outdoor adventure day trip, stop into one of our local cafes or coffee shops for a warm drink and a bite to eat. Browse our Outdoor Adventure Packages for a ready-made and easy to book trip with your stay and adventure combined.
Winter Wine Tasting
Come for the outdoor winter adventures, stay for the ice wine! While visiting Penticton this winter, it is a great time to visit our wineries. The quieter season means more opportunity to slow down and enjoy your wine time with a more personal wine tasting, and it's also a great time to try some ice wine. Rent a fat bike from Freedom Bike Shop and take the KVR trail with some wine stops along the way.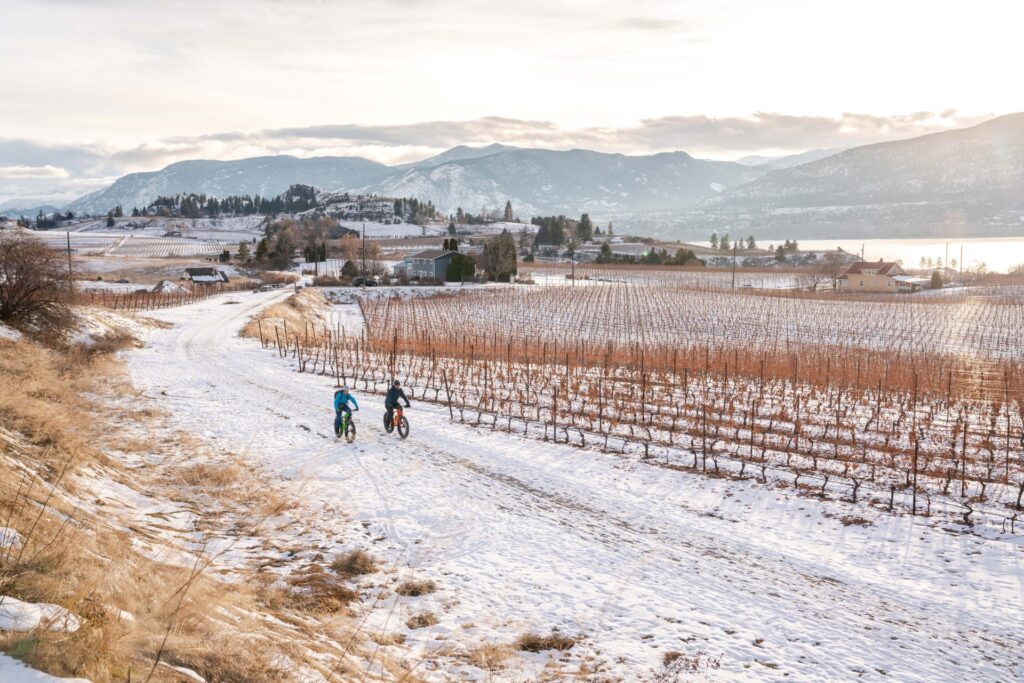 Although some wineries close over winter, many are still open throughout the year. You can find a list of wineries open throughout the winter here. It's always recommended to call ahead or visit the winery website to book a reservation, and double check the tasting hours of the wineries you are looking to visit. There's several wine tour companies in Penticton and area, all of which are knowledgeable on the wineries and would love to help you plan your wine tour for the day, including Grape Friends Tours, Topless Tours, Sagebrush Tours, Wine Wagon Tours, Grape Escapes Tours, and Vivid Tours.
Find a Wine Package to book your accommodations and wine tour together and save.
Warm Up with a Local Meal
During your winter holiday in Penticton, be sure to take some time to check out the rest of our amazing food and beverage industry, on top of the many amazing wineries, including local restaurants and pubs, or farm to table options. You can find an extensive list of winter dining options with our Dining Guide for Winter in Penticton.
While we may be known for our wine, you'll also find a dynamic craft beer scene with 7 (soon to be 8) local breweries, along the Penticton Ale Trail. You'll not only find a wide selection of local craft beers, but delicious options for dining, with Mexican inspired cuisine at Neighbourhood Brewing, tapas style food choices from Cannery Brewing, classic homemade pub style food at Barley Mill Brew Pub, and a unique pizza menu at Bad Tattoo Brewing.
Learn more about our culinary community with Daily Special, and follow the culinary trail of the locals where the reward is bound to be tasty.
New Outdoor Public Skating Rink
Work up an appetite before picking a spot for lunch, with some skating at the new Outdoor Public Skating Rink in downtown Penticton. The planned opening date is February 2022, and will be an accessible rink, being free of charge to use, and with free access to adults' and kids' helmets, skates and frames for those that don't have their own equipment. This rink will be able to operate in temperatures up to 10°C so you can still enjoy a skate on a warmer winter day. It's also in a central location to stop in for a local bite to eat at a downtown eatery after you've had your fill of skating, or even as a starting point for a local art gallery tour to follow.
Find a list of more local rinks here.
Local Art Gallery Tour
There's no shortage of talented artists and art galleries in Penticton, so take an afternoon to keep warm inside and check them out. The Penticton Art Gallery features exhibits which change monthly, and hosts various events such as painting classes. There are several galleries located in the downtown core which showcase talented local artists, including Tumbleweed Art Gallery, featuring unusual and inspiring works of art, The Lloyd Gallery, which has been around since the 1980's and showcases over 40 Canadian artists, and Cormier's Studio, an art gallery, sculpture garden and bed and breakfast all in one. Finally, the Penticton & District Community Arts Council (PDCAC) is located in the historic Leir House Cultural Centre, where they host a variety of events, workshops, exhibitions, and markets, that are family friendly and low to no cost so they're accessible for all.
Penticton's Local Comforts
Make Penticton your home base this winter! It's the perfect central location to not only make day trips for outdoor mountain adventures but also with an array of winter activities to explore right here in the city.
For a cozy stay this winter, you have plenty of accommodation options. A few choices include Penticton Lakeside Resort with heated bathroom floors and stunning views in their West Wing rooms, Ramada Penticton Hotel & Suites with cozy fireplaces and plush king beds, or Cormier's Studio with fireplaces in each of their 3 rooms along with heated tile floors in the en-suites.
Check out our Penticton Packages and find a travel deal to make the most of your vacation to Penticton this winter.