Penticton is the best place for a hockey trip this winter! With several rinks to practice your skating skills or play a game of hockey on, and plenty of other winter activities to enjoy, you're sure to find your fill of winter fun in Penticton.
History of Hockey in Penticton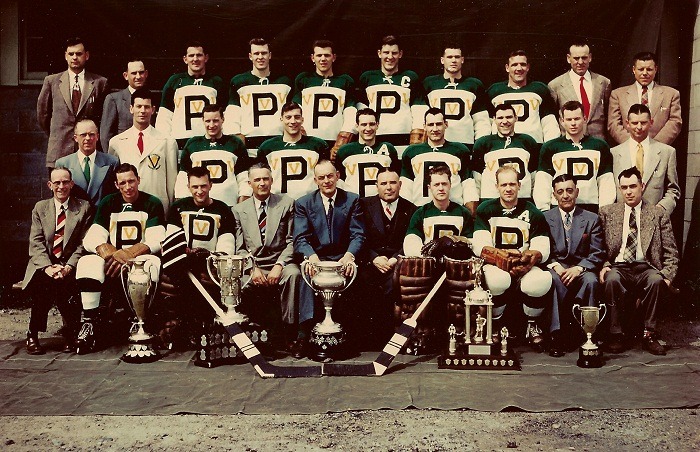 The South Okanagan, and Penticton in particular, has a rich history of hockey, which along with its many ice rinks, makes it the perfect spot for a hockey holiday!
Starting in 1954, the Penticton Vees won the Allan Cup and followed up the next year with the IIHF World Ice Hockey Championship with a 5-0 shutout against the Soviet Union. In 1961, the province's first-ever junior A hockey league called the Okanagan-Mainline Junior Hockey League (OMJHL) was created. As Penticton entered the OMJHL, they kept the name Junior Vees. Since Penticton is known for their peaches, the name Vees refers to types of peaches, from the Vedette, Valiant and Veteran came to the simple V, which has brought so much pride to the city.
In the 80s, the Vees changed their name to the Knights, and they were the talk of the BCHL. From 1979 to 1982, the Knights won the Fred Page Cup and Mowat Cup each season and in 1985 and 1986, and they won back to back Fred Page Cups, Mowat Cups, Doyle Cups, and Abbott Cups, and then won the Centennial Cup in 1986 by beating the Cole Harbour Colts to secure Penticton's first national championship trophy.
After a stellar decade, the team decided to change the name to the Panthers in 1990. The Penticton franchise did not see a significant trophy under the Panthers, but they did win the division four times – in 1995, 1998, 2000 and 2001. 
In 2004, they again changed their name back to the Vees. The Vees won the Fred Page Cup in 2008 for the first time since 1986. The 2012 team saw a whole lot of accolades come to Penticton for the team, a division title which started a run of nine straight (and counting), a Fred Page Cup, a Doyle Cup and the RBC Cup as national champions all sprinkled in with a 42 game win streak that may never be reached again. Since the epic 2012 season, the Vees captured two more Fred Page Cup trophies and a Western Canada Cup trophy while racking up those nine straight division titles.
In the 65+ years of hockey in Penticton, the Vees have been successful throughout their existence with major wins and perhaps one of the best junior A clubs in the country.
BC Hockey Hall of Fame
Coupled with a long history of hockey, Penticton is home to the BC Hockey Hall of Fame! It is located in the concourse of the South Okanagan Events Centre, open Monday to Friday 10am-4pm for your viewing pleasure. They preserve BC's hockey heritage and honor those who have made significant contributions to the game of hockey in BC, as well as gather and display memorabilia of ice hockey within BC. It's the perfect spot to start your hockey holiday in Penticton, learning about the history of hockey in BC, before hitting the ice at one of many rinks in the area.
New Outdoor Public Skating Rink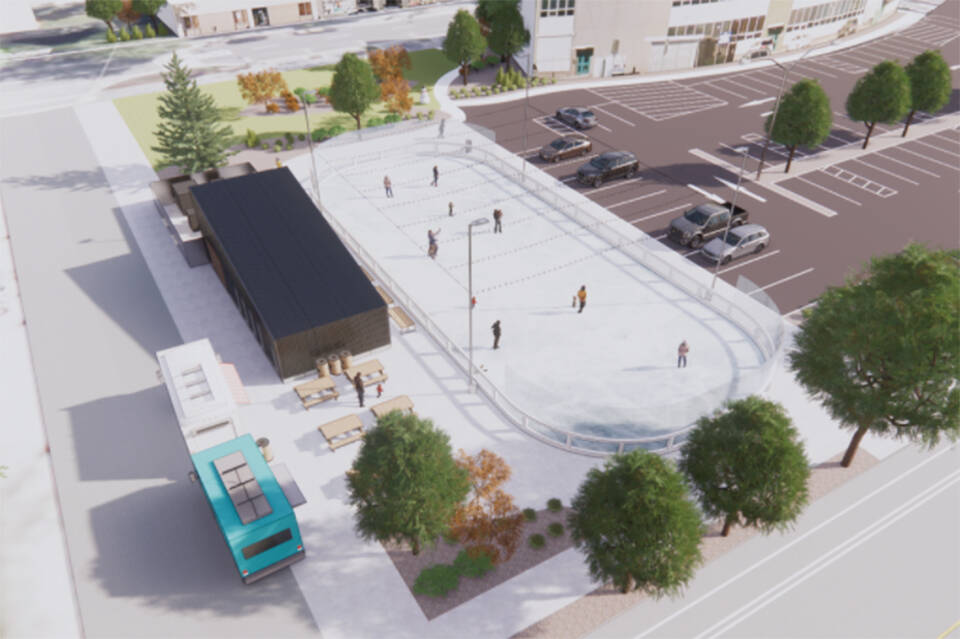 On September 10, 2021 construction began on a new Outdoor Public Skating Rink in downtown Penticton. The planned opening date is for sometime in February 2022, and will be an accessible rink, being free of charge to use, and with free access to adults' and kids' helmets, skates and frames for those that don't have their own equipment. This rink will be able to operate in temperatures up to 10°C so you can still enjoy a skate on a warmer winter day.
McLaren Arena
Lace up and hit the ice at McLaren Arena, an indoor rink, for public skating, sports games and other ice activities. With adult drop-in hockey and stick n' puck, as well as open public skating, parent and tot, and adult only, pick the option that works best for you.
Penticton Lakeside Resort Ice Rink
The fully lit ice rink at the Penticton Lakeside Resort & Conference Centre is set on their private licensed beach and available to their in-house guests and to the public on a first come first serve basis, which opened December 15, 2021 for the season. If you prefer to have the rink to yourself, 2 hour reservations can be made through the front desk, which includes use of their fire pit and requires a minimum spend of $100 at the Barking Parrot. It is recommended to call ahead of time at 250-493-8221 if you wish to enjoy complimentary ice time with a public skate, to ensure the rink is not booked for a private reservation. Bring your skates and sticks and enjoy a game of hockey with views overlooking Okanagan Lake.
Apex Mountain Resort Hockey Rink & Skating Loop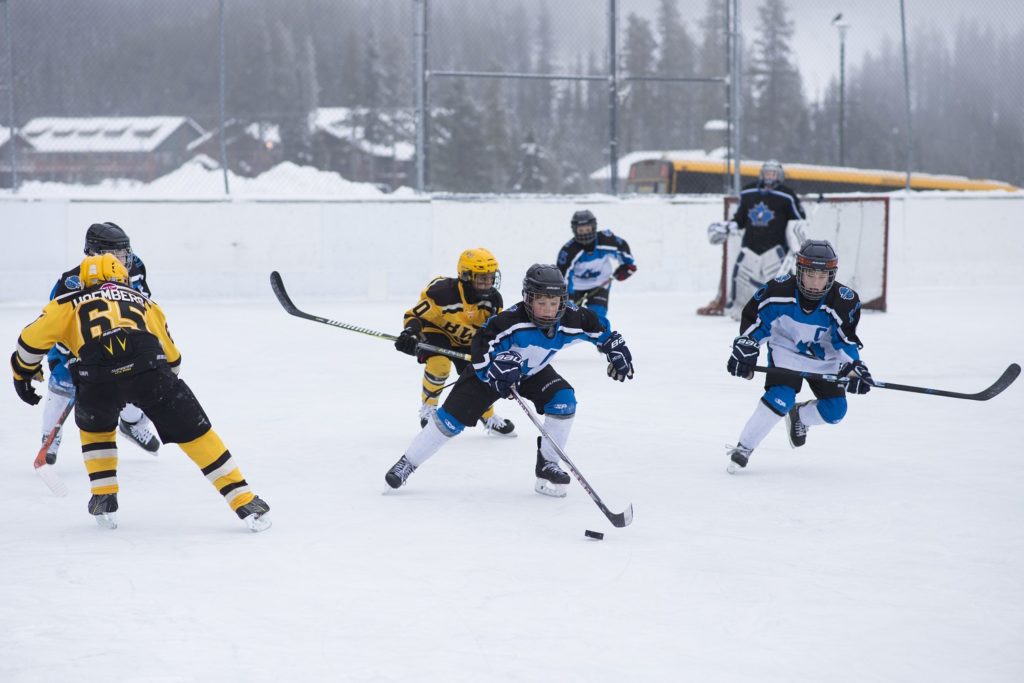 Opening day for Apex Mountain Resort for the 2021-22 season was December 11, 2021. The NHL-sized Apex Hockey Rink is the perfect spot for a hockey game amongst friends, night or day. The rink is fully-lit in the evenings, creating a unique outdoor experience. Arrange a pick-up game with your friends or head up for a family night event.
The Adventure Skating Loop at Apex Mountain Resort is a winter wonderland adventure. Enjoy gliding through the forest on this 1km loop, maintained to a sparkle, smooth shined by the Apex Zamboni. The experience at night is nothing short of magic, as the lights come on and the winter landscape unfolds around you. Bring your own skates or rent them at the Apex Rental Shop.
Chute Lake Lodge Ice Rink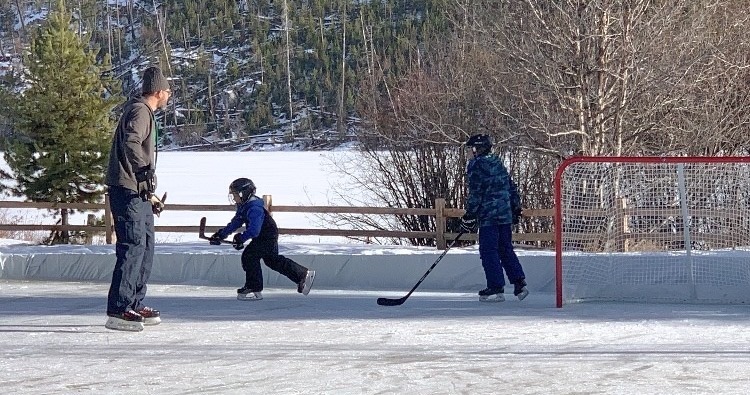 The ice rink at Chute Lake Lodge is free to guests and open to the public as well, opening date is dependent on the weather but the Chute Lake team is currently working hard to get it ready for visitors. The usage fee for the ice rink this year will be by donation to the South Okanagan Women in Need Society (SOWINS), so you'll be supporting a great cause as well. You can also skate on Chute Lake once the weather cools down and the lake freezes over, or bring your gear and enjoy a fun afternoon of ice fishing.
Penticton Vees Hockey Game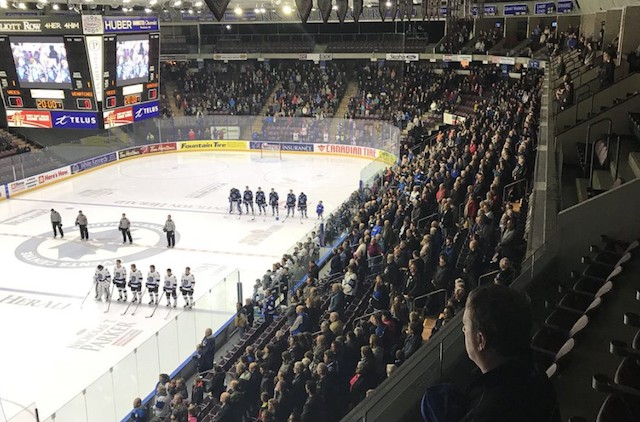 What better way to spend your hockey holiday than catching a Penticton Vees' Game during your stay in Penticton, at the South Okanagan Events Centre. View the team schedule for home games here.
BCHL Retro Theme Nights
All 18 BCHL teams will host a retro theme night in their arena where they will pay tribute to their franchise's history as well as hockey in the area, as part of the BCHL 60th Anniversary. These theme nights will take place throughout the season and the full retro night schedule can be found here. The Penticton Vee's Retro Night will take place on December 17, 2021, when they throw it way back to the 1960's!
Summer Hockey Camps
Hockey isn't just for the winter in Penticton! Founded by Larry Lund in 1963 in Penticton, Okanagan Hockey Group has become an icon in the hockey camp industry as the longest operating hockey camp in the world. They offer one-week full day, fully supervised day camps over 8 weeks of summer in July and August, here in Penticton, with camps for ages 5-17 at any skill level from Beginner to Advanced, skaters and goaltenders.
Winter Wine Tasting
Come for the hockey, stay for the wine! While visiting Penticton this winter, it is a great time to visit our wineries. The quieter season means more opportunity to slow down and enjoy your wine time, and it's also a great time to try some ice wine.
Hockey Getaway in Penticton
With mild weather, beautiful landscapes, and plenty of opportunities to play hockey or catch a game, there's no better place to be this winter than Penticton.