Updated November 25, 2021
Enjoy the holiday season and reward your hard working staff with a joyful outing in Penticton!
Start the day off with an afternoon outdoor adventure – a snowshoe or cross country ski outing up at Nickel Plate Nordic Club, rent fat bikes from Freedom Bike Shop and take your group along the KVR, or spend a day on the slopes, skating and tubing at Apex Mountain Resort, or perhaps enjoy a wine tour with the office.
Next pick a location for your Christmas dinner; with plenty of options to choose from in Penticton, you're sure to find the perfect setting your corporate holiday party. Here are a few choices for your holiday party:
Merry Little Christmas Party at TIME Winery & Kitchen
For those smaller companies with 20 or less employees, this is a perfect fit. Designed for groups of 8-20 guests, enjoy a night of revelry on a smaller scale by booking TIME Winery's multi-company holiday dinner on Friday, December 10th, 2021 from 5pm, with a holiday dinner menu at $55.00 per person.
For those larger groups of 30-50 guests, they have the opportunity to utilize the entire restaurant for a private experience featuring a spectacular evening of food and wine.
Chef AK Campbell and the TIME Kitchen team have developed a decadent menu from which you can build the perfect dining experience for your group. Bring the ultimate food and wine experience to your company gathering by adding perfectly paired wines to each course, as developed by their Estate Sommelier, Robbie Hundertmark.
Show your appreciation to your employees with gifts of wine! Ask about their TIME Family line of gift packages and make corporate gifting easy.
Contact Chelsea Dumayne at TIME Winery & Kitchen by email at chelsea.dumayne@timewines.ca or call her at 236-422-2556 ext 107 for more information and availability. View TIME Winery & Kitchen holiday menu here.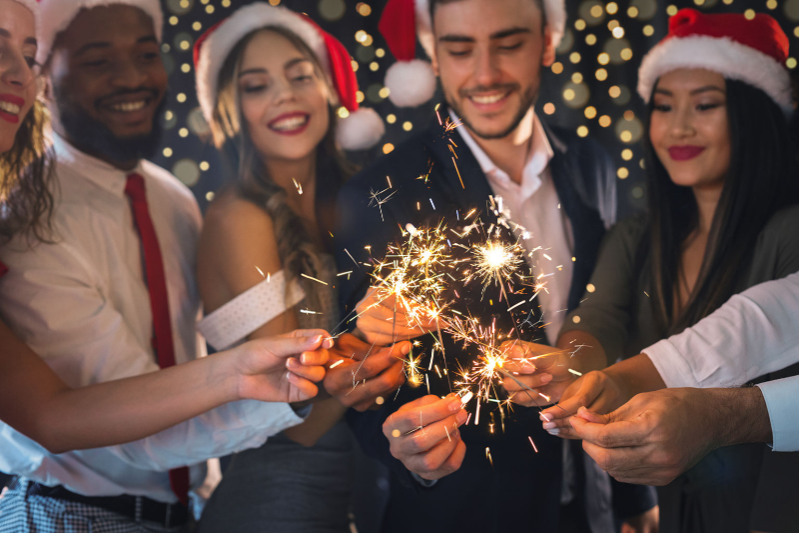 Christmas at the Inn
Bring together the office to toast a successful year at the Naramata Inn. They will be fully decorated for Christmas and have a festive three-course menu available for $75.00 per person.
Their lower dining room will be available as a private space, perfect for a team gathering, speeches, etc. The private room rental cost is waived with a minimum food and beverage spend. Otherwise, they can host your group in their dining room amongst other restaurant guests.
They also have 12 guest rooms available for anyone interested in staying the night.
Guests looking at spending Christmas with their family at Naramata Inn can visit their Holiday page for more information about Christmas Eve, Christmas Day and New Year's Eve offerings.
Contact Olivia Grant at Naramata Inn by email at olivia@naramatainn.com or call her at 778-514-5444 to book your holiday group. View Naramata Inn sample holiday menu here.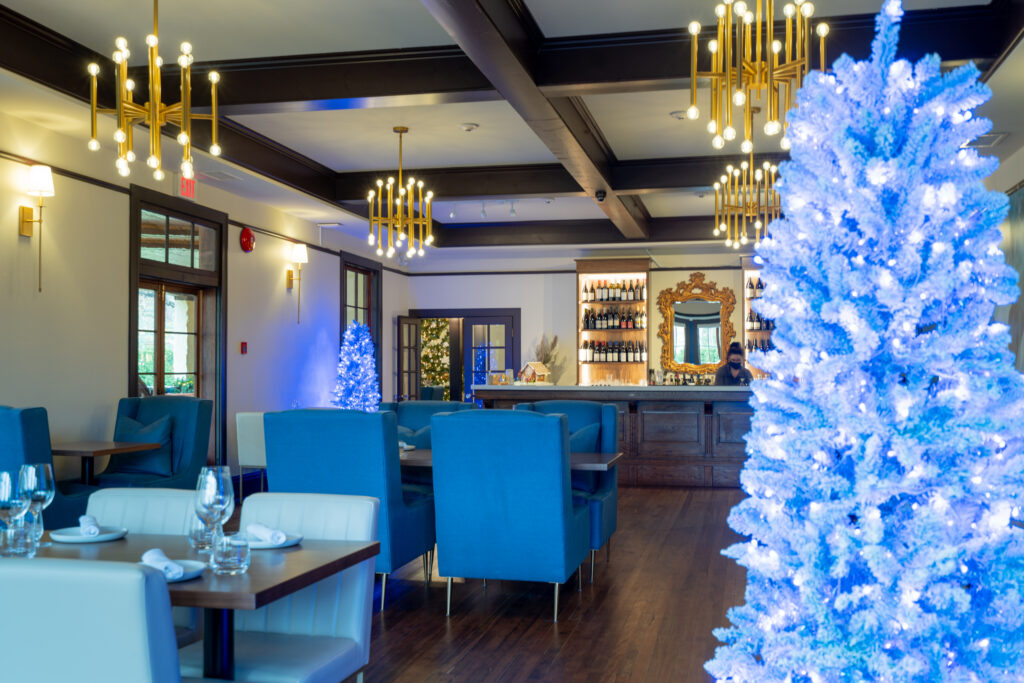 Holiday Party at the Penticton Lakeside Resort
Spoil your team with a festive Christmas dinner at the Penticton Lakeside Resort. Their holiday menu options include a three-course plated dinner menu available for $47.00 per person or a Christmas buffet starting at $48.00 per person.
Their Christmas Party Package makes things easy, with the festively decorated venue, welcome bubbly and dinner buffet all included for $75.00 per person. After your celebration, spend the night at the Penticton Lakeside Resort, with exclusive guestroom rates for Christmas parties booked with them, starting at just $89.00 per night.
Let them take care of the cooking for your Christmas at home as well, with their Christmas Take-Out Menu. Choose from individual or family-style meals. They are also open through Christmas with featured Christmas menus at The Barking Parrot and Hooded Merganser.
Contact Jacqueline Tong at Penticton Lakeside Resort by email at jacqueline@rpbhotels.com or call her at 250-493-9772 to book your holiday group. View Penticton Lakeside Resort Christmas menu here.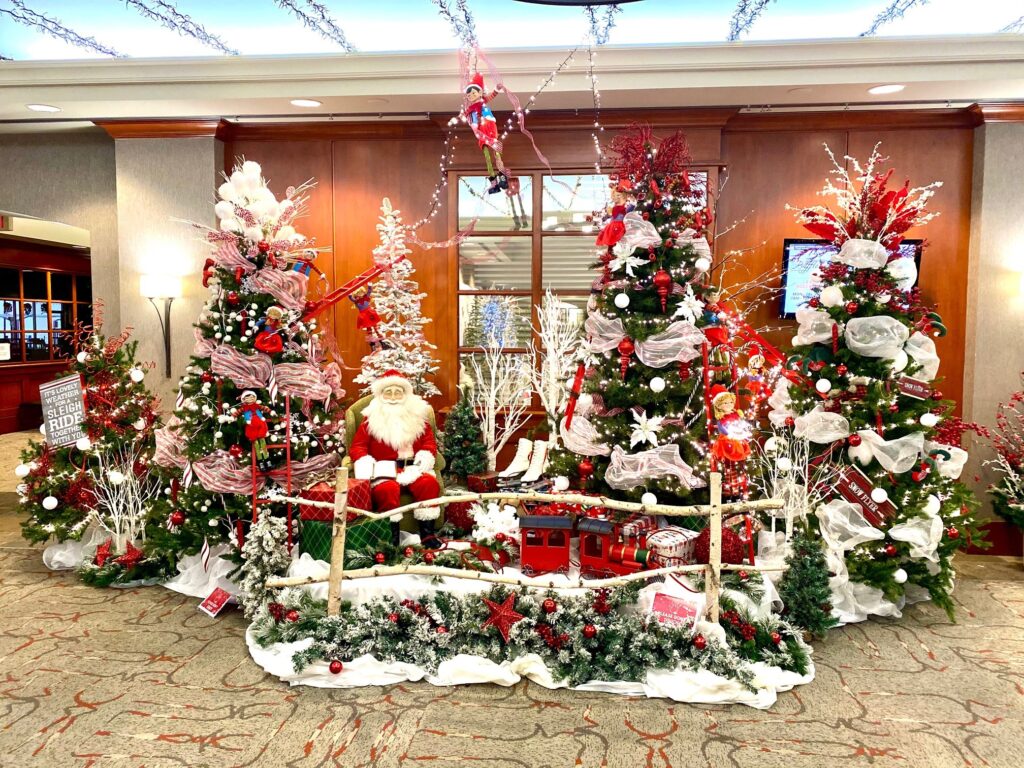 Holiday Dinners at Slackwater Brewing
Celebrate with your team this holiday season at Slackwater Brewing. They are accepting group reservations for groups from 20 to 120 people for the holidays, for you and your team to enjoy a festive night out. They have a la carte, buffet and family style options with menus starting at just $32.00 per person.
They have two spacious stories that will be decorated for the holiday season, beers, wine, ciders, cocktails and great food – something for each guest to enjoy at your Christmas dinner.
Contact Lisa Fredericks at Slackwater Brewing by email at lisa@slackwaterbrewing.com or call her at 236-422-0812 to book your group holiday dinner. View Slackwater Brewing Holiday menu here.
Take the Elevator Home
After you've filled up on a delicious dinner, holiday sweets and had your festive fun, book a stay at one of our local accommodators to finish your night out! Whether you're local to Penticton or planning your staff holiday party to visit from Kelowna, Summerland, Oliver or Osoyoos, a night out in a hotel is the perfect way to end the evening and thank your team for their dedication and all their hard work this past year.
Plan your holiday party this year in Penticton!