Staff from the Penticton Visitor Centre recently took part in a familiarization tour, and we used the experience to help create this guide to give Penticton locals some new and exciting ideas on planning their staycation.
As we continue to stay local, support local, it's the perfect time to plan a Penticton staycation. Enjoy a new view, support our local businesses and try new experiences exploring a side of the city you may not have visited before!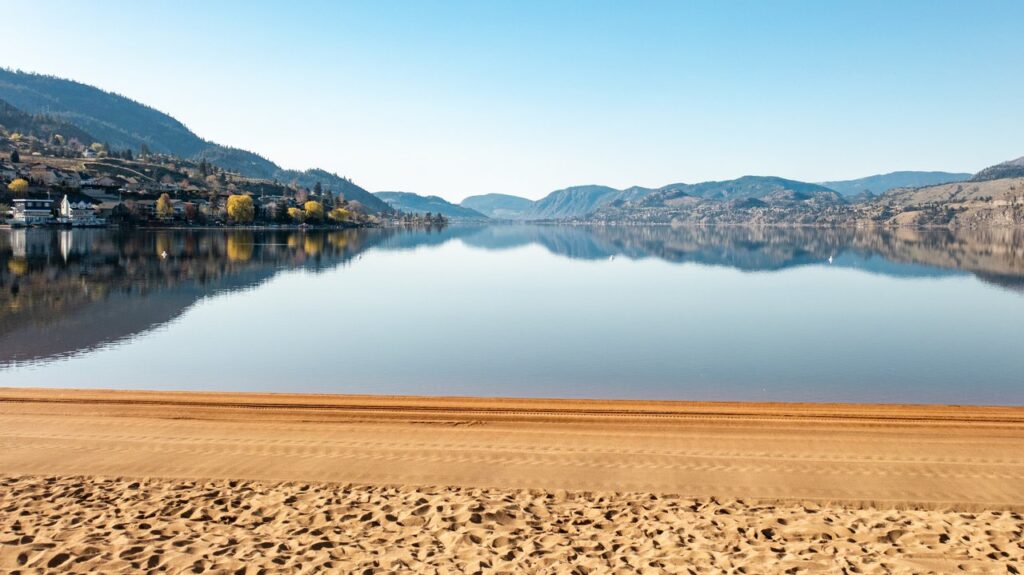 Breakfast
Start your morning with a beautiful view of Skaha Lake and a coffee or tea at the Nautical Dog Café located at the Skaha Marina. Fergy, the chef extraordinaire, creates a custom menu every day with features including Country Waffle Eggs Benedict with pepper maple bacon, or a Breakfast Charcuterie board with artisan cheese and fresh pastries. The Nautical Dog Café is the only breakfast and lunch spot located directly on Skaha Lake! View the full Visit Penticton café patio guide here for more Penticton breakfast and coffee options.
Adventure
After you've had your coffee to wake up and filled up on a delightful local breakfast, you are ready to set out for an adventure. A perfect starting spot is the Skaha Marina where you can rent various boats, waverunners, kayaks, canoes and paddleboards. If you are a boat owner, they offer dry valet storage, just give them a quick call before you want to head out on the lake and they will pull your boat out for you! Another new and fun option for getting out on the lake is Sea Legs Water Bikes, located just West of the Skaha Marina boat launch. They offer water bike rentals and beach fun rentals including beach bocce or tennis, hydro footballs, spikeball as well as umbrellas and chairs for those just looking to relax on the beach.
Prefer to enjoy the lake from the land? Visit Penticton E-Kruise, located at Barefoot Beach Resort, and rent an e-bike to cruise along the KVR trail, riding beside Skaha Lake, down to Okanagan Falls. The KVR trail can be reached via an underpass in front of Barefoot Beach Resort and then head through Wright's Beach Camp, where you'll find the KVR trail at the South end of the camp.
Lunch
Feeling a bit famished after your morning enjoying Skaha Lake? Time for a lunch break! Sushi KOJO brings a little Japanese flair and a whole lot of Okanagan hospitality together in what is the perfect blend for Penticton, and offers a delicious selection of Sushi rolls, noodles and more.
If you want to enjoy a craft beer or other cold beverage with your lunch, Barley Mill Brew Pub, one of the seven breweries along the Penticton Ale Trail is a great choice to enjoy a local beer and lunch on their dog-friendly patio. Try their weekly feature or one of their legendary burgers made with award winning homemade beef patties.
Check out our Penticton Patio & Dining Guide for a list of restaurants, pubs, cafes, breweries, and wineries with patios and those that offer take-out and delivery options as well.
Accommodation
You'll find a wide selection of accommodations available near Skaha Lake, from Camping, Resorts, Motels and Hotels, to Bed & Breakfasts and Vacation Rentals. Spend a night, or spend the weekend, and leave the stress of cleaning and cooking at home!
Just steps from Skaha Lake are 3 motels all situated next door to one another, giving you a Resort experience with shared amenities between the 3. Choose from Beachside Motel, Sunny Beach Motel or Waterfront Inn and you're sure to find a room that best suits you! Guests can enjoy the BBQ's, picnic tables, playground, hot tub and sauna, seasonal heated indoor pool or just walk across the street to the beach, tennis courts, volleyball courts, playgrounds and green space.
Make yourself at home with in-suite kitchens at Traveler's Motel. This newly renovated property is sure to brighten your day with their colorful exterior. Cool off on a hot day in your air conditioned room or lounging by the seasonal pool, opening in June. Across Skaha Lake Road from Traveler's Motel, you'll find the Empire Motel. They offer unique rooms with a homey feeling and a variety of room types. Enjoy their beautiful courtyard with a heated outdoor swimming pool and private picnic and BBQ area.
Wright's Beach Camp has just about everything you need to enjoy your staycation, without ever leaving the campgrounds! Spend your day enjoying their pool, horseshoe pit, playground, beach, arcade, and a multi-sport court that is coming soon, or take advantage of their boat rentals including ski boats, waterskis, wakeboard or tube, wave runners, kayaks, pedal boats, canoes, and paddle boards. They have close to 300 sites, most of which offer full service, as well travel trailer rentals for those that don't have their own but wish to enjoy trailer camping.
If you prefer a private room rather than a campsite, across the road from Wright's Beach you'll find Lakeside Villa Inn & Suites. They offer comfortable vacation suites with full kitchens, or a select amount of studios for those that don't require the kitchen. Guests can access the private beach located across the rod by underpass, or relax in the backyard area with BBQ's, a gazebo and plenty of seating.
Check out the Visit Penticton website, and find the perfect accommodations for you.
Explore
After you've checked into your accommodations, head out for a beach walk along Skaha or Sudbury Beach, taking in the beautiful views of Skaha Lake. Stop into Skaha Pizza or the newly opened restaurant, The Wienery to grab some dinner, or order take-out or delivery to enjoy back at your accommodations from one of our many restaurants and pubs in town. Prefer to eat outdoors? Visit the Picnic-ton website and get a picnic pack from your choice of 40+ registered businesses for a picnic in the park or at the beach! They have an interactive map so you can view nearby parks, see how many picnic benches are at each location, and scope out amenities, to pick the perfect spot for you to enjoy your picnic.
We live in a fun and unique city and are lucky to have so many fantastic experiences available right in our own backyard! Stay Local, Support Local with a Penticton staycation.