Welcome to Summerland Sweets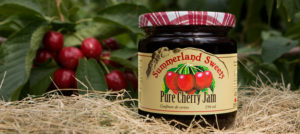 Summerland Sweets is a family owned and operated business with roots in the food processing industry since the 1950's. We have a full range of fruit based products including pancake syrups, gourmet jams, nut brittles, and many gift packages. Summerland Sweets is also home to Sleeping Giant Fruit Winery which began operations in 2008.
Stop in to see our production video complete with product samples and indulge in an ice cream cone while you're here. Be sure to allow time to browse in our store which carries local pottery and artwork in addition to our regular products.
You can also enjoy pulled pork and beef brisket sandwiches as well as hamburgers and hotdogs, fries and mac n' cheese from Summerland Smoke Shack food truck, on-site Thursday to Sunday until fall.
History of Summerland Sweets
Mr. F.E. (Ted) Atkinson founded Summerland Sweets in 1962. Ted received a Bachelors Degree in Food Science at Oregon State University in Corvallis in the 1920's. Throughout his career he worked at the Federal Agricultural Research Station in Summerland and acted as head of the food processing lab for many years. In the early 60's, working out of pickers' cabin on his orchard, Ted started producing fruit jelly candies to raise funds for the local Rotary Club. He soon turned to commercial production and what began as a fundraising effort grew into a retirement project and blossomed into Summerland Sweets!
Ted's success was due to his dedication to quality. He believed in using only top quality tree and vine ripened fruit picked at the peak of maturity. The fruit was then processed quickly to capture maximum flavour and maintain fruit colour. Since its modest beginnings the business has grown considerably and now offers much more than just candy!
For more information on Summerland Sweets, please click here!