The holiday season is upon us, and there's no better way to celebrate than with fine wines and thoughtful gifts. Whether you're looking to surprise a wine lover or elevate your own holiday festivities, the team at Poplar Grove has put together an exquisite selection of wine gift packs that are perfect for that wine enthusiast on your list. From festive holiday gatherings to cozy winter evenings, Poplar Grove wines are the perfect companions for all your celebrations. So, without further ado, let's explore their
curated gift packs!
1) Festive Holiday Gift Pack
Celebrate the holiday season in style with their Festive Holiday Gift Pack. Enjoy Poplar Grove wine all night long starting with a glass of their 2022 Benchmark Brut and ending with their 2015 Ruby. There is a wine for everyone at the party.
Festive Holiday Pack includes:
1 X Benchmark Brut 2022
1 X Chardonnay 2022
1 X Riesling 2022
1 X Merlot 2021
1 X Cabernet Franc 2019
1 X Ruby 2015
2) Winter Fireside Collection
Indulge in the warmth of the season and shared cherished moments with friends while savouring their Winter Fireside Collection. This 6-bottle pack was curated by their winemaker to elevate your holiday parties or perfectly accompany any cozy winter weekend.

Winter Fireside Collection includes:
1 X Benchmark Brut 2022
1 X Pinot Gris 2022
1 X Rose 2022
1 X Lakeview Rose 2022
1 X Benchmark 2018
1 X Cabernet Franc 2019
3) Cellar Collection
Give the gift of their Cellar Collection this holiday season. Experience how Poplar Grove wine ages with a vertical of their signature red blend, The Legacy. All perfectly packaged in a beautiful, branded pine 3 bottle box.

The Cellar Collection includes:
1 X The Legacy 2017
1 X The Legacy 2018
1 X The Legacy 2019
1 X Branded Poplar Grove 3 bottle box
4) Bubbles Bundle
The holidays truly are a time to celebrate and why not do it three bottles of their 2018 Extra Brut bundled with your very own sparkling saber! This is also the perfect gift for that bubbles lover on your list. Purchase the Bubbles Bundle and save $35 on the cost of saber.

The Bubbles Bundle includes:
3 x 2018 Extra Brut
1 x Poplar Grove branded wine saber
5) Holiday Dinner Party Pack
Get ready to wow your friends with the Holiday Dinner Party Pack. This 6-bottle pack was carefully curated by their Winemaker to pair perfectly with your autumn feasts and make sure your evening is an unforgettable one.

Holiday Dinner Party Pack includes:
2 X Benchmark Brut 2022
2 X Lakeview Rose 2022
2 X Cabernet Franc 2019
6) Gold Medal Collection
Get your wine cellar ready for winter with a Gold Medal Case that includes a selection of three GOLD MEDAL winners.

Gold Medal Case includes:
4 X bottles Poplar Grove Syrah 2019 (Los Angeles International Wine Competition – GOLD)
4 X bottles Poplar Grove Cabernet Franc 2019 (San Francisco Wine Competition – GOLD)
4 X bottles Poplar Grove The Legacy 2017 (London Wine Competition – GOLD 93pts)
(12 bottles total)
Have you considered Wine Club?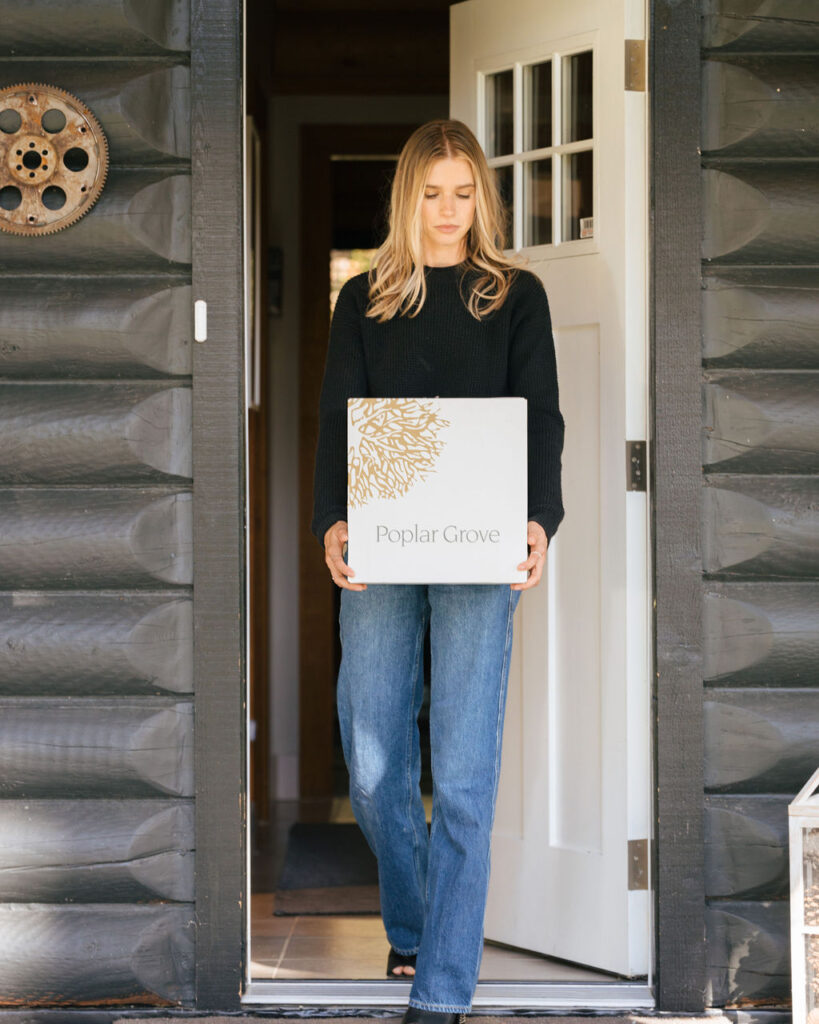 If you're looking for a gift that offers an ongoing celebration of wine throughout the year, consider Poplar Grove's Wine Club Membership. This is the gift that keeps on giving, and it's perfect for the true wine aficionado in your life.
With their Wine Club Membership, your recipient will receive three shipments per year (November, March, and July) of exceptional wines curated by their winemaker. Each delivery will include a 6-bottle pre-selected pack for those who like to be surprised. If you prefer to choose your own, no problem! Their Wine Club is fully customizable for you to choose wines to your liking as well as enjoy countless other perks of being a member. Make this holiday season unforgettable with a gift that will be appreciated long after the holidays have passed.
Announcing the latest addition to the Poplar Grove portfolio: The Benchmark Brut. This Charmat-style sparkling wine has been meticulously crafted, boasting delightful notes of ripe pear, lemon peel, and a subtle hint of brioche. It's the perfect way to elevate the start of your holidays.
Looking to enjoy a glass of Benchmark Brut at the winery? It is the perfect pairing with Chef Stacy's Brunch menu which is served every Sunday from 10:00am to 3:00pm.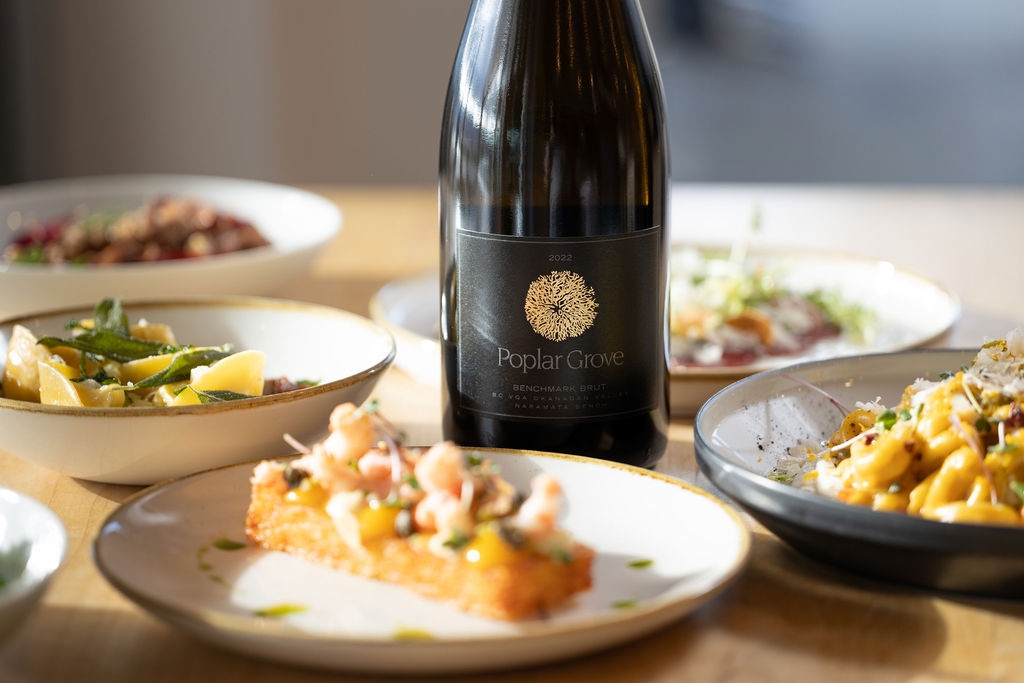 Gift the gift of Penticton wine this holiday season with Poplar Grove Winery. Shop the Poplar Grove Holiday Gift Catalogue here.