Updated December 7, 2022
Mark your calendars for the Visit Penticton Holiday Sale! On November 28-December 16, 2022, save 10-30% OFF storewide. The Holiday Sale is available both in-person at the Penticton Visitor Centre, located at 888 Westminster Avenue W, and on our Visit Penticton online store. Discounts are automatically applied, and you will save 10% when you spend at least $40, save 15% when you spend $80, save 20% when you spend $100 and save 30% when you spend $200+.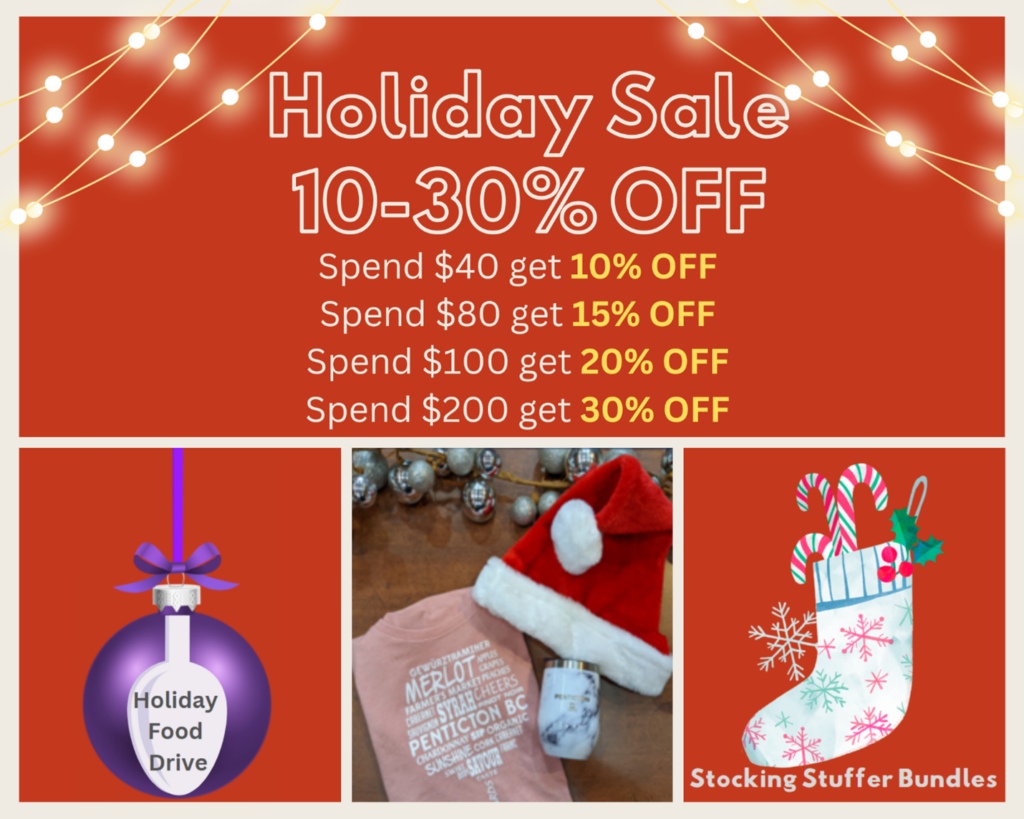 Looking to start your holiday shopping now?! Get an early bird discount of 10% OFF storewide when you bring in a non-perishable food item when doing your shopping in-person at the Penticton Visitor Centre, open Monday to Friday 9am-4pm. All donations are collected for the Penticton Community Fridge and Pantry. Suggested donation items are snack items like granola bars and puddings, cereal, peanut butter, canned stews and fruits, canned tuna, tomato sauce, etc. This special offer for the additional 10% off with a food donation is available November 14-25, 2022 and December 19-23, 2022; however, we will be collecting donations from November 14 until December 23, 2022.
Also check out our Adult and Kids $15 Stocking Stuffer Bundles. Bundle and save on Penticton branded stocking stuffer essentials! Available in-store November 14-December 23, 2022, not combinable with holiday sale discounts.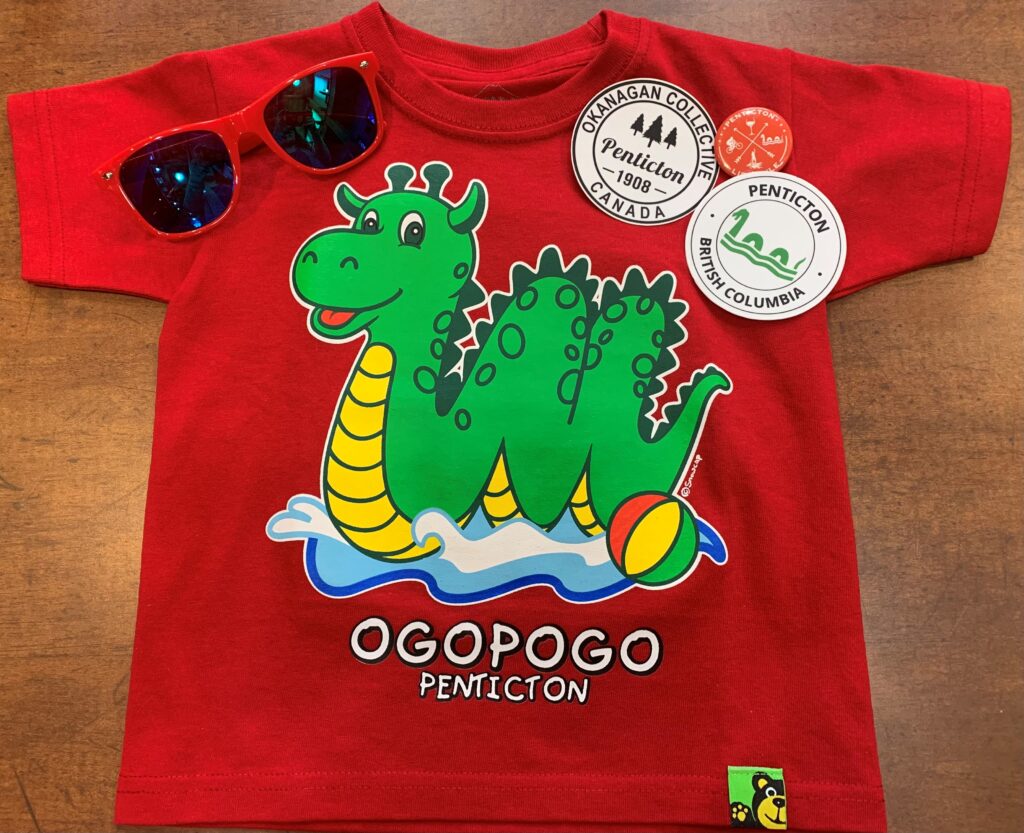 Pick up your last minute gifts and stocking stuffers online or at the Penticton Visitor Centre! Find the perfect gifts for your family and friends with a Penticton focus. Choose from exclusive Okanagan wine t-shirts and Penticton beer t-shirts, Penticton branded hats, hoodies, t-shirts, insulated wine or coffee mugs, Okanagan made jewelry, and a selection of stickers, magnets, pins, and postcards, plus much more!
Our online shop provides both visitors and locals the opportunity to purchase our Penticton branded items, which can be picked up from the Penticton Visitor Centre or shipped right to their door! The Visit Penticton Online Store offers flat rate shipping of $5.00 to British Columbia, and $10.00 to everywhere else in Canada.
Additional informational items are available for pick-up at the Penticton Visitor Centre including a wide selection of free guides, brochures and maps.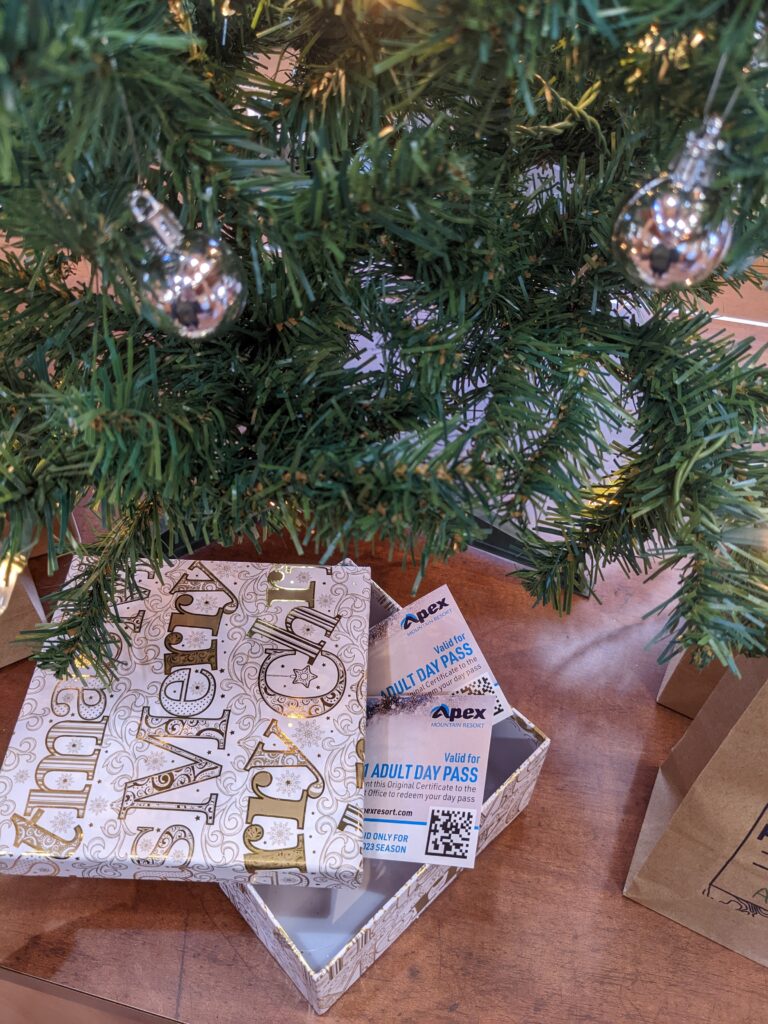 We now have discounted Visit Penticton x Apex Mountain Adult Day Passes available in-store only at the Penticton Visitor Centre, which make for a perfect stocking stuffer that anyone is sure to appreciate! Not eligible for holiday sale discounts.
These passes provide a fantastic opportunity for the 2022/23 ski season, to enjoy a great day at Apex Mountain Resort for you and a younger member of your immediate household, as you can receive 20% off either 1 Junior Regular Ticket or 1 Teen Regular Ticket with your purchase of our 1-Day Adult Pass Lift Ticket Voucher! You can also enjoy 25% off Ski and Snowboard Rentals with your adult day pass voucher.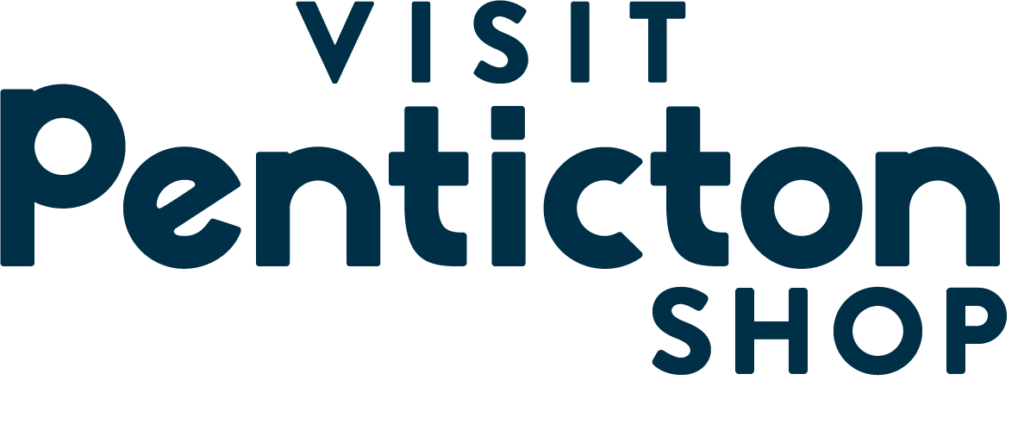 Visit shop.visitpenticton.com to shop online and find your new favorite Penticton branded hat, t-shirt or hoodie. Be sure to share your online and in-store finds using #VisitPenticton and tagging @VisitPenticton.