The Sun-Kissed Summer Sale at Summerland Waterfront Resort & Spa
Jul 14, 2023 to Aug 31, 2023
2
2
Save $40+ each night with the Sun-Kissed Summer Sale at Summerland Waterfront Resort & Spa
Escape to the breathtaking beauty of the Okanagan for an unforgettable summer vacation for the long awaited Sun-kissed Summer Sale. Time is slipping away, with only 50 days left in summer, so don't miss out on the opportunity to relax, play, and create cherished memories at Summerland Waterfront Resort & Spa. Our exclusive Sun-Kissed Summer Sale is here, offering you the perfect chance to unwind and make the most of your summer with incredible savings.
Imagine waking up to the sun-drenched shores of the Okanagan, where every day is filled with endless possibilities. From boating to kayaking to lounging by the pool or strolling along the boardwalk, there's something for everyone to love. Is it time to treat yourself? There's nothing better than a summer getaway to Summerland Waterfront Resort & Spa.
Our select suites are now available at an unbeatable 10% off, ensuring you get the most value out of your well-deserved getaway. With our stunning Studio Bluffview Suite, designed for ultimate comfort and romance, you'll find everything you need in one spacious room.
Normally priced at $409 per night, it's now yours for just $368, allowing you to save $41 per night.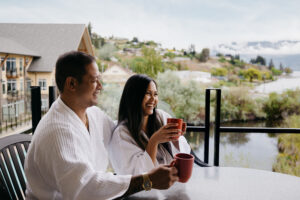 Looking for more relaxation and space? Choose our One Bedroom Bluffview Suite, featuring a private bedroom for serene downtime with loved ones.
Originally $479/night, now only $431, saving $48/night.
Two-night minimum stay required. Hurry, sale ends July 23 at 5 pm!
At Summerland Waterfront Resort & Spa, we ensure a seamless experience. Relax by the lake, enjoy water sports, exquisite dining, or unwind at the iKhaya Day Spa.
Book effortlessly for your Okanagan getaway by clicking below or calling 1-877-494-8111. Don't miss this limited-time offer for an unforgettable summer escape!
---
Summerland Waterfront Resort & Spa
13011 Lakeshore Drive South, Summerland, BC, Canada, V0H 1Z1