As part of the Travel Penticton, Youth Influencers Program, KVR Middle School students were tasked with writing blogs focusing on four key traveler types: Adventurers, Athletes, Families and Foodies.  Below is one of a series that will be released over the next few weeks.  We hope that you enjoy these insightful and candid reviews by our local youth and that they encourage you to visit our wonderfully diverse City.
Athletic Activities in Penticton 
By: Charlotte Hanna, Maia McCoy and Catrina Withler
Two of Penticton's greatest assets are the weather and the landscape. When you combine these two things you get the perfect place to train. Penticton has two great lakes for swimming, lots of trails for running and cycling and an amazing ski hill. Professionals from all over the world come to Penticton just to use our city and surroundings.
The Kettle Valley Railway Trails are one of the best places to go for a scenic run or a relaxing walk. Okanagan and Skaha Lake are both excellent lakes for swimming and other water sports while Apex Mountain Ski Resort has an amazing variety of winter activities such as skiing, skating and tubing.
The weather in Penticton makes for excellent training conditions. It almost never gets too hot or too cold. In the summer we have clear skies and warm days and winters here are mild. Even though Penticton is not a very big city it has lots of resources and amenities for athletes.   
Penticton is a world renowned destination for being a great place to train and for hosting sporting events. Penticton has held many of national and even a few international events. One of the national events held here is the Axel Merckx Granfondo in July, which is a 160km bike race through the heart of wine country.  This race is considered one of the best in North America. The most recent international event held here was the ITU Multisport Championships. This event was a triathlon for people from all over the world to come and compete in. My family has volunteered in both of these great events and I recommend that you do too. You get close to the action and you get to be outside all day in the sun – who wouldn't want to do that! 
Penticton is known for more than just events and good training, hockey is a huge part of our community. To start, we have a relatively successful junior hockey team, the Penticton Vees. The Vees are led by President, General Manager, and Head Coach, Fred Harbinson. This year, the Vees were knocked out by the Trail Smokeaters in the second round of the BCHL playoffs, but in 2012, the Vees won the RBC Cup – the national championship for junior A hockey.
On the topic of hockey, Penticton has a well known hockey academy. Okanagan Hockey Group was founded in 1963 by Larry Lund. In the last 50 years, hockey camps in Penticton have hosted players from over 30 different countries. In 2002, Okanagan Hockey Academy (OHA) became the first hockey specific sport school recognized by BC Hockey and Hockey Canada. OHA in Penticton started with one team and now has 8 teams. Hockey is a huge part of Penticton's community.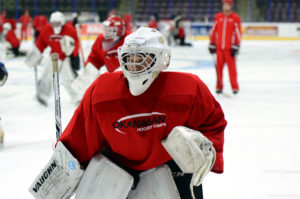 Between our events, our training facilities and our hockey, Penticton is a really great location for the athletic person.