Updated September 22, 2020
These are unprecedented times for all of us, but we can help our local small businesses during these challenging times. Many businesses have had to temporarily shut their doors, many have decided to postpone re-opening after the winter break while others have modified their service offerings, from limited occupancy, appointment only access, take-out food orders, curb-side pick up, free local delivery, nation wide shipping discounts and gift cards sales.
Our small businesses are owned by and employ many local residents, they are also important partners who support our local community in many ways. During these challenging times, we as a community need to consider where our money is going and how we can help our community as a whole. Please look for locally produced product, use our local agents, and support each other any way we can.
We are continuing to reach out to our local businesses to see what services are still being offered to the Penticton community. We encourage you to call the local small business beforehand to check their current status, as things are changing at a rapid pace. We will be updating this page on a regular basis as we learn more from our business community.
Stay healthy, stay safe and we will get through this together Penticton!
#visitpenticton #explorebc #pentictonnice #lovelocalpenticton
---
Food
Bad Tattoo Brewing: Rock oven pizza, a fresh salad, or craft beer. Open 11 am – 11 pm, 7 days a week.  Take out is available for pick -up only.
The Barking Parrot Bar: Fantastic lake views from the patio.  Drop in for a quick bite or delicious cocktail. Open 12 pm – 11 pm (Sun – Thurs) and 12 pm – 12 am (Fri & Sat).
Barley Mill Brew Pub & Bistro: Great food and award-winning, hand-crafted brews.  Kitchen is open 7 days a week 11:30 am – 10 pm
Bear's Den Restaurant: This family-style diner, located at Hotel Penticton, has won numerous awards for "Best Breakfast" in Penticton.  Join them daily for breakfast or lunch from 7 am to 2 pm.
The Bench Market: The Bench Market makes the holidays easy with beautiful gift baskets, gift cards & loads of unique retail goodies plus take & bake meals – and all your favourite Bench drinks & food available for takeaway!  Get a $5 coupon with the purchase of a $25 gift card.  Open daily 7am – 5pm and you can now also ORDER ONLINE
The Bistro at Hillside Winery: A masterfully created menu with a focus on small plates. Open Wednesday to Sunday from 5 pm to 8:30 pm for dinner service. Reservations required. 8:30 pm is the last seating.
Brodo Kitchen:  Enjoy a soup flight, fresh salad, a "sammie" or a combination of all three. Open 11 am to 5 pm, Monday to Friday for takeout. View their Facebook page for daily features.
Buy the Sea Seafoods: Mouthwatering Fish n' Chips for take-out. Open Monday to Thursday from 11 am to 6 pm, Friday 11 am to 7 pm, and Saturday 11 am to 6 pm.
Elma Restaurant: A unique, but friendly and familiar Turkish inspired dining experience on beautiful Lake Okanagan. Open Wed – Sun 3 pm – 10 pm.
Gratify Foods: Delicious, nutritious treats for health-conscious people. Located on Main Street, they are open Tuesday to Saturday from 10:30 am to 5 pm.
Hillside Winery Bistro: Bistro's menu has been masterfully created with a focus on small plates allowing guests to indulge in a fun sharing experience and a symphony of flavours. Open Thursday – Sunday 5 pm – 7:30 pm (takeout available 3 pm- 7 pm) ORDER ONLINE
The Hooded Merganser: An award winning restaurant managed by Penticton Lakeside Resort & Conference Centre.  Open Wed – Sun 4 pm – 11 pm.
Penticton Indian Cuisine: Exquisite flavour and wide range of Indian dishes with fresh herbs and spices, adding a touch of Nepalese finish. Open 7 days a week 11 am – 9 pm. Featuring daily lunch specials and dinner specials.
Petrasek Bakery: An artisan European bakery where everything is traditionally handcrafted and made from scratch. Open Tues to Sat 9 am – 4 pm. Pick-up and delivery also available.
The Restaurant at Naramata Inn: Celebrating the "best of the season" has more than one meaning at the Restaurant at Naramata Inn. Chef Ned Bell's Naramatian cuisine offers the perfect way to indulge during the holidays, with special set-price holiday menus (48 hours notice required). Click here to view menus
The Restaurant at Poplar Grove : Local ingredients combined with Mediterranean flavours to create enticing seasonal fare to complement Poplar Grove's portfolio. Open for Lunch Thurs – Mon 12 pm – 4 pm and Dinner Sun & Mon 5 pm – 8 pm, Thurs – Sat 5 pm – 9 pm.
The Prague Cafe (European): Czech and European homemade fresh baked goods, healthy soups, sandwiches and a lot of other delicious treats. Open Mon – Thu: 9:15 am – 4:00 pm and Fri – Sun: 8 am – 4 pm.
Seis Cielo Specialty Coffees: Fresh Hot Brew Coffee, Nitro Cold Brew, Vegan Snacks and more. Open Mon – Fri from 7 am to 3 pm, Sat 8 am to 1 pm.
Slackwater Brewing: The food philosophy matches that of the beer—simple, balanced and approachable. Kitchen open daily 12 -9 pm (7pm Sun) 
Smugglers Smoke House: Low & slow, mouthwatering smoked meat and other classics. Open Tues – Thurs 11 am – 8 pm , Fri – 11 am – 9 pm, Sat – 3 pm – 9 pm 
The Station Public House:  Fresh Flavours, Craft Beer and Local Wine. Open for Lunch and Dinner 7 days a week 11:30 am – 10 pm. 
Sushi Genki: Delicious sushi and ramen that's packed full of flavour. Open Mon – Fri 11 am -3 pm & 4 pm – 7:30 pm. 
Sushi Kojo: An innovative menu that brings a Japanese flair. Open 11 am to 8 pm, Tuesday to Saturday (closed everyday between lunch and dinner from 2 pm until 4 pm). 
Tacos del Norte: Amazing authentic Mexican cuisine right here in the Okanagan.  Open daily 11:30 am – 2:30 pm and 4 pm – 6 pm.
Theo's Restaurant: Enjoy Greek recipes inspired by Okanagan ingredients. Open daily for dinner from 3 pm to 10:30 pm (9:30 pm on Sundays). Choose to dine-in or call for take-out.  
TIME Winery & Kitchen: Elevated burgers and brunch and delicious roast prime rib dinners on Sundays.  Open Wednesday – Friday 12pm – 9pm Saturday & Sunday 10:30am – 9pm.  Take-Out Menu available including specialty holiday dinners.
Tratto Pizzaria: Pizza Napoletana in Penticton.  Open for dinner Sun – Thur 4 pm – 9 pm and Fri & Sat 4 pm – 10 pm.
Villa Rosa Ristorante: Great food with an extensive local BC and Italian wine list. Dining room & patio open 7 days a week from 5:00 pm.  Free delivery within Penticton is also available.
Wayne and Freda: Enjoy a specialty coffee, brunch or afternoon treat in their warm and inviting space. Open 7 days a week from 8 am to 4 pm.
Wineries
8th Generation Vineyard – Celebrating 237 years of winemaking history. Open daily for pick up purchases 11am – 4pm ORDER ONLINE
Bench 1775 Winery: Start the count down to Christmas with Bench 1775 wines & look no further for the wine lover on your list.  Open  for wine sales and curbside pick up 8:30am – 4:30pm Monday – Friday ORDER ONLINE
Blasted Church Vineyards: Classical wines for a modern world. Bundle up and save with their holiday wine special and save up to 35%. Open for wine sales Monday – Friday 10am – 5pm ORDER ONLINE
Blue Mountain Vineyards & Cellars: All wines are produced exclusively from grapes grown on the estate's vineyards.  Curbside pick ups Tuesday – Saturday 10am – 4pm ORDER ONLINE
D'Angelo Estate Winery: Their focus is to produce quality red wines. Open for wine sales 11am – 5pm daily ORDER ONLINE
Da Silva Vineyards & Winery: Devoted to crafting wines of place, with a singular focus on terroir.  Open for tastings and wine sales 11am – 5pm daily.  Sample a flight of 5 wines for $10 or ORDER ONLINE
Dirty Laundry Vineyard: Their rosé won Gold at the All Canadian Wine Championship and Silver at the Lieutenant Governor's Wine Awards. Come in a try a taste Thursday to Sunday 12pm – 4pm or ORDER ONLINE
Elephant Island Winery: Wines that are rooted and inspired by family history. The tasting room is closed for the season but you can purchase wines and ciders, online.  Check out the Collections & Gifts section to save on the shipping ORDER ONLINE
Four Shadows Vineyard: A Penticton winery with a focus on family.  The tasting room is closed for the season, but don't worry you can still get their wine through their online store.  Curbside pick up and local drop off are available with Free Shipping on orders of 12 or more bottles. ORDER ONLINE
Great Estates Okanagan Wine Experience Centre: Experience the best of four regional wineries and discover the distinct terroir from Summerland to Osoyoos. Open Monday – Thursday 11am – 5pm and Friday – Sunday 11am – 6pm.  Book a daily tasting experience or indulge in a Wine + Chocolate = Happiness Tasting available on Saturdays & Sundays. Great Estates Wines are also available for purchase online ORDER ONLINE
Hillside Winery: Unique, small-lot, and terroir-driven are terms best used to describe Hillside wines. Open daily for wine sales 11 am – 5 pm with Seated Sensory Tastings available by appointment Wednesday – Sunday 12 pm – 5 pm. Gift giving is made easy with their Holiday Gift Guide and all wines are available for purchase online ORDER ONLINE
La Frenz Estate Winery: Explore terroir driven award winning wines shipped in 3, 6 or 12 bottle cases. The Wine Shop is closed for tastings, but open for sales by appointment Monday – Friday 9am – 3pm ORDER ONLINE
Lake Breeze Vineyards: Striving to produce wines that are the epitome of the Okanagan.  The tasting room is closed for the season but curbside pick up is still available Monday – Friday ORDER ONLINE
Laughing Stock Vineyards: Tasting room is by appointment. This more personalized format improves the ability to deliver an outstanding wine tasting experience. Seated tastings $10 (waived with wine purchase) are available Friday & Saturday 11 am – 4:30 pm BOOK NOW.  Wine can also be purchased online ORDER ONLINE 
Little Engine Wines: Focusing on ultra low tonnage, the finest French Oak, small batch ferments and a relentless pursuit of excellence their collection offers a wine suited for Enthusiasts and Collectors. Open Monday – Friday 12 pm – 4 pm for sales and pick-ups only.  ORDER ONLINE
Meyer Family Vineyards: Traditional French Burgundian style small case lots of varietals with an emphasis on Chardonnay and Pinot Noir. Regular and premium tastings are available by appointment Monday – Saturday 12 pm – 3 pm. Wines are also available for purchase online.  ORDER ONLINE
Monster Vineyards: They believe that wine is an essential part of life so if you are in Penticton, Summerland or Naramata they will personally deliver wine to your door.  Purchases can be made by calling 250-493-9463 ext 3,  visiting Poplar Grove Winery or ORDER ONLINE 
Nichol Vineyard: The second most northerly winery on the Naramata Bench, celebrating their 26th vintage this year.  If you want to visit in the winter please call 250-496-5962 and they will do their best to accommodate you.  ORDER ONLINE
Nighthawk Vineyard: A boutique family farm gate winery, with a distinctive terroir that contributes to some of the finest grape growing conditions. All of their wines may be ordered via phone 250-497-8874 or 250-300-9161 or email info@nighthawkvineyards.com
Painted Rock Estate Winery: Dedicated to the production of ultra-premium, terroir driven Okanagan wines. Enjoy an Estate Wine Tasting Friday – Sunday 11 am – 4 pm until Dec 13. (after Dec 13 by appointment) or ORDER ONLINE
Poplar Grove Winery:  Estate Grown. Locally Farmed. Family Owned. Founded in 1993, Poplar Grove Winery is one of the original five wineries on the Naramata Bench. Open daily 11am to 6pm (5pm Tues & Wed) for counter sales and tasting experiences by appointment.  There are some great Holiday Gift Ideas and a wide range of wine available for purchase online.  ORDER ONLINE
Red Rooster Winery: Their wines consistently receive top honours at major wine competitions around the world. Open Thursday – Monday 11am – 5pm for tastings and purchases.  Call 250-492-2424 to reserve tasting or purchase some well-crafted, premium wine by clicking link. ORDER ONLINE
See Ya Later Ranch: One of the highest elevation vineyards in the Okanagan Valley – an area where nature has created conditions perfect for growing grapes destined to become award-winning wines. Until Dec 22nd the tasting room will be open Friday – Sunday 11am  – 4pm (after Dec 22nd by appointment).  Wines can also be purchased online.  ORDER ONLINE
Sumac Ridge Estate Winery: Three unique Okanagan brands in the one iconic location: Sumac Ridge, Black Sage Vineyard and Steller's Jay Sparkling.  Tastings are available by appointment daily 10am – 5pm and wines can also be purchased online ORDER ONLINE
Therapy Vineyards: Everyone needs a little therapy and this winery is on a mission to bring great wine to great people.  Open daily from 11am to 4pm for tastings and purchases or ORDER ONLINE
Three Sisters Winery: A full family affair producing great wines to be enjoyed from their house to yours.  The tasting room is closed for the season, but tastings are still available by appointment Tuesday – Saturday 11am – 4pm.  If you are not ready to visit, you can make use of contactless curbside pick-up and you can ORDER ONLINE
Tightrope Winery: A journey of balance, skill and experience, from grape to bottle, for a perfect finish every time. The tasting room is open Wednesday to Sunday 12pm – 4:30pm and it is recommended that you make a reservation. The Wine Shop is open daily 11:30am – 4:30pm or you can
ORDER ONLINE
TIME Winery: A full production winery, complete with a tasting bar and restaurant, located in the heart of downtown Penticton. The Wine Shop is open daily 12pm – 6pm  (Christmas Eve 12pm – 4pm) some great holiday gifting is available in the winery or ORDER ONLINE
Township 7 Vineyards & Winery: A warm welcome, constant elevation of the senses and the experience of wine, and a future memory. Open 11 am to 6 pm daily with wine tastings available by appointment (drop-ins available as space permits). You can also purchase wines and gift cards online ORDER ONLINE  
Upper Bench Winery & Creamery: Offering a unique experience to visitors by pairing artisan wine and hand-crafted cheese. The tasting room is currently closed for the season, but the shop remains open daily from 10 am to 5 pm for wine and cheese sales.  Phone or place your ORDER ONLINE
Wesbert Winery: Wesbert aims to turn visitors into close friends making memories while enjoying their wines.  The tasting room is closed for the season, but wines are available for purchase online for pick up or delivery ORDER ONLINE
Wild Goose Vineyards: Strives to make premium limited production wines that represent the Okanagan Valley terroir and appeal to discerning oenophiles and emerging palates alike. The tasting room is now closed for the season, but they remain open for sales Monday – Friday 10am – 5pm or ORDER ONLINE
Wine Tours
Grape Escapes Wine Tours: Why rush around from store to store when the perfect gift for the wine lover is here.  Give a gift of a full tour of the Naramata Bench, Summerland's Bottleneck Drive or OK Falls. You pick the tour and they can pick the date. BUY NOW
Sage Brush Tours: An amazing selection of experiences to enjoy now and later. As the holiday season approaches why not Treat Yourself and your loved ones with a Sagebrush Tours Gift Card.  BUY NOW
Breweries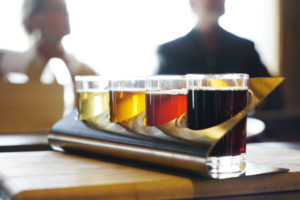 Bad Tattoo Brewing: Open 11 am – 10 pm 7 days a week – distancing measures in place.
Barley Mill Brew Pub & Bistro: Liquor store and Drive thru liquor store only 9 am-11 pm daily.
Cannery Brewing: Open Sun – Mon: 12pm – 6pm, Tues – Sat: 12pm – 7pm for retail sales and new growler fills only.  Order online for touch-free curbside pick up.
Highway 97 Brewery: Open Wednesday – Saturday 1pm – 8pm and Sunday 1pm – 7pm 
Slackwater Brewing: Available for pick-up or free delivery within Penticton on orders over $20, between 12 pm and 7 pm, Tues – Sat. (Please have two pieces of valid ID ready for our delivery driver as all purchases on beer are strictly 19 years +).  Order online.
Tin Whistle Brewing Co: Open 11:30 am–5:30 pm Mon – Sat for growler fills and retail sales, free local deliveries on orders over $60.  Order online.
Distilleries and Cideries
Legend Distilling: Spirits, cocktails and provisions from farm to glass. The tasting room and pantry are open Thursday – Monday 12pm – 4pm. Or you can order online and enjoy free shipping in BC and Alberta on orders over $100. SHOP NOW
Maple Leaf Spirits: Pioneers in Craft Distilling in Penticton since 2005, Maple Leaf offers a unique experience while wine touring. They are proud to offer award winning spirits, brandy and liqueurs handcrafted from Okanagan grown fruit, grapes and wine and distilled following European tradition. The tasting room is open by appointment until Christmas and you can also ORDER ONLINE
Shopping & Gift Ideas
BC VQA Wine Info Centre: More than just a wine store! Stop in for retail sales, call in your order, or shop online. Curbside pick up is available as well as local delivery for purchases over $50. Open 9 am – 6 pm Monday to Saturday, Sundays 9 am to 5 pm. 
Buy the Sea Seafoods: Fresh and frozen seafood is arriving 2-3 times per week. The store is open Monday 10 am – 6 pm, Tuesday and Wednesday from 9 am to 6 pm, Thursday to Saturday 9 am – 7 pm.
Cherry Lane Shopping Centre: A diverse mix of over 55 stores and services, the mall is open 11 am – 5 pm daily. London Drugs, Save-on Foods and Hudson's Bay are continuing their regular hours. The food court is open with some seating available to keep social distancing.
Eskala Mountain Sports: Visit their store to find a variety of quality gear and apparel from today's leading outdoor industry brands. Open Monday to Saturday from 9:30 am to 5:30 pm or SHOP ONLINE.
Jak's Beer, Wine & Spirits – Cherry Lane: Shop in-store or online! The store is open 9 am – 11 pm daily, 365 days a year offering a wide selection of beverages. They are temporarily not accepting cash and ask guests to use credit or debit cards. Bottle returns are not accepted at this time.
Lanyon Home: Visit their Front Street store to find European styling, quality vintage finds, original handcrafted furniture, artisan pieces and art. Private shopping experiences are available for anyone wishing to shop alone or with a bubble member Open 10 am – 4 pm Monday to Saturday or SHOP ONLINE
Maple Roch: Purity, passion, tradition, social responsibility, sustainable. Maple Roch has brought east to west by introducing the finest New Brunswick Maple Syrup to the BC Market. Visit their retail store in Summerland from 10am to 5pm from Tuesday to Saturday or SHOP ONLINE
Naramata Inn:  Christmas shopping made easy for lovers of local food and wine. Naramata Inn is offering a variety of holiday gift boxes this season –
from innovative culinary-focused gift boxes, to curated wine collections that show off the best of the Okanagan Valley. Online store coming soon – in the mean time email olivia@naramatainn.com
Soda Creek Soap Company: The finest handmade vegan soaps and body products, safe for your skin and the environment.  The store is open Tuesdays – Fridays from 11 am to 5 pm. Order online and choose between the option of online delivery or curbside pickup at check out. SHOP ONLINE
Summerland Sweets: Open Monday to Friday from 9:30 am to 5:30 pm, Saturday from 10:00 am to 5:00 pm and Sunday from 11:00 am to 5:00 pm. They have a full range of fruit based products including pancake syrups, gourmet jams, nut brittles, and many gift packages. 
Arts Culture & Entertainment
Cormier's Studio: The art gallery is open for viewing on certain days each week, Thursday – Sunday from 12:00 pm – 4:00 pm.  Those wishing to visit on other days can call 250-493-3273 for an appointment. 
The Lloyd Gallery: Virtual exhibitions and sale of artwork currently being offered through the website.
Penticton & District Community Arts  Council: Offering a range of virtual activities and workshops as part of the Arts Matter Online program.
Tumbleweed Gallery: Open Tues – Sat 10 am to 5 pm Sun – Mon by appointment
Health & Wellness
Melt Mineral Spa: Range of beauty products available for purchase online via website and along with access to self-care videos.
Pure Gym & Juicery: Open Mon – Fri: 7am – 7pm, Sat – Sun 8am – 4pm (June hours to be confirmed. Vitamins and supplements available for purchase via website.
Outdoor Adventure & Family Fun
Apex Mountain Ski Resort: With an average of 600 cm of incredible, light champagne powder snow falling each season, Apex provides the moderate winter conditions and dry power snow craved by skiers and snowboarders alike.  Adult one day passes are now available for sale at Penticton Visitor Centre, 888 Westminster or you can select your day and BUY ONLINE
The Bike Barn: Available Mon – Fri 9am to 5pm  for sales, service, and repair.  Offering  curbside pick-up and drop-off.  Drive thru option with payment over the phone or via etransfer for an absolutely contactless transaction.
Epic Cycling Wine Adventures: Due to COVID-19 restrictions there may limitations on the number of riders permitted in a single group.  Please contact by phone or email if you have any questions.
Freedom The Bike Shop: Bikes, eBikes, accessories, clothing and rentals. Please call ahead – 250-493-0686 (no cash transactions).
Hoodoo Adventure Co: Bikes and kayaks available for rent.  Also offering a Virtual Challenge with prizes.
Mountain Bluebird Tours: Open for bird watching and nature tours. Safety plan in place designed to reduce risk during your tour.
Okanagan ATV Tours: Gift certificates are available for 2hr and 4 hr tours.
Penticton Bike Rentals: Open 7 days a week 9am-9pm and offering: Bikes, Pedal cars, Trikes, Kayaks, Paddleboards, Scooters and more….
South Okanagan E Bike Safaris: Open for the season and have a COVID-19 safety plan in place.