We all need to indulge every now and then and where better to do that than The Peach City. Penticton offers an abundance of tantalizing treats to satisfy your sweet tooth, just follow the scent of fresh baked waffle cones.
The Cherry on Top Shake Shop is steps from the beach by Okanagan Lake and offers some of the most inventive, outrageous and tasty treats in Penticton. They have sundaes, screamers and of course ice cream, but it's the Crazy Shakes you gotta try.  A delicious creamy shake topped with a with a generous slice of your favourite cake, yes you heard me right – #twobirdsonestone.
The most recent addition to the Crazy Shake menu is The DinoS'more. A huge campfire treat featuring toasted marshmallow, with a hint of chocolate and graham crumbs – #shutupandtakemymoney.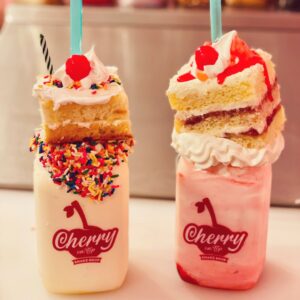 Watching what you eat or maybe dealing with a food allergy? You can still have your cake and eat it over at Gratify on Downtown Main Street.  
Everything is Naturally Made: Gluten-Free, Dairy-Free (& Vegan), Refined Sugar Free.  Ingredients are carefully selected for their anti-inflammatory and health-promoting properties, but that doesn't make them any less scrumptious.
Drop by in the summer for a yummy chocolate & peanut dipped frozen banana.  There's even keto-friendly options available!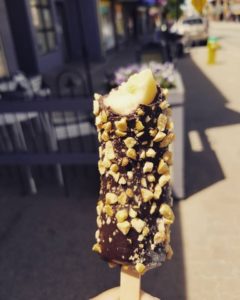 Beat the heat with the Chillest Ice Cream in town! Head to Lickity Splitz Ice Cream Shop on Lakeshore Drive, near the SS Sicamous.  Take a selfie with Lickity, the surfing penguin, while enjoying one or more of their 48 fantastic flavours.
Feed your inner surfer dude or dudette with Kaula Chocolate Fudge and a side of Shark Attack.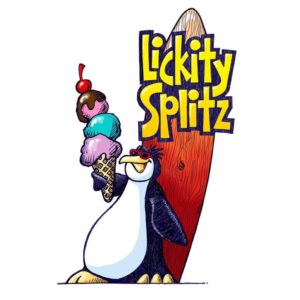 If you're in the mood for a more sophisticated sweet treat, try Petrasek Bakery by Nanaimo Square on Main Street.  A delightful artisan European bakery where everything is traditionally handcrafted and made from scratch.
Nothing says summer like fresh fruit tarts! Sugar cookie dough with vanilla custard and fresh berries, covered with a sweet glaze #letsdobrunch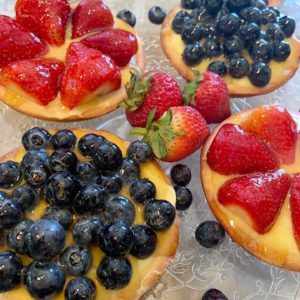 Tickleberry's Ice Cream Shop will take you back to those good old ice-cream-eating days of childhood again. Their main location, just a little down the road in neighbouring Okanagan Falls, stocks 72 different kinds of ice cream, to mix-and-match with your choice of cone, in all kinds of sizes #decisionsdecisions.
Tickleberry's also has a couple of satellite locations at Skaha Lake Park, so you can satisfy your sweet tooth, while you sunbathe.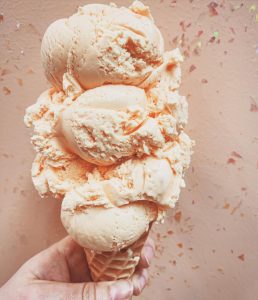 We all need a bit of sweetness in our life, so go ahead, treat yourself.