Spring Okanagan Wine Festival
The Okanagan Wine Festivals Society (OWFS)
Began in 1980 in the infancy of the Okanagan wine industry. Since then, they have grown alongside the industry itself, and now produce four seasonal festivals with over 100 events annually, as well as two wine judging competitions; one of which is the oldest in the province.
The OWFS is committed to providing unique a wine experience to Valley locals and visitors alike. They bring together hundreds of wine themed events which allow our guests to create their perfect wine experience in what has been named by USA Today as the world's second best wine region to visit.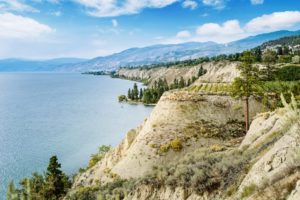 Here are the events happening in and around Penticton during this year's Spring Okanagan Wine Festival.
May 3rd – 6th, 5:00pm – 9:00pm
The Vanilla Pod at Poplar Grove Six Course Wine Paired Dinner
Poplar Grove  Winery – 250-493-9463
Enjoy a 6 course wine paired dinner, featuring the award-winning wines from Poplar Grove & Monster Vineyards paired with amazing dishes created by Executive Chef, Bruno Terroso.
$135 + tax + gratuity (reservations recommended) 
May 3rd – 13th, 11:00am – 3:00pm
Paella Lunch for Two
Misconduct Wine Co – 1-800-851-0903
Join us on the patio for lunch to enjoy Abul's famous Paella paired with our new spring releases.  Price includes lunch and 2 glasses of wine.
$135 + tax + gratuity (seating limited, call to make a reservation)
May 4th-13th, 4:30pm – 6:00pm
Exploring Spirits with Master Distiller Jorg Engel 
Maple Leaf Spirits – 250-493-0180
Experience a private tasting of award winning spirits with pioneer Master Distiller, Jorg Engel.  Take in the picturesque view while enjoying 5 samples of European style fruit spirits, wine brandy and liqueur, paired with small appetizers.
$38 all inclusive  (only open to 10 lucky ticket holders per day)
May 4th – 13th, 11:30am – 8:30pm
A Taste of Spring
Hillside Winery & Bistro – 250-487-1350
Celebrate the flavours of Spring! From May 4-13 the Bistro will feature a multi-course menu of seasonally inspired dishes, paired with our newest releases.  Sip & Savour the taste of Spring and soak up the views of Okanagan Lake and the Naramata Bench.
See menu for pricing (reservations recommended; closed Mon & Tues) 
May 5th, 2:00pm – 4:00pm
It's Not Shiraz, It's Syrah
La Frenz Winery – 250-492-6690 ext. 3
Tour our Freedom 75 vineyard with LAFRENZ owner, Jeff Martin, explaining the importance of biodiversity and terroir.  An interactive barrel tasting with Winemaker, Dom, compares the diversity of techniques in the production of Syrah.  End with tapas style food with a pre-release tasting of our wines.
$35 per person tax incl.
May 5th, 2:00 – 3:30pm
Wine & Food Paring  – A Tour of Township 7 Wines
Township 7 Vineyards & Winery – 250-770-1743
Join us for this fun filled event that will be sure to take the complication out of how to pair wine and food. You will be guided through a diverse lineup of our wines complimented with  local food parings.  Together we will discuss the tips and tricks behind this science of marrying wine and food.
$37
May 5th, 11:00am – 4:00pm
Debut of Our New Cellar Series
Lake Breeze Vineyards – 250-496-5659
Welcome Spring by joining us at our table for the debut o our Cellar Series including Zephyr, Berg, Mistral, Tempest and Chinook each accompanied by an amuse-bouche.  Available every hour on the hour.  The Patio at Lake Breeze reopens for the season with an 'A La Carte' spring inspired weekend brunch.
$20 all incl.
May 5th, 10:00am – 2:00pm
Groovy Red Blending with Winemaker Val Tait
Bench 1775 – 250-490-4965 ext. 103
Enjoy this small sit-down blending workshop with our winemaker, Val Tait.  Two 1.5 hour sessions start at 10am and 12:30pm.  Learn about the different red varietals we grow in our vineyard and how they blend with one another.  Finish the class by creating your own blend and bottling it!
$40
May 5th, 11:30am & 2:30pm
The Discovery Series Wine & Food Tasting 
Hillside Winery & Bistro – 250-493-6274
Discover the true flavours of the Naramata Bench. Taste 2 styles of Pinot Gris and 3 unique Merlots from our premium, small-lot vineyards.  Each wine reflects the diversity of our local terroir and is perfectly paired with a small bite.
$25 all incl. (pre-purchase tickets online) 
May 12th, 12:00pm – 5:00pm
Spring, Sips & Art – The Perfect Combo!
Lang Vineyards – 778-514-5598
Join us for an exciting afternoon of art & wine.  Talented artists from throughout the South Okanagan will be painting 'En Plein Air' in our vineyards.  Learn from the artists and see them in action.  We will also be pouring some of our new 2018 wine releases.  Make sure not to miss out!
Free
May 12th, 1:00pm – 4:00pm
Barrel Tasting – Roll Out The Barrel
Poplar Grover Winery – 250-493-9463
Tastings are complimentary with purchase.  Enjoy a rare barrel tasting conducted by Poplar Grove's winemaking team in our Library Barrel Hall.  Relish sipping on award-winning wines while enjoying one of the finest views of the Okanagan.  Guests are welcome to picnic on the lawn & enjoy live music.
Complimentary with wine purchase
May 12th, 10:00am – 6:00pm
Monstrous Wines!
Monster Vineyards – 250-493-9463
Monster wines – fun, feisty and ready to be set free! Open daily for tastings 10am – 6pm.  One of the first wineries along the Naramata Bench, it is the perfect beginning or end to a leisurely day of wine tasting.  Live music on the patio, May 12th only, 1pm – 4pm