Penticton is home to over 70 events annually, with some of the largest and longest running events happening over the summer months. From Classic Cars, Endurance Races and Peach Fest there is something for everyone to enjoy.
Make sure you check out our Event's Page to see what's happening today.
JUNE
Penticton Beer Run – June 8th
Starting right at one of the local breweries, participants will make their way along the lake shore and through Penticton's downtown past 7 breweries before making their way out above the clay banks to amble along Kettle Valley Rail Trail past eateries and another brewery on the trail before arriving at the finish line for more beer, food, music and fun.
Peach City Beach Cruise – June 21-23
Western Canada's Premier 3 Day Car Show. The Peach City Beach Cruise sees hundreds of Show Cars line up along the Magic Mile, beachfront along Lakeshore Drive, what could be better?
Three Days of fun, food and entertainment.
* Friday evening Parade of Show Cars down Main street.

* Live entertainment – Rock and Roll is here to stay and we're lining up some classics for the "outdoor concerts"
18th Annual Pacific Northwest Elvis Festival – June 27-30
An annual competition and show commemorating the music of Elvis Presley.
Dozens of tribute artists grace the outdoor stages which are set around the picturesque Okanagan Lake, along with special guests – "Friends Of Elvis". It's a wonderful weekend of remembering Elvis through his extensive musical library, and touching stories from those who knew him about how he touched their lives. The tradition of rock and roll excellence continues!
5th Annual Rotary Ribfest – June 28-July 1
Ribfest is an annual festival with professional "ribbers", live music, family games and activities. Started in 2015, the annual event continues to expand its offers to residents and travelers alike. In 2019 there will be an expansion of family-focused activities including the Clown School.
JULY
Penticton Scottish Festival – July 6
The Penticton Scottish Festival provides spectators the opportunity to see Highland Dancing competitions, Piping and Drumming competitions, Heavy Event competitions (Highland Games), Stock Dog competitions, Massed Bands, Scottish Country Dancers, Irish Dancers, KidsZone amusements, and local musicians, food and vendors.
The Penticton Scottish Festival is a multi-cultural event which adds to Penticton's vibrant year-round mixture of robust festivals, providing a cultural experience for visitors, locals, athletes & musicians.
Okanagan Trestles Tour – July 7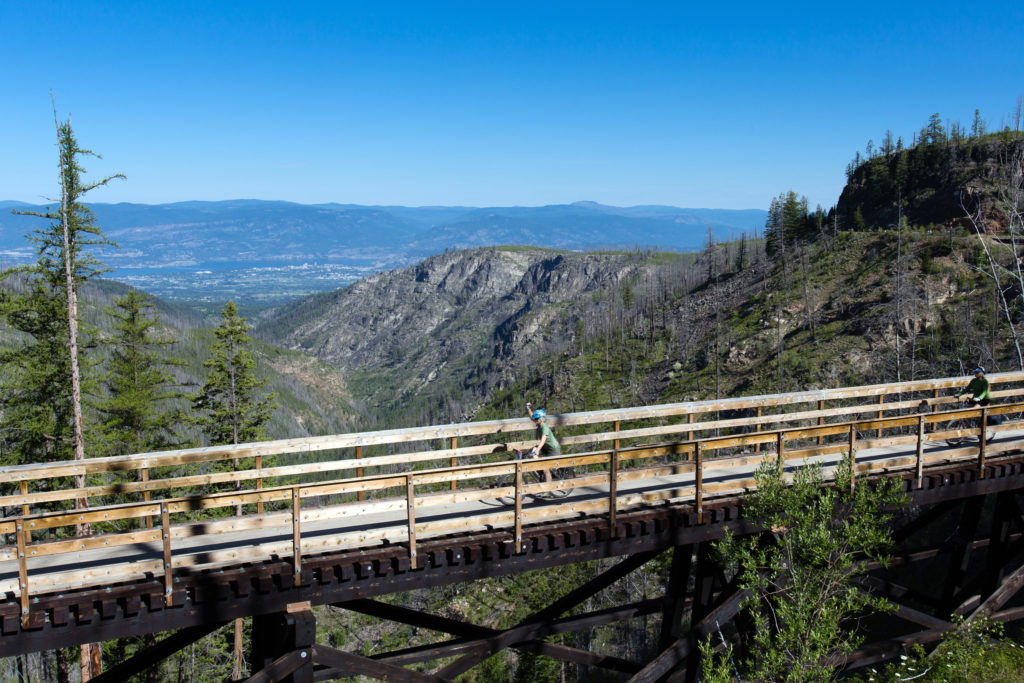 The Okanagan Trestles Tour is a supported bike ride on the historic KVR Rail Trail. Starting at the famous Myra Canyon, Kelowna to Penticton 80km. They have added a 40km option starting at Chute Lake Resort and a 20 km option starting at Glenfir. All distances finish at the Penticton Lakeside Resort. The 80km ride is the most popular. The event is not competitive, bring your camera and enjoy the day. The Lakeside Hotel hosts the finish celebration (bbq, drinks and live music). The Okanagan Trestles Tour is an annual event on the firsts Sunday in July.
Axel Merckx Granfondo – July 12-14
Mass participation cycling event, hill climb, children's cycling event and cycling expo. This is their 9th year. Last year more than 2,600 cyclists participated in the Granfondo Axel Merckx! There are a variety of different distances and these include: Cortofondo (55 km), Mediofondo (92 km), Velocefondo (126 km) and Granfondo (160 km). Take the challenge. Train. Ride. Enjoy.
AUGUST
1st Annual 97 South Song Sessions – August 1-2
The inaugural 97 South Song Sessions Songwriters Festival runs August 1-2, 2019 at Bench 1775 Winery and Penticton Lakeside Resort and Conference Centre in B.C.'s Okanagan Valley!
The two-night performance event hosted by Paul McGuire (ET Canada), features award-winning songwriters and recording artists sharing the stories behind their hit songs with intimate performances for an unforgettable evening like no other.
Penticton Peach Festival – August 7-11
Penticton Peach Festival is an annual South Okanagan Valley tradition, which began in 1947, to celebrate the peach harvest in Penticton, British Columbia, Canada. Now in its 72nd year, the Penticton Peach Festival is a free, five-day, family friendly festival, embracing all ages, ethnicities and genders with music and variety of entertainment and events including: Square Dance Festival, Peter Bros. Grande Parade, Sandcastle Competition, Pentown Throwdown, Peach Bin Races and Shooting Star Amusements.
SEPTEMBER
23rd Annual Pentastic Hot Jazz & Music Festival – September 6-8
Pentastic Hot Jazz & Music Festival is a new name for the event. It better reflects the festival's jazz roots and the fact that they're excited to introduce some more genres. The festival delivers 3 days of world class jazz music and features musicians from Canada, USA and Europe.
Come early and stay late – It's a Jazz Party!
Penticton Dragon Boat Festival – September 7-8
The Penticton Dragon Boat Festival, is entering its 19th year. The racing happens on 11 km long Skaha Lake. The event also features a beverage garden, a wide range of vendors, lots of great food and over 2,500 athletes. The event consists of two 500 m qualifying heats on Saturday, followed by semis Sunday morning, and finals Sunday afternoon. Proceeds from the beverage garden go to Survivorship – The South Okanagan's Breast Cancer Survivor Dragon Boat Team.
Tailgate Party – Naramata Bench Wineries – September 14
Join the 30 wineries of the Naramata Bench Wineries Association for the renowned Annual Tailgate Party at the Naramata Heritage Inn.  This year's theme is Roaring 20's, the era when Naramata and the Naramata Heritage Inn were in their early days. Although you needed a password to get into speakeasies in the 20's, you just need your ticket to get into this celebration of Naramata wines. If you want to dress Roaring 20's there will be prizes for best costumes. So have some fun and dive into your costume creation!