Updated December 21, 2022.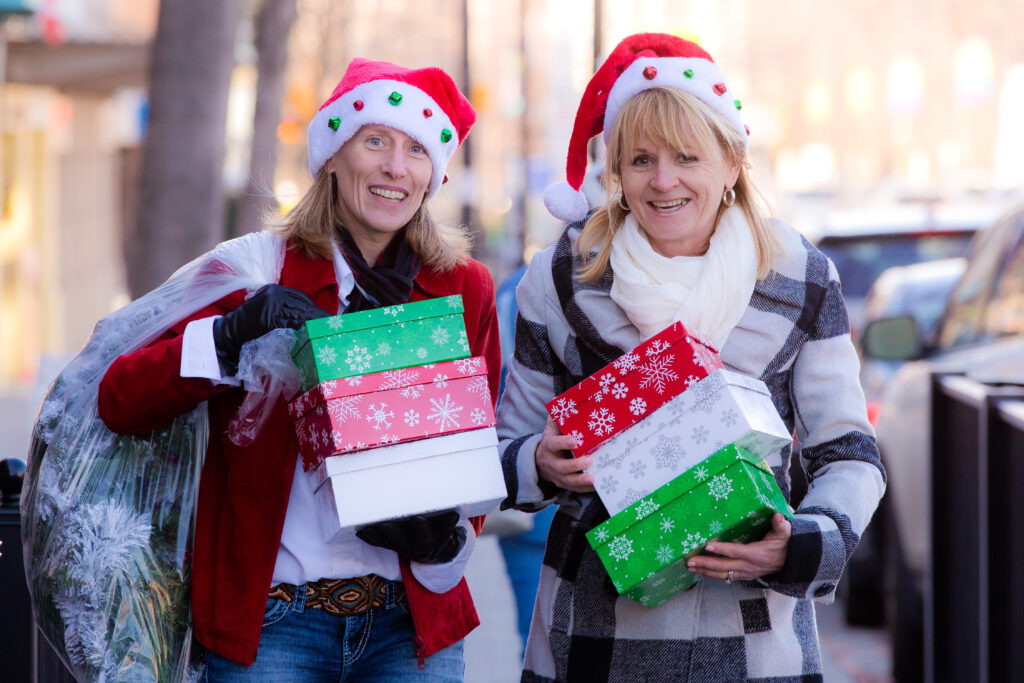 This holiday season, you can find perfect gifts for your family and friends right here in Penticton. When you find gifts by shopping local, you can feel good knowing that your purchase is a more sustainable choice that helps support local business owners and the community.
Whether you choose to shop one of the many holiday markets, browse a local retailer, purchase tickets or vouchers for local experiences, or share local wine, craft beer or cider, this year's Penticton holiday gift guide has ideas and inspiration for all of your Christmas shopping needs.
Are you looking for a certain type of gift?
Jump to section:
Shop Local Retailers
For a one-stop shop experience, Cherry Lane Shopping Centre is a great place to visit in any weather with over 40 stores at their enclosed location on the corner of Main St. and Warren Ave.
You can also access multiple stores in one convenient location when you shop Downtown Penticton!
Take your time shopping for shoes, apparel and more at stores like The Bumwrap with 2 hours of FREE parking and enter to win a giant shopping spree when you purchase from businesses participating in the 24 Days of Christmas Contest, on now until December 15th, 2022.
If home décor and furniture are on your list, skip the big-box retailers and find quality items at Lanyon Home on Front St. or stop in at Shades of Linen in Naramata for clothing that is designed and manufactured on premise.
You can also shop exclusive Penticton branded apparel and merchandise, including Jewels of Hope and Beadtrails, at the Penticton Visitor Centre or on our online shop. Ask about our discounted Visit Penticton x Apex Mountain Adult Day Passes from the Penticton Visitor Centre – a perfect stocking stuffer!
Outdoor Adventure
From hiking and biking to rock climbing and kayaking, Penticton is an outdoor adventure mecca. With mild weather, locals can enjoy hiking and biking year-round, or take part in an abundance of outdoor winter activities from snowshoeing and cross-country skiing to downhill skiing, snowboarding, skating and hockey.
You'll find options and apparel for the outdoor adventurer in your life at Eskala Mountain Sports. Whether it's a new backpack, camping gear, jacket, climbing gear, hiking gear or other outdoor adventure accessories, you're sure to find a gift they love.
For the cycling enthusiast, shop The Bike Barn, Freedom Bike Shop or Pedego Penticton and explore their selection of pedal bikes and e-bikes, bike accessories, such as a basket or rack, helmet or biking gloves, trailer, bike pump or lock.
Are you shopping for an adrenaline junkie? Book them a tour at ZipZone Adventures, Canada's highest zipline! They are closed through winter but re-open in the spring, with 2,4 or 6 line tours, a dynamic climbing wall, or the option to purchase a gift certificate in any amount.
For climbing adventures, Skaha Rock Adventures staff are all Association of Canadian Mountain Guides members, and whether your loved one is a beginner or advanced climber, they have a course that will work as the perfect gift. Hoodoo Adventures also offers climbing courses, and they have an indoor climbing wall, so you can purchase an outdoor course, or a day pass or punch pass to the climbing wall, a perfect gift for the climber in your life to keep practicing their skills through winter.
Plan an alpine adventure and make a day trip up to Apex Mountain Resort for a full day of outdoor snow activity. Choose from downhill skiing or snowboarding, skating at the forest loop and tubing before getting lunch at the Gunbarrel Saloon. Or, head a bit further up the road to Nickel Plate Nordic Centre for a cross country ski or snowshoe adventure. You can purchase lessons, or a day pass and rentals to enjoy anytime this winter season.
Are you still dreaming of summer adventures? Head to Naramata's Sun N' SUP and prepare for your next aquatic adventure by paddleboard. Choose from discounted equipment, like an ocean racing PFD or life vest, or purchase an inflatable paddleboard package. You'll be set for the return of the sunshine and warm wather!
Love Local Art
Penticton's thriving art scene is home to many talented artists and art galleries, so there's many options to find a beautiful local painting, workshop or class, or piece of art to give as a gift.
Browse the Penticton Art Gallery's feature exhibits which change monthly, purchase a seat in a workshop, or shop their gift store. There are also several galleries located in the downtown core which showcase talented local artists, including Cormier's Studio, which is both an art gallery and sculpture garden, as well as a bed and breakfast, 4th Meridian Art & Auctions in the historic Cannery Trade Centre, which features fine art, collectibles and pottery, Art of Marina for fashion and printed art pieces, and The Lloyd Gallery, which has been around since the 1980's, showcases over 40 Canadian artists.
The Penticton & District Community Arts Council (PDCAC), located in the historic Leir House Cultural Centre, hosts a variety of events, workshops, exhibitions, and markets, that are family friendly and low to no cost. At the Centre, you can browse their Winter Exhibitions, and find the Holiday Cheer III colouring book, featuring local artists, available to download online. There are many options for local, handmade gifts and plenty of opportunities to spend time with your loved ones by bringing them to one of PDCAC's events, listed on the Visit Penticton events calendar.
Early bird tickets are on sale now for Ignite the Arts Festival, a 10 day celebration of art and culture, hosted in Penticton from March 24th – April 2nd, 2023. Your early bird ticket gets you discounts at partnered events, a $15 Merch voucher able to be redeemed for food, drinks or artist merch and entry into all of our Festival Weekend Venues. Event tickets are a sustainable choice this holiday season.
Okanagan Wine, Cider & Spirits
It's no secret that the Okanagan is well-known for its wine. While you and your friends and family may already spend a fair amount of time wine tasting, with over 70 wineries in the 3 nearby wine areas of Naramata Bench, Summerland's Bottleneck Drive and Okanagan Falls Skaha Lake, there's always going to be a new wine to try, or a favourite bottle you can give as a gift.
Visit the BC VQA Wine Information Centre, the neighbourhood wine and gift shop, for a good bottle of BC VQA to sip over the holidays or pick up one of their custom gift baskets for the perfect assortment of local goodies and wine all beautifully wrapped up and ready to give.
With wine specialists, a cicerone and scotch aficionados on staff Martin Street Liquor Merchants is another option proudly offering local wines, ciders and spirits, locally-crafted beers and more.
For a variety of wine choices, the gift of a Wine Club Membership from Naramata General Store. You can choose between Best of BC, International Gems, or All the Wine!, delivered in quarterly shipments.
Many wineries offer specials on cases, gift packs or gift baskets, perfect to give to a wine lover this holiday season.
Here's a few that we've found:
Back Door Winery has two options available for a Winter Mix case. The Mixed Case Special and Premium Mixed Case Special both offer 12 bottles of wine packaged together with a hefty discount applied.
Bench 1775 has a few packs left of their 12 Nights of Wines of Advent Calendar. Starting December 13th, ring in the holidays with a new Bench 1775 wine to enjoy each day leading up to Christmas! If you'd like to purchase a case of Bench 1775 wine to give as gifts, or restock your cellar, you can receive 20% OFF full cases and take advantage of FREE shipping within BC & AB.
Elephant Island Winery has 6 Holiday Collections offered this season including: A Golden Christmas Collection (6 bottles), The Holly Jolly Collection (6 bottles), The Holiday Jewel Collection (6 bottles), The Red Rocket Collection (6 bottles), Deck the Halls Gift Pack (3 bottles), and the Merry & Bright Gift Pack (2 bottles).
Four Shadows Vineyard invites you purchase through their online store and leave a note at the checkout page. They will include a Christmas card with your personalized message and if you select local pickup, they can deliver your gift for you too!
Hillside Winery has a Holiday Gift Guide to help you decide which collection is best for you. You can choose from eight options including: The Aromatic Whites Collection, The Pinot Lovers Collection, The Ultimate Hillside Collection, The Red Wine Lovers Collection, The Single Vineyard Merlot Collection, The Decadent Duo featuring Maple Leaf Spirits, Mosaic Vertical, 2016 Mosaic Six-Pack and The Club Exclusives Collection (for Wine Club Members ONLY).
Laughing Stock has a Holiday 3 Pack, and a Holiday 2 Pack available, or if you're looking for a bigger gift pack, they also have a Diversified 12 Pack with 12 bottles to balance the wine portfolio.
Little Engine Wines makes gift giving easy by providing their Holiday Gift Guide for your reference, or choose a Single Bottle, Two Bottle Set or Three Bottle Gift Set to give.
Millionaires' Row Cider's handcrafted cider is made from estate grown apples and tells a bit of Okanagan history. Purchase the popular Millionaires' Row Briefcase and gift four bottles of their handcrafted cider this holiday season.
Painted Rock has various Gift Sets and Collections, from Gift Box Trios and their Vintage Collection, tp Duos of 2 bottles and Gift Sets for Two with a bottle of wine and 2 beautifully etched Reidel wine glasses. You can also purchase a branded wooden box and fill it with wines of your choosing!
Poplar Grove offers various holiday gift packs including the Gold Medal Holiday Gift Pack with 12 bottles of their gold medal winning wines, the Festive Holiday Gift Pack with 6 bottles, the Cellar Collection Holiday Gift Pack with 6 bottles, the Syrah Selection (4 bottles), the Holiday Dinner Pack (6 bottles) and the Bubbles Bundle that comes with a wine sabre!
See Ya Later Ranch is having a holiday wine case sale! You can receive 20% off your entire order, including all accessories, when you pick up a case of wine to stock your cellar or round out your holiday shopping.
Three Sisters has two bottle and three bottle Wooden Gift Boxes that are perfect for gifting! They also have branded Puddifoot glasses, Tea Towels and have gift cards available for purchase.
Tightrope Winery has two Holiday Wine Gift Set options: the Wine Lovers Holiday 6 Pack, and the Holiday 3 Pack, and two Library Wine Gift sets: the Library Collection 3 Pack and the Library Collection 2 Pack.
TIME Winery has four wonderful wine gift packs to choose from: the Evolve Holiday 4 Pack, Evolve Sparkling 2 Pack, McWatters and Chronos Holiday 2 Pack, and the McWatters and Chronos Holiday 4 Pack. Or stop by the winery and curate a gift pack carefully selected with the help of the Time Family of Wines team!
Tinhorn Creek has a selection of Gift Packs including the Collector's Gift Pack 2022, Christmas Dinner Pack 2022, Holiday Celebration Pack 2022, Red & White Christmas 2022, and Holiday Essentials for purchase at the winery.
Township 7 has three sizes of Gift Baskets, offer custom labels for gifting, and they have e-gift cards too so your loved one can pick out their favourite wine.
Although some wineries close over winter, many are still open for wine sales or online sales even if their tasting rooms are closed for the season. You can find a list of wineries open for tastings and/or sales throughout the winter here.
Local Experiences
A local experience is a fantastic gift to give, as the memories will last forever.
Want to give more than just a bottle of wine? Purchase a gift certificate for a wine tour company and give the gift of a wine tasting experience of their choosing. Let your loved one explore one of the many nearby wine areas with Grape Escapes, as they offer gift certificates in any amount or you can choose a tour to gift and the recipient just picks the date. At Vivid Tours, you can purchase a gift card or book a wine tour package to sample several locations throughout the valley. Plus, starting Dec. 6th, 2022, head to Vivid Tour's Instagram account and take advantage of their 12 Days Of Deals promotion! Sagebrush Tours is the Okanagan's only ecotourism tour company, and they also offer ski shuttles up to the surrounding mountains, with gift cards available in any amount so the recipient can use it for the tour or shuttle of their choice. New for 2022, the Grape Savvy Trolley Co. can provide transportation for a full or half day of wine tasting on the Naramata Bench, you can purchase gift cards by dollar amount through their website.
The gift of a membership allows the recipient to enjoy multiple experiences throughout the year or the season, and they'll think of you each time they go! Cover the cost of a membership to the Penticton Art Gallery for the art lover in your life to enjoy free admission and discounts for the upcoming year or a membership to Nickel Plate Nordic Centre for the one that enjoys cross country skiing.
For a higher end membership to the one that loves sunshine and summer activities, give the gift of a Club Membership to Penticton Boat Rentals or Skaha Marina to enjoy boat rentals all summer or a Penticton Golf & Country Club Membership for unlimited rounds of golf at this local championship course.
Pick up a gift card from a local accommodator to give to that hard working person in your life that deserves a staycation getaway. At Similkameen Wild, if you book a two night winter stay through December & January you can get your second night for $50 (some conditions apply). With so many amazing packages and special offers available this holiday season and over the winter, they're sure to find the perfect one to spend their gift card on.
For the outdoor lover, give them a gift certificate from Hoodoo Adventures. When you purchase a $100 gift card from now until December 24, 2022, you'll get a $50 gift card FREE! That means you'll have $150 to use towards their favourite outdoor activity whether it's a snowshoe, bike, kayak or SUP rental, or a tour with Hoodoo such as snowshoeing, hiking, biking, climbing, or kayaking. Or if it's alpine adventure you're looking for, pick up a discounted Apex Day Pass from the Penticton Visitor Centre and give them a day to enjoy up at Apex Mountain Resort.
A fun gift idea for the one that loves animals is GottaGoat Farm's "Lease-A-Goat," which includes 4 visits with the goat, their 2023 GottaGoat Farm Calendar, a photo of the goat, and a special certificate, as well as monthly emails for a year. You can also purchase a gift certificate redeemable on a visit to the farm, a GottaGoat Farm Calendar, or handmade, animal-themed jewelry!
Give the gift of relaxation and choose sustainability when you purchase a gift card for float therapy from oGo Float. Take advantage of their holiday promotion and purchase 3 floats, and get 1 FREE.
For a classic Penticton experience, get them tickets to a Vees Game or a show at The Dream Café.
There are so many fantastic local companies that can provide a wide range of local experiences, you're sure to find the perfect experience to gift to each person in your life.
Early bird event tickets are also a perfect choice for holiday giving. You can secure a ticket to one of Penticton's premier events and save with a reduced rate. These events have announced ticket sales for their 2023 events:
Restaurants & Breweries
Penticton's extensive food and beverage industry, includes amazing wineries, local restaurants and pubs as well as a variety of great local coffee shops and cafes. Take you loved ones out for a dinner or drink or giving them a gift certificate to enjoy their own night out.
Along with an extensive selection of restaurants and pubs, we also have a dynamic craft beer scene with eight local breweries, known as the Penticton Beer Blocks, along the Penticton Ale Trail. They have a wide selection of local craft beers as well as delicious options for dining. Stop by Tin Whistle Brewing Co. for a flight and grab a bite in the Cannery Trade Centre, choose from the unique pizza menu at Bad Tattoo Brewing until December 18th, 2022, enjoy Okanagan ingredients tied in with their house-brewed libations at Slackwater Brewing, Mexican inspired cuisine at Neighbourhood Brewing, classic homemade pub style food at Barley Mill Brew Pub, classic tapas style food choices from Cannery Brewing, global cuisine from Highway 97 Brewery and quick bites at Abandoned Rail Brewing Co.

Brewery merchandise makes great gifts too! Choose from hats and toques, shirts, sweaters and hoodies, glassware, culinary items and more. Get a gift to go and fill a growler, give craft cans of beer, or load a gift card this holiday season and watch for holiday promotions! Abandoned Rail is offering a Gift Card BONUS – spend $100, you get an extra $10 'on the house'!
For a holiday gift basket filled with local foods, check out The Bench Market. Their shelves are full of local, artisan fine foods and they also offer complimentary wrapping for gift baskets. Choose your own treats or ask their staff to create a basket for you! They have dressings and sauces, honey and preserves, chips and crackers, oils and vinegars, their ever-popular Bench-made granolas and roasted almonds and much more.
Learn more about our culinary community with Daily Special, and find out where our local business owners spend their time in our community, and you may even get a few extra gift ideas.
Sweet Treats
While some of your family and friends may have a sweet tooth all year, others find themselves indulging more over the holidays, so what better gift to give than a local sweet treat!
Visit Summerland Sweets for a wide range of fruit based products including pancake syrups, gourmet jams, nut brittles, and a selection of gift packages.
Another well-known local sweet treat spot is Tickleberry's. While they may be known for their ice cream and fudge, they also have a selection of other gifts including local crafts, wind chimes, jewelry, hand bags, and garden accessories.
If your loved one loves treats but is looking for health conscious options or has dietary restrictions, Gratify is the perfect place to shop for them. Get a $5 BONUS when you purchase a $25 gift card and let them choose their own sweet treats, or pick up a cheesecake, a Snack Sampler Box, or a Gratify Cookbook, so they can make their own delicious treats at home. They can also use the gift card at Gratify for breakfast or lunch, or maybe a delicious smoothie.
Support Local This Christmas
From Okanagan wine and experiences to a Penticton meal, piece of art or outdoor adventure, support local this holiday season and show your loved ones you care, with a unique, local gift.
You can also find local gifts at one of the holiday markets happening in the Penticton area this month. Or check out some of the festive events happening for more great gift ideas, as your loved ones are sure to appreciate spending time with you at any of the holiday events happening in Penticton this winter.
Shop local, support local Penticton this holiday season!