As part of the Travel Penticton, Youth Influencers Program, KVR Middle School students were tasked with writing blogs focusing on four key traveler types: Adventurers, Athletes, Families and Foodies.  Below is one of a series that will be released over the next few weeks.  We hope that you enjoy these insightful and candid reviews by our local youth and that they encourage you to visit our wonderfully diverse City.
Outdoor Activities in Penticton 
By: Chase Besler, Fynn McNolty and Sophia Smith
​Here in Penticton, we offer many different, exquisite forms of entertainment, ranging from LocoLanding Amusement Park to Doc's Driving Range.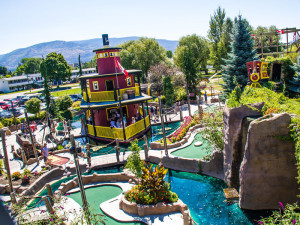 Imagine waking up bright and early at 10:00 in the morning and setting out to Kettle Valley Rail Trail, one of Penticton's oldest trails and going for a nice long bike ride in the hot sun. Then returning back down to the city and having a nice big lunch at La Casa Ouzeria, one of Penticton's Greek restaurants (4.4 stars).
Imagine spending your afternoon at Okanagan Lake, parasailing and having a blast on the banana boat with Pier Water Sports one of our best water sport providers in Penticton.
Another great part about Penticton is the ATV and dirt bike trails. One of my personal favorites is Allendale Trails, at 9 kilometers long, this ride takes about 2 hours to complete. Another really nice moderately difficult trail is Okanagan Landing Trail. It is a lovely dirt path almost entirely clear of tree roots and that is occasionally kept up for rocks and branches. When you reach the top of the trail you see beautiful views of Okanagan Lake and the beautiful city of Penticton. Another good off the beaten track trail in Penticton is Munson Mountain. The view is great also you can see the Penticton sign from across town. You can go farther but must be careful when you go past the fence because you could fall off the mountain. When it's about time for the sun to start to set it's really beautiful.
This, my friends, is adventure in British Columbia. Penticton is definitely the ideal place for your 2018 summer vacation.