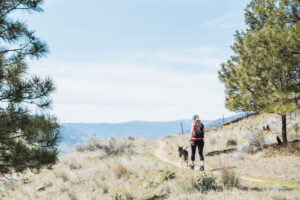 If  you want to commune with nature and the outdoors away from the chaos of everyday life, there is no place better than Penticton.   Unwind and soak in the spectacular ever changing scenery as you wend your way through alpine meadows, forests, lake vistas, vineyards and orchards.
HikeBikeTravel, which is frequently cited as one of the top travel and outdoor adventure blogs in Canada, recently published a great article titled
5 Awesome Hikes With a View Near Penticton
For the best views in the Okanagan Valley, take a hike. At town level, it can sometimes be difficult to fully appreciate the size and beauty of the sparkling lakes, rugged hills and endless vineyards of this area. Here are five great hikes in and around Penticton that showcase the best of the Okanagan Valley.
Giant's Head, Summerland
Skaha Bluffs Penticton
Kettle Valley Railway trail, Penticton to Naramata
McIntyre Bluff, Oliver
Rim Trail, Cathedral Provincial Park, Keremeos
CLICK HERE to view full article