Fall Okanagan Wine Festival
October 3-13, 2019
The Okanagan Wine Festivals Society (OWFS)
Began in 1980 in the infancy of the Okanagan wine industry. Since then, they have grown alongside the industry itself, and now produce four seasonal festivals with over 100 events annually, as well as two wine judging competitions; one of which is the oldest in the province.
The OWFS is committed to providing unique a wine experience to Valley locals and visitors alike. They bring together hundreds of wine themed events which allow our guests to create their perfect wine experience in what has been named by USA Today as the world's second best wine region to visit.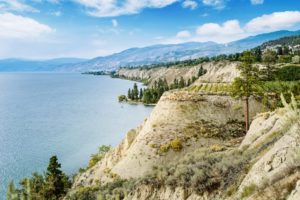 Here are the events happening in and around Penticton during this year's Fall Okanagan Wine Festival.
September 27th, 6:00pm – 9:00pm 
Meat Stock 
Wild Goose Winery, Okanagan Falls – 250-497-8919
Enjoy a meat feast extraordinaire at our 'Meat Stock', an evening of meats, delicious sides and great wine! Meet the team behind both the wines at Wild Goose and the great food at the Smoke & Oak Bistro.  36 seats available!  All we are saying is ….. give meat a chance!
$99 + taxes & fees
September 28th, 6:00pm – 10:00pm 
A Da Silva Farm Table Dinner
Da Silva Vineyard and Winery – 1-800-851-0903
Enjoy an intimate farm dining experience with owners and wine growers.  Begin your evening mingling with a glass of Vino Verde Bubbles and traditional hor d'oeuvres, followed by a rustic hearty Portuguese farm table dinner paired with our hand crafted small lot Da Silva wines.
$120 + tax + gratuity
September 28th, 1:00pm – 2:00pm   
7 Sensations of Wine
Township 7 Vineyards & Winery – 250-770-1743
A fun interactive event for wine lovers of all abilities.  Learn how to tune your palate to detect acidity, body, alcohol, tannin and sweetness in wine.  We will also be looking at how oak effects a wine and what happens to wine as it ages.
$25
September 29th, 6:30pm – 10:00pm   
An Evening of Fine Italian Cuisine & The Wines of Fairview Cellars
Villa Rosa Ristorante – 250-490-9595
Learn the art of blending vintages and verticals and taste through the signature blends of Fairview Cellars.  Compare the distinct varietals and ageability of key verticals, paired with the tantalizing flavours of Villa Rosa Ristorante and experience all the rich flavours of our rustic Italian cuisine.
$109.95 + tax + gratuity
September 30th, 10:00am – 6:00pm 
The Club Experience at Upper Bench
Upper Bench Winery & Creamery – 250-770-1733
Visit Upper Bench Winery & Creamery for a one-of-a-kind tasting experience and get to be a club member for a day.  Enjoy perfectly paired, award-winning wines and hand-crafted artisan cheese (made on site in our creamery). Explore all the exclusive benefits of being a member of the Curds & Corks club, Canada's Only Wine & Cheese Club.
$7 per person 
October 3rd, 10:30am – 6:00pm   
Autumn Harvest Wine Tasting
Sleeping Giant Fruit Winery, Summerland – 250-494-0377
Established in 2008, Sleeping Giant's wine portfolio offers off-dry wines that are complex and well balanced.  Drop in for a tasting featuring the flavours of the Fall – our unique pumpkin and delightful cranberry table wines.  Both perfect pairings for Thanksgiving dinner.
Complimentary
October 3rd, 11:30am – 3:00pm
Best Paella in the Okanagan
Da Silva Vineyard and Winery – 1-800-851-0903
Join us for an afternoon on the patio while soaking up the stunning views of the Okanagan.  Enjoy an amazing lunch of Chef Abdul's famous paella paired with Da Silva's new spring releases.  Price includes paella for two and two glasses of wine.  Seating is limited please call to make a reservation.
$48 + tax + gratuity
October 3rd, 6:30pm – 10:00pm   
Taste of the Terrior – Okanagan Varietal Showdown
Villa Rosa Ristorante – 250-490-9595
Taste & explore 5 signature varietals from 10 unique wineries, showcasing the many terroirs of the BC Wine Industry.  Side by side comparison of BC's signature style and terroir.  Reflecting 10 distinct wineries & their appropriate sub-regions.
$99.95 + tax + gratuity
October 4th, 1:00pm – 3:00pm 
The Bold & The Blind
Bench 1775 – 250-490-4965 ext 106
Join us as we explore and exclusive sneek peak at how our wines develop from the first pick off the vine to first release in the shop! Learn how we bring the wine to life as you sample through 3 signature wines and compare.  Open your senses and determine which wine was just made and which has aged 3-5 years.
$30 per person
October 4th – 11th, 1:30pm – 2:30pm 
Black Sage Vineyard Food & Wine Pairing
Sumac Ridge Estate Winery, Summerland – 250-494-0451
Enjoy 6 delicious food & wine pairings from our Black Sage premium brand.  This is a harvest table seated experience in the Black Sage Hall.  Taste our winery exclusive new release Chardonnay along with our delicious Meritage and discover the magic that makes it so unique.
$30 + tax per person
October 5th & 6th 10:15am – 1:30pm 
Harvest Work Days at Noble Ridge
Noble Ridge Winery, Okanagan Falls- 250-497-7945
Have you ever wanted to participate in a harvest?  Here is your chance to be a part of the action! Come join us, as we pick grapes together.  Your day will also include a tour, barrel /tank sampling and a sit down, hot harvest lunch, paired with our award winning wines.
$99
October 6th, 2:00pm – 4:00pm 
Black Sage Vineyard Mastering Meritage
Sumac Ridge Estate Winery, Summerland – 250-494-0451
The Art of the Bordeaux Style Blend.  Learn the artistic craft that our winemaker has created with our Black Sage Vineyard Meritage.  In this hands-on seminar you'll play winemaker for an hour, exploring different blends with five classic Bordeaux varietals produced from our Black Sage Vineyards.
$35 + tax 
October 10th, 6:00pm – 9:00pm 
Sumac Ridge Cellar Grazing & Harvest Dinner
Sumac Ridge Estate Winery, Summerland – 250-494-0451
Visit our Sparkling Wine Cave and witness a Sabre Ceremony.  Enjoy delectable food pairings in our Tasting Gallery.  Relax in the Black Sage Hall for a sumptuous Chef's dinner showcasing our bold Black Sage wines.  Includes 2 appetizers, harvest dinner, followed by decadent dessert with Pipe.
$99 + tax 
October 10th, 6:30pm – 10:00pm   
An Evening of Fine Italian Cuisine & The Wines of Da Silva Vineyards
Villa Rosa Ristorante – 250-490-9595
Each Fall the Villa Rosa Ristorante, hosts a series of extraordinary multiple course menus paired with the exceptional wines of the Okanagan's finest wineries.  Enjoy Da Silva Vineyards unique varietals from the South Okanagan paired with the all the rich flavours of rustic Italian cuisine.
$99.95 + tax + gratuity
October 12th, 7:00pm – 10:00pm   
SIGNATURE EVENT: SENSATION
Penticton Lakeside Resort & Conference Centre
Wine + Culture + Food.  A celebration that delights all your senses, Sensation is a festival that pairs BC wine with only the very best in art, music, food, and culture.  As attendees explore the beautiful Penticton Lakeside Resort & Conference Centre, they'll see how different wines of the region have been paired with equally elevated experiences; big bold whites are paired with a local author's vivid reading; moody reds are paired with a dramatic string trio; crisp lively bubbles are paired with an energetic live art demonstration.  Around every corner the best of Okanagan culture and the arts meets the best of BC wine through this sensational event.  Tickets available at thewinefestivals.com
$69 + tax + fees
October 12th, 6:00pm or 8:00pm
Harvest Dinner
Painted Rock Estate Winery – 250-488-9876
Painted Rock proprietor John Skinner welcomes Joy Road Cuisine Du Terroir to the tasting room this October for a dining experience inspired by the season.  Joy Road will be creating a mouth watering five course plated dinner harmonized with Painted Rock wine pairings.
$140 + tax
October 13th & 14th, 5:00pm or 7:00pm
Thanksgiving Dinner with Hillside Winery
Hillside Winery & Bistro – 250-487-1350
Join us at the Bistro at Hillside Winery for Thanksgiving!  Chef Brent Pillon and his culinary team prepare a slight twist to a traditional Thanksgiving Menu.  Enjoy this celebratory 3-course meal with Hillside wine pairings (optional +$15)
$45 (reservations required)