No matter the time of year, there is always something happening in Penticton. Home to over 30 annual major events and festivals, there is a variety to experience from cultural showcases, world-class sporting events, beer and wine festivals, live entertainment, seasonal fairs and so much more. Check out the events list below.
Ha Ha Ha Kidzfest 2022
Event Dates:
Thu

•

June 9, 2022

•

9:00 AM - 3:00 PM

Fri

•

June 10, 2022

•

9:00 AM - 3:00 PM

Sat

•

June 11, 2022

•

10:00 AM - 5:00 PM
Around The World In A Festival Day
Join us in Gyro Park for a trip around the world. This year the kidzfest theme is "Around The World In A Festival Day." Our Arts and Culture Partners will be offering participatory activities that give you a taste from somewhere around the world. In addition to the activity tents, performances will be running all day on the Open Stage with acts of various talents and cultures suitable for all ages.
But that's not all, the park site will include a Workshop Area where kidz can get professional instruction from artists and performers, Tiny Town for those 5 and under plus a Indigenous Village and Nylon Zoo. Wahooo!
Tickets are required for Ages 3 and up. And will allow access to everything on the festival site.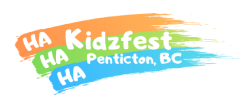 Venue Information
Gyro Park

55 Main Street, Penticton, British Columbia, V2A 6K1