Do Good Hazy IPA – Where to Buy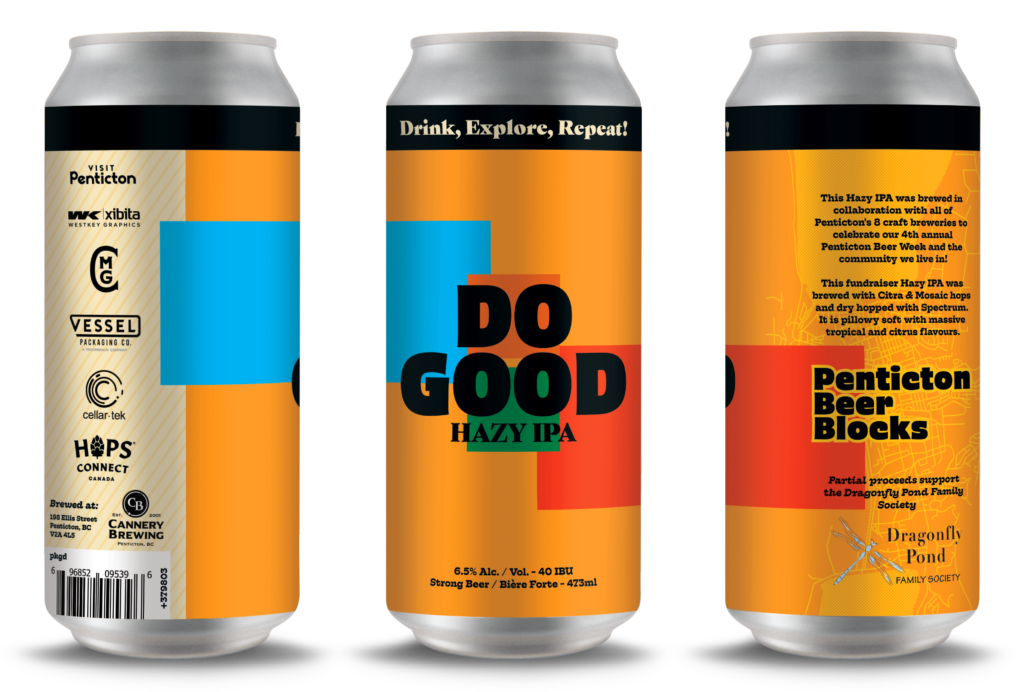 Do Good. This Hazy IPA is brewed in collaboration with all 8 of Penticton's craft breweries to celebrate the 4th Annual Penticton Beer Week and the community we live in. A portion of the proceeds will support the Dragonfly Pond Family Society.
The Dragonfly Pond Family Society is committed to supporting families with children aged birth to 18 years who experience developmental and/or physical medical challenges. They offer a wide range of programs to their members, compatible for varying ages, abilities and interests.
"We are so very grateful to be the selected Charity for the Do Good collaboration beer, as part of this year's Penticton Beer Week. The funds raised will support the very important work that Dragonfly Pond Family Society does in supporting families through our Respitality Program."

Tricia Hernes, Program Coordinator, Dragonfly Pond Family Society.
This new beer will launch in October for Penticton Beer Week. It will be available in 4-packs of 473ml cans at select liquor stores throughout BC and on tap at all eight Penticton breweries.
Below is a list of the stores and restaurants that have ordered in this special limited release collaboration beer, available starting October 14, 2022.
Please check with these businesses directly to see if they still have Do Good in stock.
Penticton
| Location | Available in Cans | Available On Tap |
| --- | --- | --- |
| Abandoned Rail Brewing | | ✓ |
| Bad Tattoo Brewing | | ✓ |
| Barley Mill Brew Pub | | ✓ |
| Barley Mill Liquor Store | ✓ | |
| Cannery Brewing Taproom | ✓ | ✓ |
| Fairview Liquor Store | ✓ | |
| Government St Liquor Store | ✓ | |
| Highway 97 Brewing | | ✓ |
| JAK'S Cherry Lane | ✓ | |
| Last Call Liquor Mart | ✓ | |
| Martin St Liquor Store | ✓ | |
| Neighbourhood Brewing | | ✓ |
| Pasta Factory | | ✓ |
| Riverside Liquor Store | ✓ | |
| Skaha Lake Liquor Store | ✓ | |
| Slackwater Brewing | | ✓ |
| The Barking Parrot | | ✓ |
| Tin Whistle Brewing | | ✓ |
| Tratto Pizzeria | | ✓ |
Okanagan
| Location | City | Available in Cans | Available On Tap |
| --- | --- | --- | --- |
| Jackknife Brewing | Kelowna | | ✓ |
| Metro Liquor Store | Kelowna | ✓ | |
| Urban Clement | Kelowna | ✓ | |
| Turtle Bay Liquor Store | Lake Country | ✓ | |
| Naramata General Store | Naramata | ✓ | |
| Heritage Market | Okanagan Falls | ✓ | |
| Desert Country | Oliver | ✓ | |
| Summerland Liquor Store | Summerland | ✓ | |
| Vernon Square Liquor Store | Vernon | ✓ | |
| Metro Liquor West Kelowna | West Kelowna | ✓ | |
Kootenays
| Location | City | Available in Cans | Available On Tap |
| --- | --- | --- | --- |
| Uptown Liquor Store | Castlegar | ✓ | |
| Spirits Beer | Fernie | ✓ | |
| Invermere Liquor Store | Invermere | ✓ | |
Lower Mainland
| Location | City | Available in Cans | Available On Tap |
| --- | --- | --- | --- |
| JAK'S Parkcrest | Burnaby | ✓ | |
| Garrison Wine Merchants | Chilliwack | ✓ | |
| Little Mountain Liquor Store | Chilliwack | ✓ | |
| Sardis Liquor | Chilliwack | ✓ | |
| JAK'S Coquitlam Central | Coquitlam | ✓ | |
| JAK'S Westwood | Coquitlam | ✓ | |
| The Barley Merchant | Langley | | ✓ |
| Black Sheep Pub Liquor Store | Maple Ridge | ✓ | |
| Ridgeway Liquor Store | Maple Ridge | ✓ | |
| JAK'S Mission | Mission | ✓ | |
| JAK'S New West | New Westminster | ✓ | |
| The Gull Liquor Store | North Vancouver | ✓ | |
| JAK'S Richmond | Richmond | ✓ | |
| Central City Liquur Store Bridgeview | Surrey | ✓ | |
| JAK'S 41ST & Knight | Vancouver | ✓ | |
| JAK'S Granville | Vancouver | ✓ | |
| Liberty Wines Commercial Drive | Vancouver | ✓ | |
| Viti Broadway | Vancouver | ✓ | |
| Blackcomb Liquor Store | Whistler | ✓ | |
| Sandpiper Liquor Store | White Rock | ✓ | |
Northern BC
| Location | City | Available in Cans | Available On Tap |
| --- | --- | --- | --- |
| 10th Ave Liquor | Prince George | ✓ | |
| Noble Spirits | Prince George | ✓ | |
| Safeway Mackenzie Mall | Fort St. John | ✓ | |
| Canco Mcleese Lake | McLeese Lake | ✓ | |
Vancouver Island
| Location | City | Available in Cans | Available On Tap |
| --- | --- | --- | --- |
| Quinsam Liquor Store | Campbell River | ✓ | |
| Mid Island Berkey | Duncan | ✓ | |
| Lucky's | Nanaimo | ✓ | |
| Upper Ganges | Salt Spring Island | ✓ | |
| Lighthouse Liquor Store | Sechelt | ✓ | |
| Beacon Landing | Sidney | ✓ | |
| Ucluelet | Ucluelet | ✓ | |
| Cascadia Langford | Victoria | ✓ | |
| Spinnaker's Vic West | Victoria | ✓ | |
| Tudor House Liquor Store | Victoria | ✓ | |