Do Good Golden Sour – Where to Buy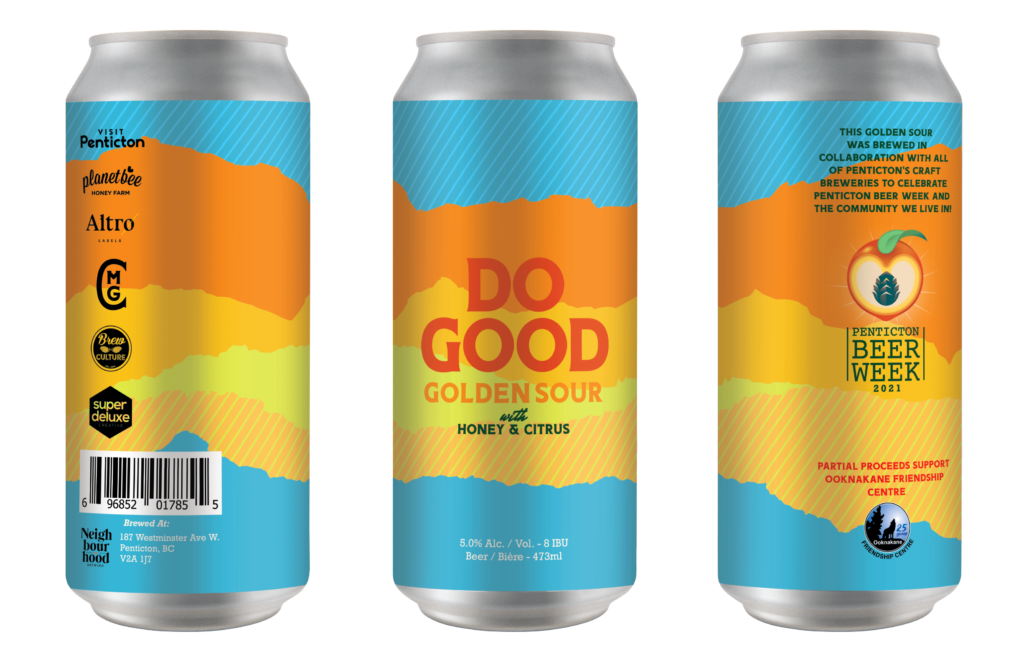 Do Good. This Golden Sour with honey and citrus was brewed in collaboration with all of Penticton's craft breweries to
celebrate Penticton Beer Week and the community we live in.
A portion of the proceeds will support the Ooknakane Friendship Centre.
The Ooknakane Friendship Centre is an Aboriginal Not-For-Profit society that is committed to providing holistic, culturally-driven programs
and services designed to support, educate and strengthen people of all nations.
Following is a list of the stores and restaurants that have ordered in this special limited release collaboration beer.
Please check with these businesses directly to see if they still have Do Good in stock.
PENTICTON
| | | |
| --- | --- | --- |
| City/Town | Business | Available on Tap |
| Penticton | Bad Tattoo Brewing  | Yes |
| Penticton | Barking Parrot | Yes |
| Penticton | Barley Mill Brew Pub | Yes |
| Penticton | Barley Mill Liquor Store |   |
| Penticton | Brodo |   |
| Penticton | Cannery Brewing | Yes |
| Penticton | Fairview Liquor |   |
| Penticton | Government Street Liquor |   |
| Penticton | Highway 97 Brewing | Yes |
| Penticton | JAKs Cherry Lane |   |
| Penticton | Last Call Liquor Mart |   |
| Penticton | Martin Street Liquor Merchants |   |
| Penticton | Neighbourhood Brewing | Yes |
| Penticton | The Nest  | Yes |
| Penticton | Riverside Liquor Store  |   |
| Penticton | Slackwater Brewing | Yes |
| Penticton | Station Public House | Yes |
| Penticton | Tin Whistle Brewing | Yes |
| Penticton | Tratto Pizzeria | Yes |
---
INTERIOR
| | | |
| --- | --- | --- |
| City/Town | Business | Available on Tap |
| Fernie  | Northern Bar and Stage | Yes |
| Kamloops | Red Beard Cafe |   |
| Kamloops | Stags Head | Yes |
| Kelowna | Caps LRS |   |
| Kelowna | Flip Flops and Hops | Yes |
| Kelowna | Jacks Pizza | Yes |
| Kelowna | Metro Liquor Kelowna |   |
| Kelowna | Mission Liquor Store |   |
| Kelowna | Public Liquor  |   |
| Kelowna  | Urban Clement |   |
| Kelowna  | Urban Liquor Gordon |   |
| Lake Country | Turtle Bay Crossing |   |
| Nelson  | Fire Hall Kitchen & Tap | Yes |
| Nelson | Grand Liquor Merchants |   |
| Nelson | Royal on Baker | Yes |
| Oliver | Desert Country Liquor |   |
| Revelstoke | Big Eddy LRS |   |
| Revelstoke | Cheers Downtown |   |
| Robson | Lions Head Pub | Yes |
| Summerland | Summerland Liquor |   |
| Vernon | Vernon Liquor Store ARC |   |
| Vernon | Vernon Square |   |
| West Kelowna  | Cask & Barrel |   |
---
LOWER MAINLAND
| | | |
| --- | --- | --- |
| City/Town | Business | Available on Tap |
| Burnaby | JAKs Parkcrest |   |
| Coquitlam | Como Lake GLS |   |
| Coquitlam | Fremont LRS |   |
| Coquitlam | JAKs Coquitlam Central |   |
| Coquitlam | JAKs Westwood |   |
| Langley | Barley Merchant | Yes |
| Langley | Jericho Corners |   |
| Langley | Langley Liquor Store |   |
| Langley | Langley LRS |   |
| Langley | Town Centre LRS |   |
| Maple Ridge | Maple Ridge LRS |   |
| New Westminster | JAKs New Westminster |   |
| Port Coquitlam | Westwood GLS |   |
| Port Moody | Port Moody Liquor Store |   |
| Port Moody | Yellow Dog Brewing | Yes |
| Richmond | JAKs Dundarave |   |
| Vancouver | 38th & Cambie |   |
| Vancouver | Alibi Room | Yes |
| Vancouver | Bells and Whistles | Yes |
| Vancouver | Brewery Creek Liquor Store |   |
| Vancouver | JAKs Eastside |   |
| Vancouver | JAKs Granville |   |
| Vancouver | Legacy Liquor Store |   |
| Vancouver | St Augustine's | Yes |
| Vancouver | Tobies |   |
| Vancouver | West Coast Liquor – Fraser |   |
---
ISLAND
| | | |
| --- | --- | --- |
| City/Town | Business | Available on Tap |
| Courtenay | Liquor Plus Courtenay |   |
| Victoria | Cascadia Liquor – Langford |   |
| Victoria | Cascadia Liquor – Quadra |   |
| Victoria | Cascadia Liquor – Uptown |   |
| Victoria | Cook Street Village Liquor |   |
| Victoria | Drake | Yes |
| Victoria | Liquor Plus Hillside |   |
| Victoria | Liquor Plus Royal Oak |   |
| Victoria | Liquor Plus Saanich Centre |   |
| Victoria | Vessel Liquor Store |   |